Barbie Ferreira Talks Beauty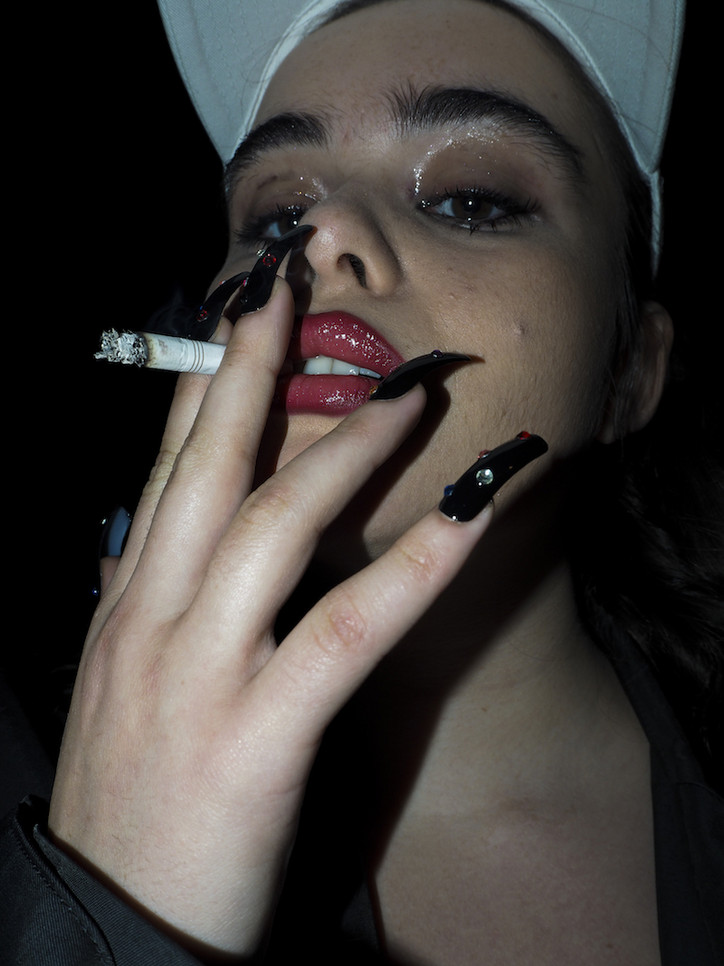 She's also fun as hell. I caught up with Ferreira on Election Day while she was on set for office's print edition, and when I arrived, she was busy making everybody laugh, including fellow online sensation Paloma Elsesser. There were a lot of giggles, a lot of snaps. And since we didn't know that in a few short hours the world would be descending into a dystopian nightmare, we talked about beauty, why the industry has been closed off to those with larger bodies, and weird DMs.
What's your day-to-day beauty routine?
Lately, I've just been putting on a skin oil from Kiehls. It kind of brightens things up a little bit. It has orange in it, it's great. And then I put moisturizer on, and sometimes concealer and mascara. But lately, I've just been doing mascara. I've been really lazy with my makeup lately. I've been letting my skin breathe, because I've got little pimples here and here and here. [Laughs] I spent a couple weeks not shooting as much, and I let my skin take a break. But then when I do want to cake it on, I do. The break made me feel a little bit better though. My skin's not like help, help! [Laughs]
I always love your lipstick, it seems like you usually have a creamy, matte situation going on. What do you use?
Lime Crime, and then I like Sephora-brand lipsticks, the liquid ones. And they're cheap!
You were recently on the cover of the Grazia beauty issue. It's rare for curve or plus models to land beauty contracts or campaigns, which doesn't make any sense. What are your thoughts on the topic?
I think people in fashion honestly just have a stigma against people who are bigger, across the board. You would think that for fragrances, or eyewear, or makeup, they wouldn't care, because you don't even need the clothes to fit. Sometimes, people logistically won't have clothes that fit you. That's still wrong, but I can understand it. There's no reason you shouldn't put all types of bodies in makeup. But it's slowly starting to change. I'm hoping for more.
Do you think casting directors are being more responsive?
I do. I think clients are a little more behind on the trends. Magazines and all these things are so progressive, they're the ones doing the new things. People like to stick to the same traditions a lot.
Would you want a beauty contract?
Yes. [Laughs] I don't know anyone that would be like "no!"
They do pay really well.
It's not even that! I just think it would be really special, because it's not really done often. But a lot of new brands are coming out with such great diversity. The newer people are really getting the hang of it. And CoverGirl just came out with their first Cover Boy.
Speaking of ads, you just did the campaign for Missguided, which was unretouched, like the one you did for Aerie. As a model, what are your thoughts on Photoshop? You must have to work with it a lot.
I actually don't. When I first started modeling, I worked with a lot of people who didn't believe in retouching. I never started out with retouching, and now whenever I am Photoshopped it's strange, because I'm usually really non-retouched. People I've worked with, like Petra Collins and American Apparel, have always kept me really natural, and I don't even wear a lot of makeup when I shoot. A lot of people don't share the same experience as me, which is very sad. It's always empowering to work with female artists, to avoid a male gaze kind of thing.
You can be a Victoria's Secret model, some kind of ideal Eurocentric beauty, and you'll still get hate on a picture. No one can win.
Your career is empowering to a lot of people. And it's had the same effect on you?
For sure. I was never really confident in myself until I did start modeling, and I had to kind of be forced to. I was like, damn, a lot of people just don't like me, gotta do something about it. I have to love myself if I'm gonna pursue this. So it's a work in progress. People are going to hate on you no matter what. You can be a Victoria's Secret model, some kind of ideal Eurocentric beauty, and you'll still get hate on a picture. No one can win.  
On a lighter note, what are your tips for the best selfie?
100% lighting, always. I used to sneak in weird angles to find the best lighting by the windows and whatnot. It's just part of the selfie game, lighting and angles.
What are the weirdest DMs you get? Do you get dicks?
I actually don't. 70% of the people that follow me are women, and then the men aren't that crazy. Sometimes I'll get them on Snapchat, but everyone gets that. The weirdest ones are probably men who ask me to come to their country and marry them. They send it to all my friends too! They're just sending it out hoping someone will say yes. Or they'll group DM it to me and like, Demi Lovato and Selena Gomez and a bunch of other random people. [Laughs]
Maybe he hopes he'll bridge their feud.
[Laughs] Maybe!
Text by Jocelyn Silver
Photos by Caitlan Hickey