Don't Trust the Fashion System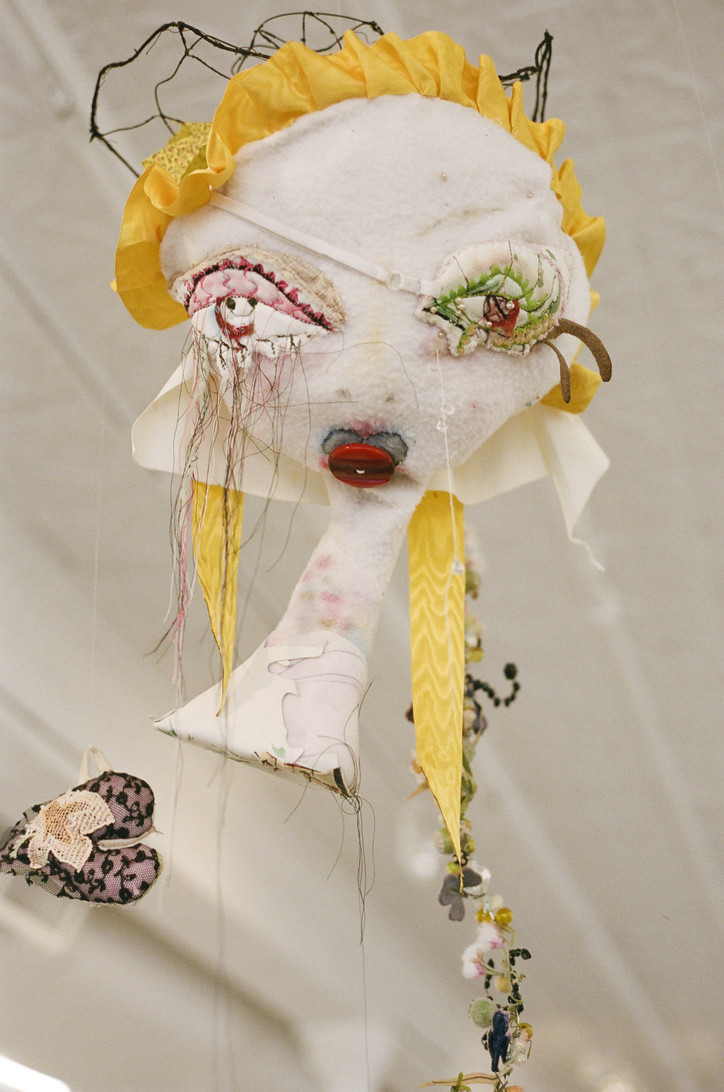 For their first solo show, they've built a body of work which retreats into the past— both that of WHM, with a retrospective of their previous work— and also that of the Grand Duchesses of the Romanov dynasty. There's no doubt that the Duchesses are well suited symbolism for WHM. Known collectively as "OTMA" (Olga, Tatiana, Maria, and Anastasia Nikolieva) were raised in the rigid environment— a result of having royal parents. But despite the alienation and pressure of the patriarchal climate— the four sisters sought their own internal stimulation, and found strength in fabricating a fantasy world with only what was available. Sculptures, furniture, photographs, toys— OTMA's accumulated memorabilia acted as the medicine to soothe the tumultuous society they stood against. And that— though yes the times have changed— is what these artists are working for.
office met up with McGowan and Barringer, to find out more about fashion system skepticism, their feelings about the future, and their first solo show. 
The reason I ask about politics and what I really respect is that there is an element of jest in it because it's hard for people to listen if its an overly angry political statement. 
It's hard because for us, the ability to even make work is a privilege. While the work comes from a place of political conscious I also don't think we can be sanctimonious about what it is at the same time. It's important but im also also turned off by how we're written about sometimes because it's often sloppy and lazy, by just being radical and disrupting the fashion scene. A lot of young New York brands get touted as being radical and anti fashion and I feel like that's very empty. I worked in journalism and that's what I was doing before i lost my job. I feel like with the written word it can become so concise into buzzwords and recognizable thing so sometimes our work just gets labeled with recognizable terms. 
I feel like media has made things very commercialized, even political things, the words can become an object with the speed of things. So if you had a statement that would not be the misunderstood statement what would it be?
It's about supporting other women and queer people into making work and building community. Thats a big part of the reason why we started the project - a support system has been created. 
What do you guys want to do next after this?
We have a show, we're putting a piece in a group show about Kathy Acker at P.S. 122 and then we're doing our next fashion show at the performance space, sometime late march. It will be more of a play which is cool. It's not that we're never going to do a runway show again, but we kind of want to push the possibility of a performance. I think there are so many more possibilities that people can take and it confuses me when people stick with the same routine. 
It sucks when theres great clothing and it's put in a context thats kind of stale so its hard to notice and that's why we don't post any fashion editorials without a narrative. People don't see it because they aren't given a dialogue. 
The fashion show in a runway way has been done for ages. It's a mystery why though.
Soothe your own soul, go see OTMA by Women's HIstory Museum at Gavin Brown on Grand St. before it's over. 
Did you do any new work for the show or is this more of a retrospective?
We've made a lot of new work for the show but we're showing a lot of our old work with the clothing. So it's a retrospective, but also new, because a lot of people are only familiar with us doing clothes. This year we've done furniture pieces, tapestries; quasi-undefinable objects that aren't clothes but aren't necessarily art either.
Do you define what you do as art or fashion, or do you feel like you fit into another medium? Do you feel like that has changed or evolved since you started?
We consider ourselves as artists. But it depends on what we feel like making more so than thinking, "We're gonna do another fashion show, or we're going to do another art show." We never approached it in a traditional sense of starting a fashion line. Our concerns were always impractical. When you need to make a brand, and have it sell, and work on a schedule— it's very different. We've never been like that.
When you met in college, were you both already working or studying in creative fields?
M Actually, Amanda was in the pre-med track and I was in cinema studies— we both met at a transfer orientation. Once we met each other, we developed a bond and practice. We also both grew up with solitary art practices, making stuff in our rooms— and we just decided to join forces and make things together, though we weren't sure of what it would look like. We were both obsessed with clothes, but in a very specific way. Neither of us are very into fashion or read fashion publications.
Well, that's actually something I've seen in so many people who are succeeding in art and fashion. Many makeup artists don't even wear makeup. I mean, I work at a fashion magazine, and I'm wearing a sweatsuit from Walmart.
I also think our age, and our era are defined by a rejection of the institutions we've been lead to believe are advantageous. I feel like we went into it with a lot of questioning, not trusting the fashion system at all— weren't really interested in being apart of it. But we were both obsessed with clothing, and wanted to make our own fashion reality.
Was WHM always the name? Where did it come from?
It was a fake, random joke and we just kept it.
So do you get a lot of people who think you're trying to say something totally different?
Totally, people get really confused by it. Everything we do is also kind of in jest, we don't take ourselves super seriously and the name was kind of a joke. That wasn't going to be the name of it at all, and we came up with other names that were super ridiculous but then we were just like, Women's History Museum makes the most sense.
Do you feel like you have a political statement behind your work?
For sure.
Do you feel like it's the basis of it?
Yeah, I think what Maddie was saying about creating an alternative reality is a big part of what we do, it's what we wish we saw in the world reflected, or how we wish we saw certain people being represented, or how we wish we saw artists being recognized or celebrated. That alternative space is what we're trying to create and communicate.