Drink Water to Save the Oceans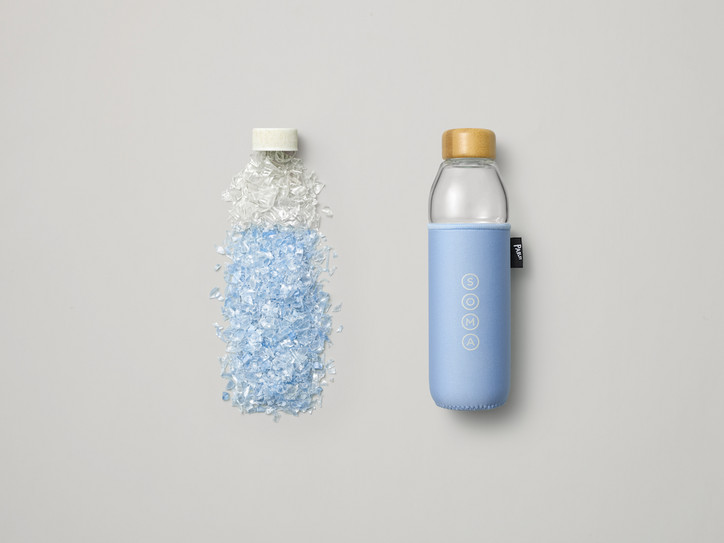 And although his work is not always obviously apparent— Parley's efforts to reverse oceanic pollution manifest in a multitude of projects, and span the globe— over the years, Gutsch has garnered a lengthy list of creative, and branded collaborations with Parley. From a collection in collaboration with adidas (an eco-innovative EQT Support ADV sneaker), to organizing a run with an array of sports stars in support of World Ocean's Day, Parley's projects take traditional activism to approachable arenas… and they're at it again.
Today, they announced a new collaboration with the water bottle company Soma, which will be sold, starting April 3rd, in limited quantities in over 5,000 Starbucks locations in the US and Canada. Find out more about the innovative idea behind these water bottles below.
Americans throw away over 30 million plastic water bottles every year with the majority ending up in landfills and oceans. The sleeve of each Soma x Parley for the Oceans bottle is made from the equivalent of two of these recycled plastic bottles intercepted from remote islands and coastal communities. A proportion of every sale goes to support initiatives of the Parley Ocean Plastic Program and implementation of the Parley AIR Strategy to Avoid, Intercept and Redesign plastic.  
"Plastic is a design flaw. We cannot fix it overnight, but we can all take steps to create change," said Cyrill Gutsch, Founder of Parley for the Oceans. "We're collaborating with Soma to transform marine debris into a neoprene sleeve, bringing Ocean Plastic to a reusable Soma water bottle and directly into the hands of consumers. Shifting mindsets and behaviors is as important as creating new systems and materials. We all have a role to play. This bottle is another reminder of that fact and the beginning of a new collaboration in the movement for solutions."