Emotional Exhibition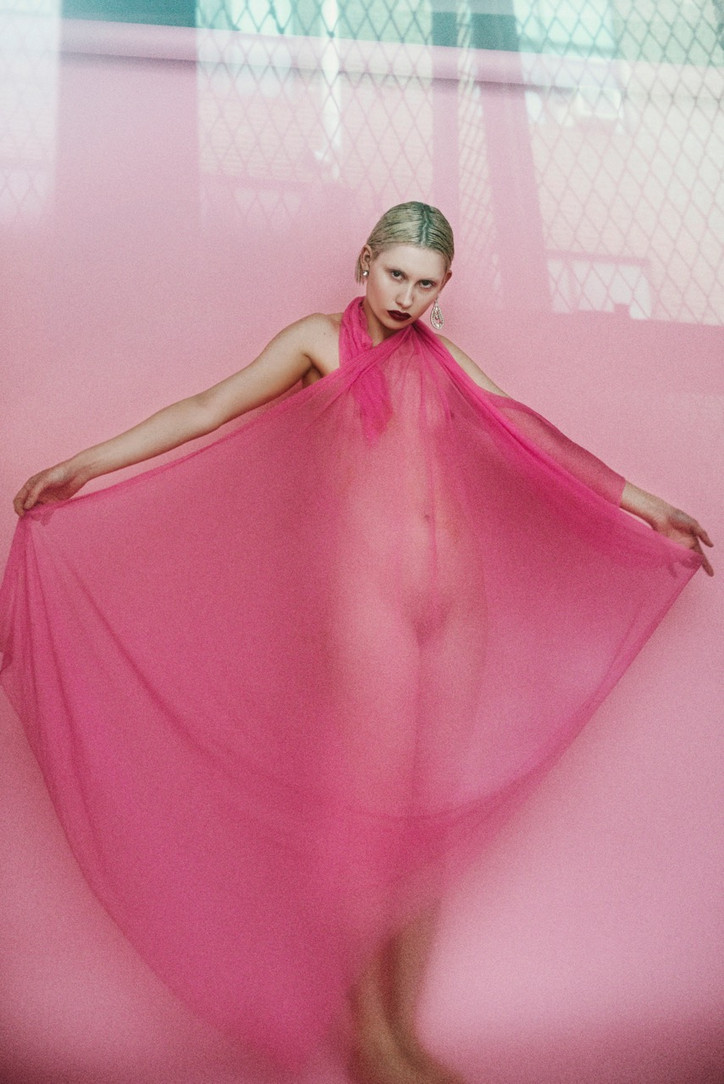 Anna intentionally began with no pre-existing concept in mind, so the two female artists could connect deeply on set and collaborate to create spontaneous, unrestricted imagery. "Without having a concept, I can truly open myself and my energy with another person. No ideas, no judgments," Bloda explains, showing what it really means to be—physically and emotionally—uncensored.
Tell me a bit about the concept of this photo series.
I don't have one. Without having a concept, I can truly open myself and my energy with another person. No ideas, no judgments. That's how I started the shoot with Mary. Slowly as we talked, I began to dig into my vintage collection and pull some stuff spontaneously. We generally talked about our lives, our family relationships. We talked about boys and heartbreak. Pink was the color I used because of her softer side and her spiritual depth.
What attracted you to Mary as a creative?
She's an emotional exhibitionist like myself. She has no filters. She is honest. She is real. I've been fascinated with her personality for quite a few years. 
What three words would you use to describe your photography aesthetic?
Erotic, campy, cool.
Did Mary influence your direction in this photoshoot?
She embraced my suggestions, and I welcomed hers. The photoshoot was like an intimate dance.
What inspired the overall look?
I wanted her to look tough like a prisoner, so I balanced her femininity with pastels.
What's the perfect song / artist to listen to while looking at these photos?
We were listening to Chopin, the Polish composer, and The Driver soundtrack.
You heavily explore the female body in all of your modeling work and photography. What does sexuality mean to you?
The women's body is like a costume—pure and honest. You can lie with clothes, but when you are naked, you're exposed and defenseless. I see truth in the female body.
How does being behind the camera influence your modeling work and vice versa?
The best models don't give a shit about the camera.
According to Time Magazine, women photographers are three times less likely to be hired by large media companies compared to men. How does being a female photographer affect the dynamic between you and other female models on set?
I always have to be careful not to push boundaries. I only take what the model wants to give.