S&M and Silk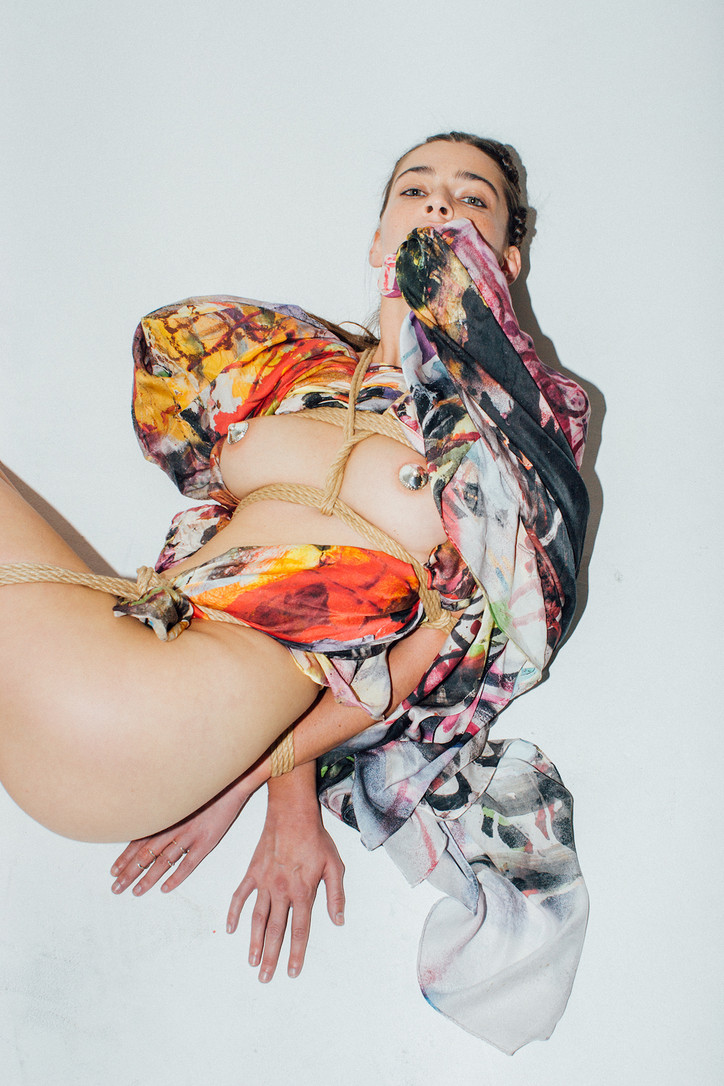 Your own work tends be very disciplined and structured, especially your latest project with Utility Pro. This is very different, what drew you to working with Mint&Serf?
AS I've known these two since my early days in NYC. At that time I was still an active graffiti writer myself. When I first came to NYC 12 years ago, I naturally merged towards a specific scene of downtown and between others Mint & Serf were hanging around. There's definitely an affinity and common background with them and this shoot felt more like a bunch of bright minded artists converged in a photo studio. Jules Kim, my partner, was also adding her touch. Photography is a disciplined medium, you're right. In much of my production there is a formal approach that has a saddle extreme vein. My shoots don't fall on established stereotypes.
How are your photos a reflection of how you see the world?
AS My photography has a strong link with reality. Foremost it is a non-stage form of documentation, and so a fair, yet filtered, view or reality.
If you weren't a photographer what would you be doing?
AS [I would be a] painter, perhaps. I used to draw like a mad dog till I shifted on photography cause I was shocked by the immediate result.  
Do you prefer New York or Italy?
AS It's nice to have both. One is the antithesis of the other one. In Italy you can't get access to food 24/7 like here in NY, but you can definitely have better food.
What are you listening to right now?
AS Antonello Venditti. Reminds me my youth in Rome.  
What is next for Alessandro Simonetti?
AS Naples in South Italy. I'm going to shoot gypsies and local folks down there. It will be HOT!
Your work is very raw and disobedient. Do you actually care about how people perceive your work?
Mint Some of our previous work is reactionary to common misperceptions and realities about graffiti and painting.  With Support, Therapy and Instability we tried to infuse and charge the work as much as we could, in hopes that it [the charge] penetrates the viewer.  I think the work is unresolved, if the intent and the charge is not transferred to the audience. With silk as a medium, we would like to transcend and reframe some of our previous work around new ideas and dialogues.
Serf I tend to care about perception of others in regard to my work because there is always something to be learned. If it's positive or negative, if I'm able to take something from it and improve upon what I'm working on, whether that's physically or conceptually, I think it's a positive and can only enhance my work. 
Have either of you ever participated in KINBAKU?
Mint Metaphorically yes, plenty of times. In actuality no, not yet. 
Serf If you consider silver handcuffs from police officers [as] taking part, then yes. But no I haven't taken part, although I'm definitely interested in it. The embrace of the rope intrigues me. It seems very… I want to say, familiar... hugging, embracing, warm. I see it happening in the near future.
Korupted is a nod to Araki's KINBAKU series which office covered as well in our last issue. What do you think draws people to punishment vs. gratification?
Mint I think Korupted is a nod to Araki, as well as John Willie and Kinbaku art form in general. Much of sex can be viewed in terms of domination and ultimate gratification that it is easy for people to relate to it. Many things in our lives are set in opposition, while some of the most dangerous things in life are also the most gratifying. The forbidden fruit per se. Korupted is also a celebration of sexuality and freedom of expression. 
Serf I don't know… why one without the other? I mean, why can't punishment be gratifying? There is something to be said for mistakes, and learning from them as well as overcoming obstacles that could be interpreted as punishing, in order to reach the next level in certain projects or endeavors. 
Do you think using multiple colors as opposed to just one (like the blue theme used by ARAKI) conveys the message of hectic or frowned upon behavior?
Serf The initial goal of those paintings was to convey disgust for the status quo of what qualified paintings as 'hot' in the market at the time. We were attempting to drive as far away as possible while still retaining a semblance of a true to life/form action painting since we were living that action in the streets. As some would say, we were keeping it official in the studio. We did not want to pay homage by reproducing redundant looking works. Our paintings are based on real life mark making.
Mint Chaos is the composition. 
Will you be wearing your silks this winter?
Serf I'm wearing silk every day.
Mint I only sleep in silk.
Why did you tap Alessandro Simonetti for Korupted?
Mint We have a common language and understanding, because of our similar backgrounds as vandals. I think Alessandro's utilitarian approach shifts the conversation away from the past and toward a new and more contemporary framework. His ability to juxtapose aesthetics is seamless and brilliant. I have been a big fan of his work for a while now. There is an identifiable style to his work that I admire.
Serf He comes from a graffiti background. Growing up in Italy, he was a highly regarded graffiti painter, did lots of trains. We were introduced through a great mutual friend of ours, Jules Kim (BiJules), an amazing jewelry designer. 
Is New York the graffiti capital of the world?
Serf I heard Berlin is the graffiti capital of the world, but New York is probably the mecca. 
Mint I don't know if there is another city that produces as much of illegal graffiti as New York City does, although there has been a concentrated effort to eradicate it, it has been faced with reactionary force of writers, who keep producing and covering the city with graffiti year after year.  The city should be asking, 'why do teenagers get into vandalism in the first place?' If you break it down, we all share this intrinsic quality that is connected to our subconscious eagerness to understand the meaning of our existence. It of course manifests itself in a very conscious and impulsive activity. 
Graffiti is considered illicit in most parts of the world. Do you consider yourselves vandals?
Mint Well, we are most definitely not muralists.  Defacing private property is an aesthetic choice, as much as it is an impulsive action with elements of a performative dance. If that constitutes that I am a vandal, then be it.
Serf No, not really. I don't really believe in ownership, property, in that manner. I don't consider it vandalism. Graffiti is embedded in hip-hop and rock.
What are you both currently listening to right now?
Mint I've been tuning into The Lot Radio to listen to Dog Bites Girl.  Also Show Me The Body and Yung Thug been in heavy rotation. 
Serf Right now I'm listening to a lot of Arthur Russell. OG downtown New York composer.
You've both been working together for a long time. Do you ever need breaks away from each other?
Mint Taking breaks are key to a long lasting partnership.
What is next for Mint & Serf?
Mint We have a new mix tape and a line of luxury soaps in the works...