Live from Bed Stuy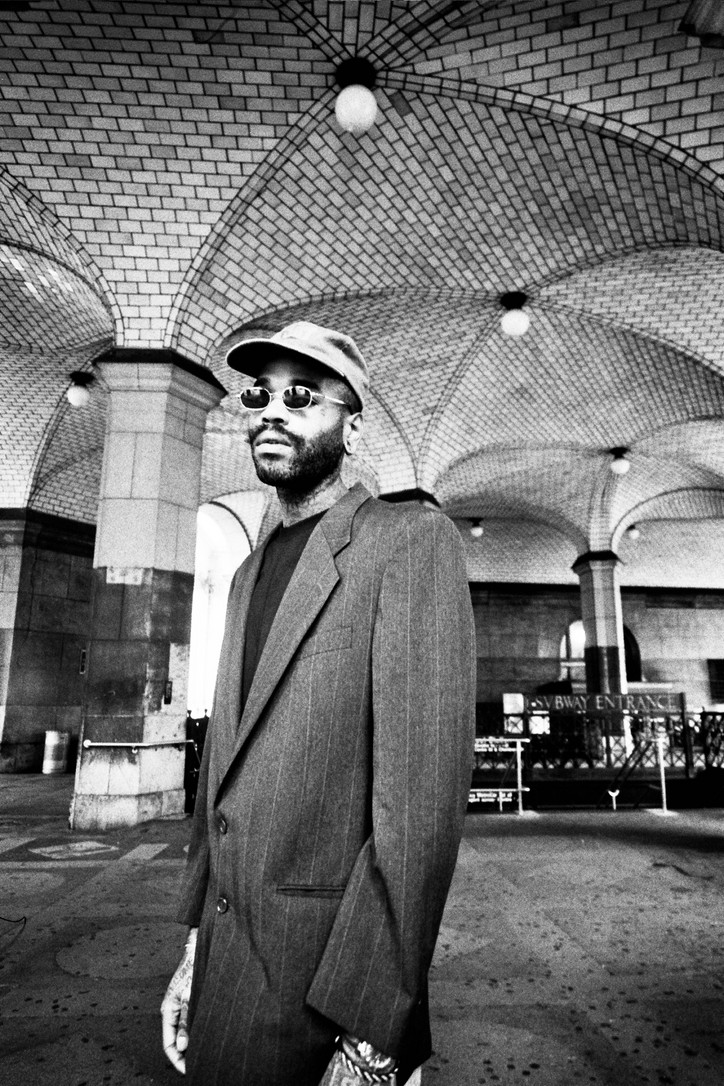 office sat down with the rapper to talk about ego, his debut mixtape and how the struggle really is real.
Where are you from?
Bed Stuy—the old Bed Stuy when it was insane. It was a tough place in the '90s—crime was high, there were a lot of shootings and robberies, and my mother would work endless hours to support us. That isolation allowed me to gradually construct my own perspective of the world. Seeing a lot of violence and seeing my family struggle as I was growing up, I think that actually pushed me to dig deep and it pushed me to find a way out.
Were you always so creative?
Growing up in Brooklyn, you're either a basketball or football player, you rap or you sell drugs. I was fascinated with music and word play. We grew up listening to hip-hop at family gatherings and cookouts. Me and my cousins would rap to Dipset and DMX. But after a while, I stopped writing music. I hit this low place and started writing poetry.
How do you differentiate between writing rap lyrics and writing poetry?
Rap lyrics are written so that they match a particular melody or sound, whereas poetry comes from a stream of emotions and thoughts. But for the most part, they're considered to be the same.
What made you stop writing music?
I reached this place where my understanding of my worth didn't match what I wanted to project into the world. I was lost and found myself searching for this profound placement in life, when in all actuality that place of validation comes from within, and has to be discovered over time.
When did you get back into music?
In like 2014, I met an engineer and we started working together on an album, but it didn't go very well. We'd get into arguments. I'd work really fast and there was animosity because he'd keep wanting to add to new songs. So, it'd never get out—there'd always be some sort of delay. Through that frustration, I just left it alone.
With any creative project, it can be difficult to find partners whom you can collaborate with for a sustained amount of time.
Yeah, I think it's easy to find people, but difficult to find people without ego and pride. I think those things shift communication. You're no longer looking at the genuine quality of a body of work. I think you want people that are open and honest and want to make good music. From a deep place, I personally just want to make people happy and feel good. I went through a really difficult experience in my life and I know for a lot of people, going through times that are difficult, it's hard to see the light. With my music, I want to give people something to believe in. I think a lot don't push forward because they don't know what happens on the other side. I want to be that example for them—this is what happens when you believe in something. Nothing can stop you.
Can I ask what the experience was?
In 2011, I had viral meningitis and I couldn't walk or do much of anything. And there was a moment, maybe 20 seconds, where I actually lost my vision. Going through that really gave me a new perspective. It slowed everything down for me and I started appreciating the simple things, and music was the reason I was able to walk. I had a woman who would come visit me every day and help me try to stand up. After two weeks of trying, she brought over Fabolous' S.O.U.L. tape, which had just come out. I got goosebumps listening to it and took my first steps.
Music can be such a powerful force. What is it about your music that you think is different?
The music I'm writing is an expression of release. Most people spend the majority of their lives trying to find ways to separate themselves, but really, we're all connected. I think that if people spent more time believing in a feeling rather than in obsessing over perceptions, they'd be set free from all worries and pain.
Who did you end up working with on The Loft Blue Tape?
It was all me. I bought beats from various producers. It was a culmination of all of the music that I'd wanted to release over the years. There was a specific sound I wanted to make that wasn't out there yet. And in order to master that, I needed time to understand who I was. I wanted to make something raw and organic for people. I'm really here to shake everything up. So, I wrote the lyrics and recorded it in a studio in Brooklyn.
What's next for you?

Towards the end of November, I'm releasing my second recording, Old Brooklyn Tape, and Paradigm is hosting a special dinner to celebrate it. I'll be performing songs from the tape and some spoken-word poetry. I'm truly grateful to work with the Paradigm family.
'The Loft Blue Tape' is out now.