On Loss and Location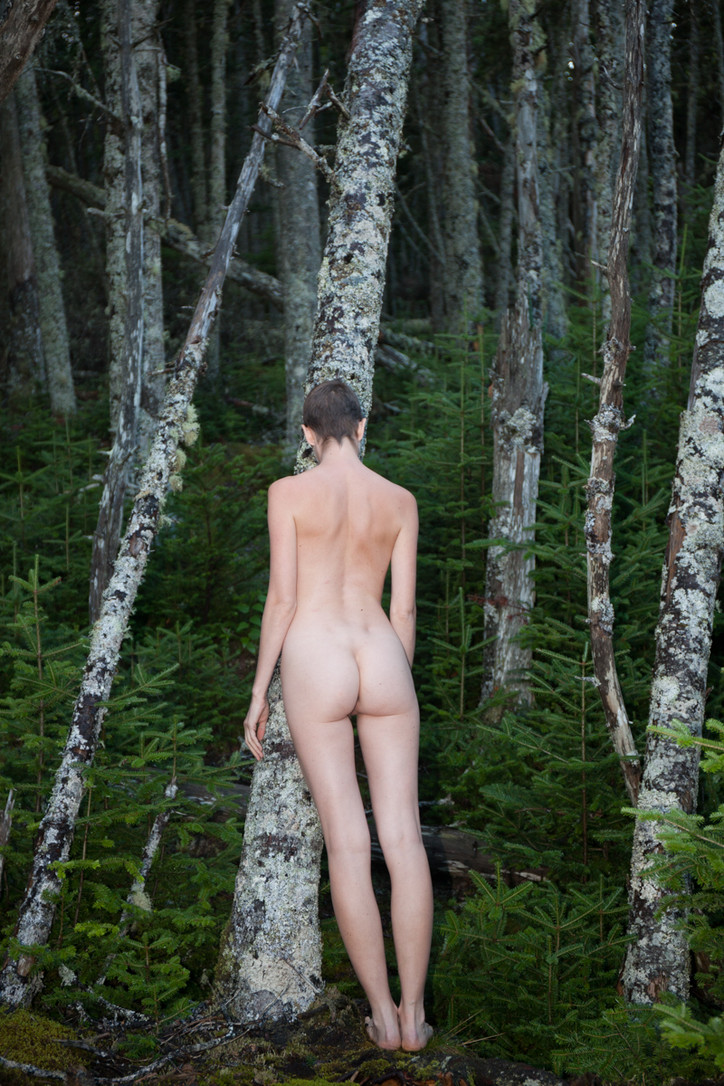 Your work revolves around the body, clearly… And it seems like you choose very unique and specific environments in which to present it. How much do you feel you using environment as subject with your body as a prop, versus the environment being merely a backdrop for you to display your body as the topic?
The connection between my body and the surrounding environment is very important to me… When I started to do photography, [coming to the US], it was mainly for the purpose of placing myself in the new environment, to justify to myself that I belong… That kind of anxiety of displacement faded into another direction over the years. I love NYC and it's my second home now. I know that I belong. But I haven't been able to visit my family and home country for more than five years and that sprouted new feelings and desires to return to my roots, to go back to the beginnings. I am from a small town, we have a farm, [and] running around in fields, woods, climbing rocks, trees, rolling around in dirt as I do in my latest self-portrait series – it is all very natural and playful reflection of who I am and where I come from.
Speaking of environments, how has coming to the US influenced your work? What made you make the move?
… I didn't feel like Czech could offer me what I was looking for as a female artist at that time… I don't like to get too comfortable with my life because than I get lazy and stagnant and I like to feel pressure to keep moving. Moving to US has changed my work approach completely, mainly in the sense of what media I use… When I moved to New York, I transitioned to photography after I saw Francesca Woodman's show. That was a breaking point for me.
[Francesca Woodman] was considered to be notoriously utilizing self portraiture as a cathartic tool for identity-seeking. How much do you relate to this idea?… What about her got you so interested in the medium?
Woodman's show at the Guggenheim was really important moment for me …and I felt a bit lost at that time, after once again moving [to] a new city and not knowing anybody, not knowing how, and if, I will adjust myself. Her search for identity hit very close to what I was going through, and I realized that photography was a perfect tool how to cope and explore all that.
I can imagine that your work is often construed as sexual, approaching sex as the main theme… Do you relate to this? If not, how do you manifest what you are trying to say in your work through the images?
…In the self-portrait series I use nude female body in nature, and based on that it is seen as sexual. But that is just too square and shallow to see only that. It reveals way more than just nude body. In contrast with the rugged rocks or the soft deep moss where I can bury my whole face, in fallen dead flower leaves, I capture my body— often headless, face-less, entwined in trees, lost in it's own being. It is my search for belonging, fight with displacement, way how to ease feelings off loss and emptiness after growing up surrounded by nature, but with disturbed childhood of alcoholic father who died two days before my 16th birthday. It is my way of dealing with such a loss, and finding how that defined me into who I am today.
Do you get uneasy when you are around people looking at your body so intimately in the images? How do you think this type of work and content has effected your 'body-image'?
No, that doesn't make me uneasy. I actually like to observe people's reaction to my photos, I like to talk to them and hear what they have to say. I don't photograph myself for the purpose of looking sexy as we are used to see in mainstream media. I am interested in the angle that is showing the female body in a raw, real and uncensored way.
What camera do you use?
Canon 5d mark II that I bought used few years ago, and [a] Yashica T4, which I absolutely love and use mainly for my ongoing project of portraits of young kids around NYC.
What draws you to NYC?
So many things! I love the energy of the city, people who live here. I am thankful for all the amazing shows that one can see in museums and galleries, the diversity and madness of this city. I love the hectic and saturated lifestyle!
Do you miss growing up on a farm? What is your favorite memory of that? What is your least favorite…?
I miss my home and family but I don't think I could live in my small town anymore. I love the memories of hot summer days and the sound of gentle breeze in the pine tree in front of my window. I miss walking home from a bar late at night and smelling the horses and goats when entering our driveway. It's mainly the smells and little moments that I miss and of course, my mom. Seeing her only on digital screen through Skype is sometimes very hard for me.
What is your favorite place to find clothing in NYC?
My most favorite place where to find clothing is my boyfriend's closet! I love to wear his stuff.