Louis Vuitton S/S '19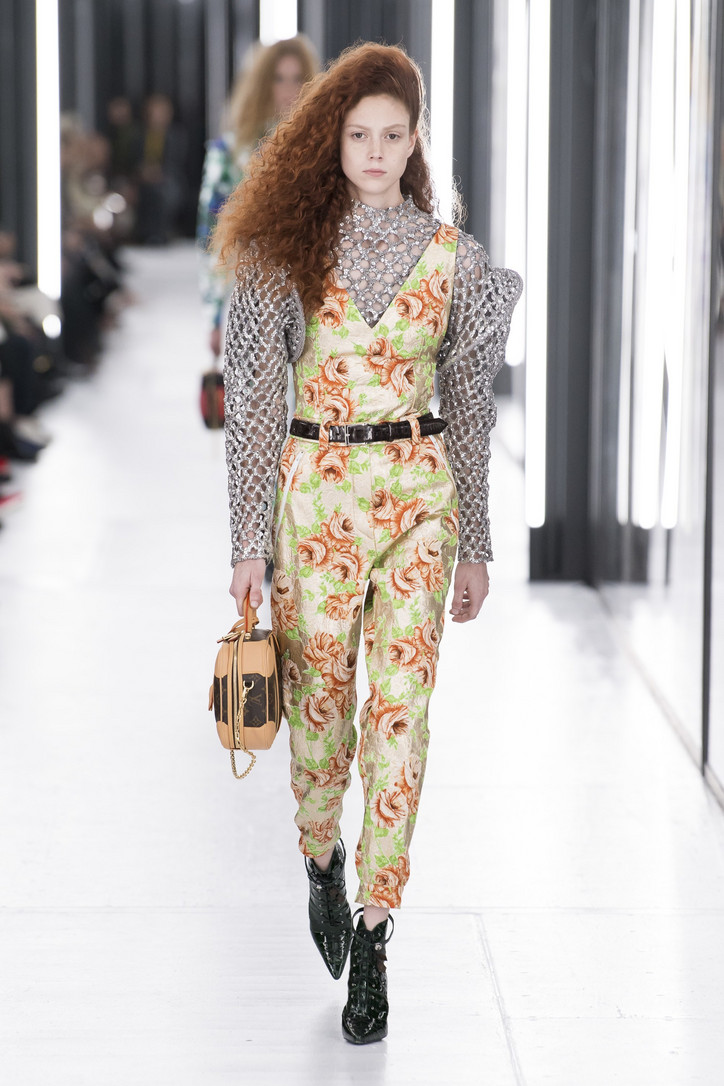 From the set, which was a totally spaced out, fluorescent runway in the courtyard of The Louvre, to the silver motifs, Ghesquière delivered his own take on space exploration, and paired it with prints straight out of an '80s Goodwill. You know those Patrick Nagel portraits that would always be hanging around doctor's offices when you were younger? Or those abstract art prints and new wave furniture you'd see in waiting rooms at the dentist courtesy of Milan's Memphis Group? That's what Ghesquière was going for when he began designing this collection. Retro-futuristic wouldn't be the right word, but it wasn't just a regular #TBT either. The designer channeled a very specific idea of what people in the '80s thought the future would look like—and their first steps towards achieving it—harnessing that unrelenting hope of what's to come, and the total fear of the unknown.
Highlights included: those abstract prints, voluminous sleeves, printed monochrome suits and this bejeweled lace-like fabric that, under the lights of the runway, looked like twinkling stars, or shimmering dust from the moon. The brand also showed this season's It Bag, a spherical handbag in a variety of fabrics and colorways, from a shiny blue snakeskin to the classic leather monogrammed tan and brown.
Just five years into his tenure at Louis Vuitton (one that, after renewing his contract this Spring, will continue, thankfully), Ghesquière has successfully brought the brand back into high demand for young women—and even young skaters after Louis Vuitton x Supreme. That collab was just another example of how the designer's been able to create one big "moment" each season that everyone wants to buy and wear—remember the Stranger Things shirt from last Spring? With his S/S '19 collection, however, it's the whole range people will be fighting to wear.
See some of the looks at the top of our wish list, below.
Photos courtesy of the brand.