Lyz Olko Fall/Winter 2017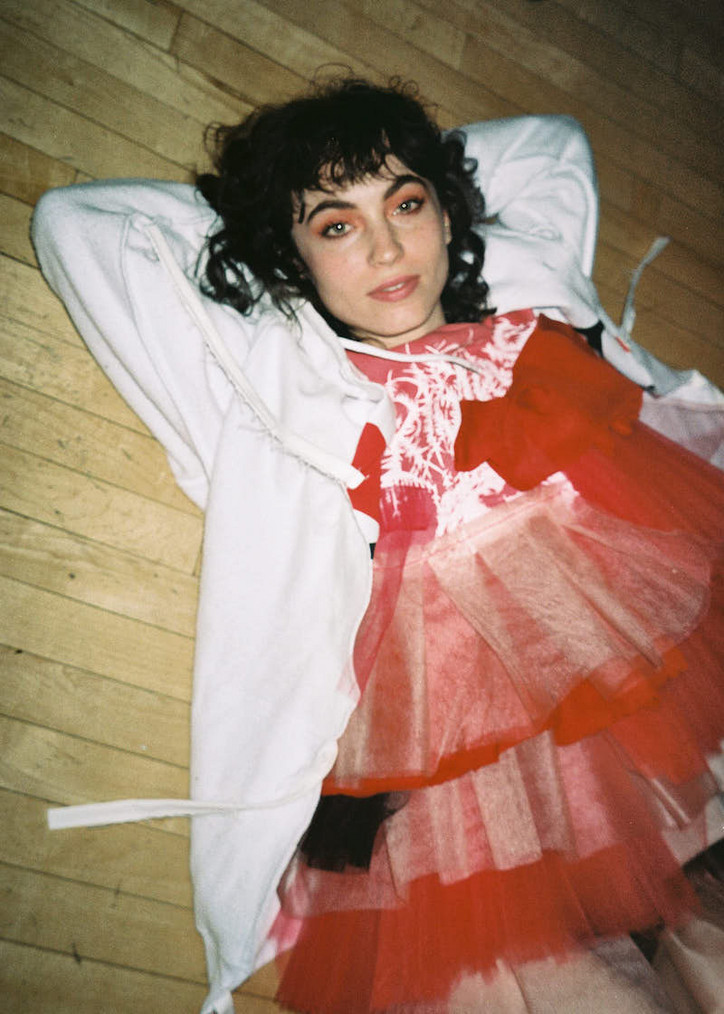 The 20-minute performance, choreographed by artist Alexandra Marzella, kicked off in the completely dark church, as dancers ran to audience members whispering, "Wait till you see my lips," and "Joan of Arc, pass it on." A single spotlight then shone on the whole crew of dancers/models, crouched together and swaying to the beat of "The Whisper Song." They wore white hoodies sliced down the middle and tied with ribbons, like hip straightjackets (I hope they're being produced).
Then, all-female choir The Accord Treble began a rendition of Springsteen's "Dream Baby Dream." The spotlight switched to Marzella, clad in a red and taupe chiffon dress, who began to gracefully dance, swirling all around the room with a cane, finally collapsing on the ground. All of the other models individually followed suit. Each member of the cast, including Art Hoe Collective founder Gabrielle Richardson and curve model Yasmin Geurts, had their own literal moment in the spotlight.
The choir transitioned into "Into My Arms" by Nick Cave, and Sabrina Fuentes played an organ as the performers went into the crowd, shaking hands and saying thank you. Marzella kissed my cheeks and forehead, saying, "Thank you so much for coming."
Olko has been in fashion for years—first as the designer behind cult label Obesity + Speed, and then her namesake brand, which was launched a little over a year ago.  This was her biggest presentation yet, and above all, she wanted to create something uplifting. "It's a really hard time for a lot of people," she said. "But I think instead of seeing what's going as something that's defeating, we can look at it as an opportunity to make change, an opportunity for hope."
The designer has been friends with Marzella for a while, but was inspired to work with her after watching one of her performances this summer. "Everyone in the show had a focus on them," said Olko. "It gave everyone a chance to shine, and it was very much a collaborative piece. I just thought it was so rare nowadays, and so unique and important."
"The people in [my] show were just the best," she continued. "Everyone was really supportive of each other, really encouraging. It was just a good environment, and really inspiring for me."
In addition to the ambitious performance, the clothes shown (which are generally produced sustainably in New York and Los Angeles) showed Olko reaching for something new. There were voluminous pieces covered in layers of chiffon, a bigger focus on event dresses, and my personal favorites, a sheer shirt and trousers featuring a strip of tinsel. "It was my dream collection," she said. "Something that I've always had in the back of my mind."
It's easy to be cynical about something like this, something so earnest and hopeful and frankly kind of insane. But I can't get the experience in the church out of my head. During a Fashion Week that often felt a bit sour, overcast by the general mood of the country and a nauseating news cycle, it was a pleasure to experience true performance art. The show was overwhelming, and genuinely exhilarating.