Nailing it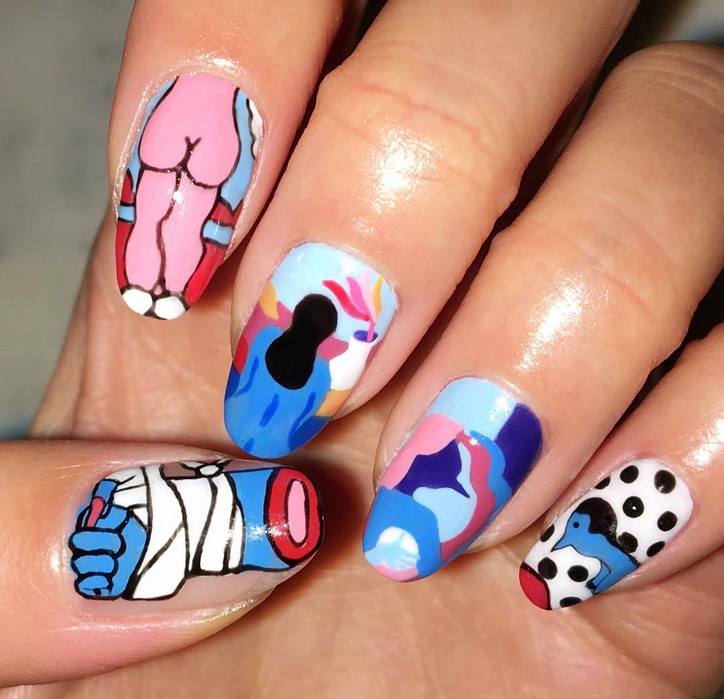 Get to know more about the artist below.
Where did your passion for creating art with nails orginiate from?
I've always been artistic and enjoyed drawing and painting. My passion for creating nail art began when I was about eight years old. I used to love watching my mom paint her nails. I also have two older sisters who liked to read fashion magazines, so I was always reading them as well. Once, I saw a page is Seventeen Magazine where Chanel advertised a nail polish color competition. I mixed a bunch of my mom's polishes and created a strange oil spill look. I submitted it, but didn't get chosen as a winner.
Would you say that you are self-taught?
I would say I'm self-taught in that I learned to paint on a tiny scale on my own nails with nail varnish and gel polish, but I learned to "properly" draw and paint in school.
Did entering the nail-art business seem intimidating to you?
It was definitely intimidating because I'm working next to many seasoned and majorly talented artists—not even just nail artists, but also makeup artists, photographers, hairstylists and celebrities.
What's the relationship between expressing personality and nail art?
Nail art is wearable art and it is temporary. I think certain colors and design can reflect one's mood.
I see you do everything from abstract art to character nails—what's your favorite style?
I enjoy painting characters most because I love animation.
What inspired you to recreate classic fashion advertising with your nail art on Instagram?
I wanted to create designs inspired by fashion, but I was concerned that people would;nt get it, so I superimposed my nail creations and photos of where the inspiration came from. I also want to display the art in a manner that is more fun than just a photo of hands.
What job offering, or client, were you most excited to work with?
I was very excited to assist Gina Viviano a few years ago. I call her the OG. She has been a session manicurist since the 90s. I learned a lot from her. She brought me on a Chanel shoot a couple of years ago and we were able to create nail art directly inspired by the brand! I've been very fortunate to work with insanely creative and talented people such as Madeline Poole, Gina Edwards, Alicia Torello and Sarah Nguyen. I am excited to work with all of my clients—everyday is an opportunity to experience something new.
What worldly themes inspire your work?
I'm inspired by everything—architecture, movies, fashion, ceramics, music and even food! What is the ultimate goal or message behind your work? I just want to create fun and beautiful things for others to look at!
If you could only wear one nail for the rest of your life, which would it be?
I would wear a classic French manicure with almond-shaped nails.
If you could paint anyone's nails, who would it be?
Coco Chanel! I would probably do something classic like a red half moon design.
Who are your biggest inspirations?
I am inspired by visual artists such as Georgia O'Keeffe, Frida Kahlo, Salvador Dali and Steve Powers
What is the strangest design that you have ever made?
It would have to be Halloween nails inspired by American Horror Story: Freak Show. The nails were 3D recreations of characters from that season. I made a killer clown, two-headed twins, a bearded lady and a demonic character.