Sign up for our newsletter
A Rainbow in the Sky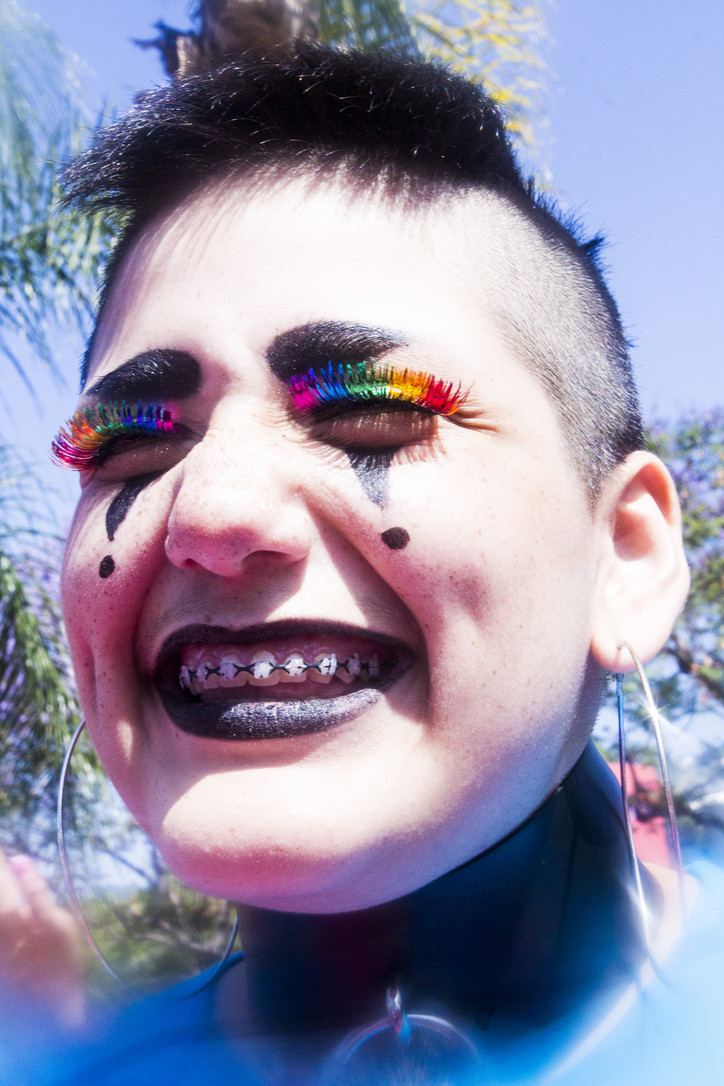 Celestial Bodies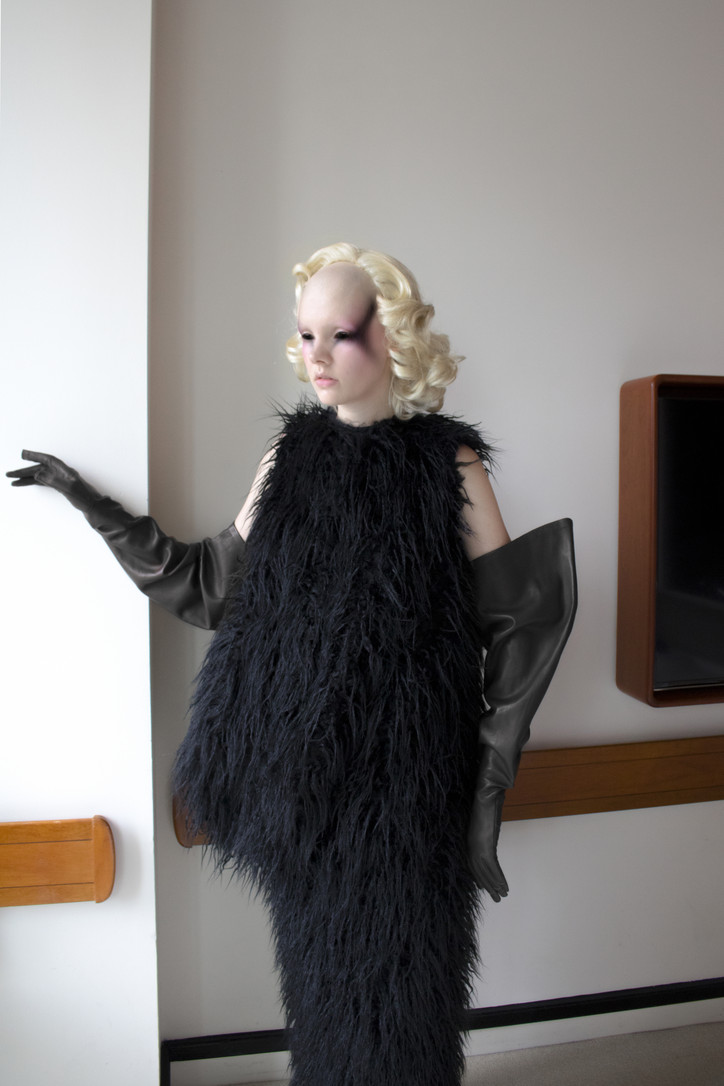 Check out the full interview below.
Where do you draw inspiration from for your looks?
Hannah - It definitely comes from a lot of things. I would definitely say nature is something that we really look towards in terms of the colors, the fluid lines. It's just something that we always try to surround ourselves by, so we definitely draw inspiration from that. We always say we draw inspiration from our fears, so I think maybe that's more in terms of the concept-based things that we draw upon in our work. 
Steven - Yeah I mean, what inspires us is always going to be innovation and how to push ourselves. This whole journey for us has really been about becoming fearless human beings as much as we possibly can within the limitations of life. For us, it's really about finding inspiration from that, so what we were afraid of, what we've been afraid of our whole lives, is kind of revealing who we are in public and being ourselves.
And for myself, my family, and being myself in front of them—that was a big fear. So in a lot of ways, what we took in terms of inspiration for our work really stems from what we were going through in our lives and how to basically express that through fashion, beauty, imagery or whatever. For us, it's really not costumes... It's actually us really digging deep inside of ourselves and trying to translate that through our visuals. Therefore, there's definitely an element of DNA within everything that we do. If it's from an aesthetic point, we've taken a lot of inspiration from alien aesthetics and what that would look like merging the human body with other-worldly life forms and connecting that to create something new from our own point of view.
So building off that, do you guys have brainstorming sessions where you come up with your ideas or do you innovate while you create?
Hannah - It's very natural. Like many artists or creators, when they have an idea, they have an idea. And they become obsessed with it, and they have to create it. So that's kind of how we work.
Steven - Yeah, I mean it's really a question about money. Money is really the biggest factor of what we do, because if we have a lot of freedom financially, we can really go off, and we can really get lost into just spending time, energy and effort into what we do and create something that can even take a month to create. But then, you know, if we don't really have a lot of money, that's really when we'll find something really cost-effective, and the ideas will really get affected by that. And that's something I think a lot of people can relate to.
Do you plan the designs and makeup looks in advance?
Steven - A lot of times, yeah. In the early stages of what we did, I don't think it was pre-planned, because we were just really kind of doings thing free-hand. Also, to just give a little background in terms of makeup, we never did makeup. Makeup was never something that we ever wanted to get into, and it was never something we thought we would even be good at. And still today, I don't even know if we're good at makeup. But we just kind of fell into it, and it just…
Hannah - We just started doing it to go out for our looks during the day. It was so natural.
Steven - Yeah, it was really when we started doing projects for ourselves, for our brand and for editorials or lookbooks that we started doing for ourselves that we were kind of forced to plan it out. We were forced to also do it ourselves, because we tried working with makeup artists. We tried working with hairstylists and stylists even, and nobody really understood what we wanted, and nobody was really even able to create it. We were at a roadblock where we were like, 'Ok, considering that we don't really have a lot of resources, the only we can do is do it ourselves. And even if we're shit at right now, it's better than when we're working with other people…' A lot of people's work was really amazing, but it never fit.
And we really just started doing very basic things, but then, that led into a whole new art form that we just fell into and really fell in love with. Now, makeup is a key part of what we do, and it's key part of how we translate our messages through our work.
Do you each do your own makeup? Or do you do each other's makeup?
Hannah - We do each others'. We help each other in the whole process.
Steven - Yeah, yeah for us it's really kind of our little fun ritual. I mean sometimes it gets really stressful if we're really late [laughs], but a lot of times it's really fun to just do it on each other. And there's a lot of areas, for example, like putting foundation on the back of the head. Like, I can't really do that, so Hannah helps me with that. In terms of very detailed work on certain ideas, I'm able to really do that. But then in terms of having the advice of like 'oh, does this look good,' we really go back-and-forth, and we really help each other. So yeah, it's kind of our little thing.
You guys attended fashion school in Montreal. When and how did you learn to manipulate prosthetic makeup?
Hannah - It was really just a natural process. Again, in school both of us didn't even wear makeup, even before we shaved our heads, I never wore makeup. So it was really a super slow process to learn how to use the different brushes, what products are right for your face and all these different types of things. And we still are continually learning different things about makeup. In terms of prosthetics, I mean we just learned from the internet.
Steven - I mean, it really started with Photoshop. Virtually you can do anything; virtually there's no limits. If you have the right the right tools, you can even transform yourself into somebody else, you know? So it really started with that. To be honest, it started with the drawings that I had. I used to draw since I was really young…especially in terms of makeup, I used to draw all these intense things, but basically things that we're doing right now. I used to draw them out and translate them on Photoshop. Using Photoshop really was how we started playing with the mutation of the body. But it was really until, me and Hannah I guess started feeling a sense of body dysmorphia, because our social media profiles didn't look the same as what we looked like in real life. Then, we started creating a little bit of disappointment in ourselves when we looked in the mirror, just in terms of the heightened fantasies of the looks. Then it was really when we started getting into translating those ideas that we were able to do virtually into real life with either prosthetics or whatever. Then, with the skin shoes and all of these other types of ways that we've kind of started innovating using body modification, and that's really how I think it started. It's because it was so free to do it virtually, but then to translate that into real life it takes hours, days. It takes such a long time. Then it's so fragile because with sweat, or DJing or whatever, your prosthetic can easily fall off if you really go hard [laughs].
Did you guys pivot into making (industrial techno) music or was that the plan from the start?
Hannah - We used to go out a lot. Me and Steven don't drink, and we don't do drugs. So, we used to go out a lot. And because we never did any substances, we would be able to wake up the next morning and easily go to school or go to work or whatever. Because we wanted to dance and listen to music. But we always found with the club scene and nightlife, there was the never the type of music that we wanted to hear, or it never got to that level of intensity that we wanted from music and the atmosphere and everything, so we decided to just do it ourselves. And that's kind of how we got into it. I guess we saw there was something missing in nightlife, and that's why we started to DJ and make our own music.
Steven - Fecal Matter has always been a platform that we created to express ourselves and to do whatever we wanted to do… And I think we always knew that we really loved music, and we're obsessed with music. It inspires us. It really does. It gets us into a space where we're really able to be in the zone, and we're able to dream. But we never thought that we'd ever be producing or DJing. A part of our DJ sets, there is a level of performance to it. The purpose of a DJ is to basically be the soundtrack of the night and provide the music for people to dance to, but nobody really normally like looks at the DJ or pays attention. But with us, it's really hard, because a lot of the times, it's the only way that a lot of our fans virtually are able to actually meet and engage with us outside of our fashion shows or whatever. We never thought we would have the courage, because we're very shy people.
We never thought we would be able to be on stage and have such a great amount of people just staring at you or watching what you're doing. Now that we've started to really get comfortable within that realm, our biggest joy is to actually perform and to really experiment with music and push the boundaries.
Do you get ready to music? What genre or what song?
Hannah - We do. Usually every morning when I wake up, I play meditation music, and we listen to that for a good couple of hours to be honest.
Steven - We listen to a lot of classical music also.
Hannah - Very calming, especially when we're sewing, you know? We always play piano music. S
Steven - Yeah, I mean we listen to a lot of really intense music, like hardcore, hardstyle, gabber, a lot really hard techno, but we're also into Britney and everything else and the classics. A lot of trance music from the 90s, we really love that type of very spacey music. We listen to music all the time, and it's always around us. It's fueling, kind of. When we're in a rush or if we're late for something which does happen quite a few times, we don't play music when we just have to concentrate. [Laughs] It's all over the place.
Describe your nighttime routine.
Hannah - I have to take a shower at night. I can not go to sleep without taking a shower like right before I sleep. I moisturize my face a lot.
Steven - For me, there's a lot of shaving going on around us. Like we shave so much in terms of our heads and all of that. So, sometimes by the end of the day, our skin can get very sensitive, and it can really feel really painful when you shave like six days in a row.
Hannah - And we have to take all the makeup off.
Steven - And yeah, it's really important to take a moment to just wind down and let everything go. And just like moisturize. It's so important.
You have 24 hours left to live. How do you spend your last day?
Hannah - I would be with my cat. And you [to Steven], sorry.
Steven - I think honestly, me and Hannah, we would create something. We'd create one last thing together.
Hannah - Yeah we would create, but I would definitely want my cat there.
Steven - Yeah okay, but your cat is dying so. [Laughs]
Hannah - [Laughs] Awww.
Steven - But we'd spend it creating. I think we would maybe like the final Instagram post.
Hannah - Oh my god, are you serious? That's so funny.
Skin Deep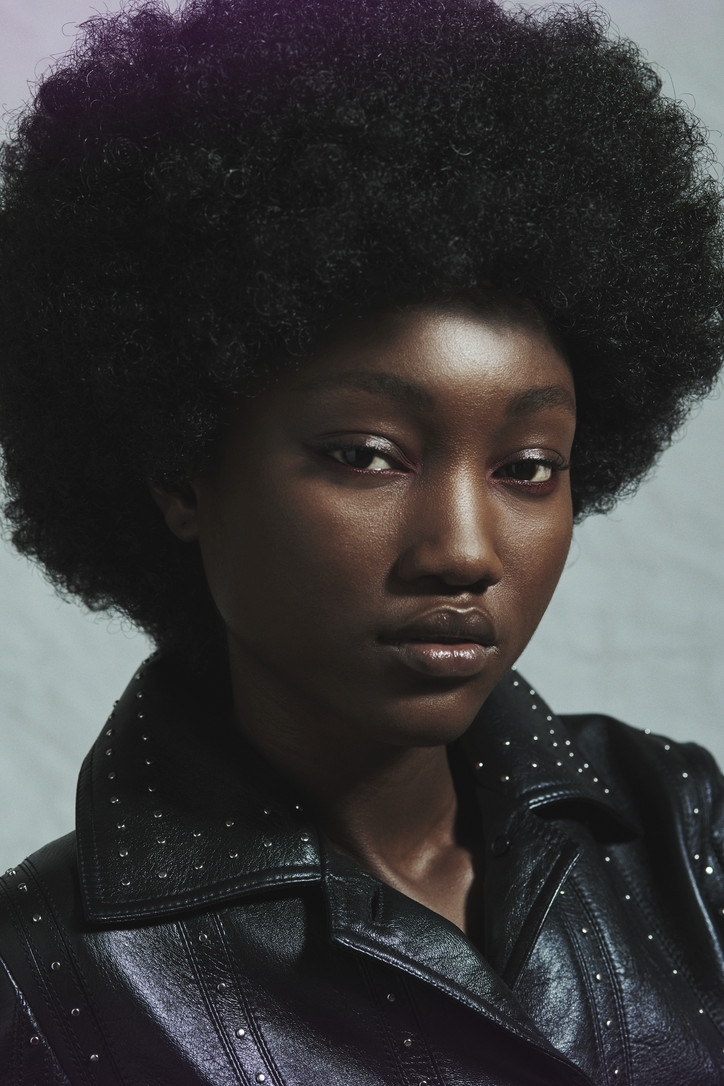 (above) Jacket by CELINE.
office chatted with the model about navigating the modeling industry as a black model and more. Check out the full story below.
(left) Top and denim by J BRAND, jacket by THOM BROWNE, shoes by SAINT LAURENT BY ANTHONY VACCARELLO. (right) Top by PHLEMUNS, hat by EMILIO PUCCI
Who or what were some of your earliest fashion influences?
My mother agent. Ms. Bolajo Fawehinmi. She was, she still is, the one that I look up to the most when it comes to the fashion industry. I also look up to Alek Wek who is an icon.
Representation has been a hot topic in the fashion industry for the last few years. Having grown up looking up to models like Alek Wek, what to you is the importance of seeing models who look like you on runways and in magazines?
Growing up I did not really know about fashion, because I attended school in Ogun State which is a rural area so exposure to fashion was limited. Now that I am part of the fashion industry, I am enjoying seeing the increase in black models on the runways. I am very excited about the growth of black models in the industry and how people are heading to Nigeria, heading to Ghana, and heading to other parts of Africa to scout models to model in in Europe and America as well as seeing the growth of the fashion scene in Africa.
Do you think we're going to continue seeing more diversity in the fashion industry?
I believe that we will continue to see diversity in the industry. The world is many colors, shapes and sizes and fashion should reflect this.
What city has been your favorite fashion week to walk in?
Milano!
Why Milan?
I debuted at Prada which was my first show ever. I arrived in Milano and everyone was incredibly nice to me. I made new friends and started this new journey. That is why Milan is my favorite city because it was the beginning.
Tell me about your beauty routine.
My routine is warm water, a toner and moisturizer. I do not even consider it to be a routine because it is so simple. I usually do not do make-up when I am off set but some days if I am in the mood, I may accentuate my brows.
How would you describe Nigerian fashion? How have you seen the fashion scene in Lagos grow or change?
Nigerian fashion used to mirror western fashion. Now, designers are taking more and more inspiration from our culture. I saw the Arise Fashion Week and my mind was like blown at the designs - they even took inspiration from the deities from my tribe, Yoruba, on the runway. I said 'This is what we need.' Ankaras, which is the fabric in Nigeria, are appearing more and more in show and editorials. Nigerian fashion is peaking.
Top by CHRISTOPHER KANE, pants by SIES MARJAN, shoes by CALVIN KLIEN 205W39NYC
Yeah, the Nigerian fashion magazine industry has grown a lot as well. I recently read about Genevieve Magazine.
It is fantastic. Model agencies like Few are working hard for so many wonderful new opportunities for their models and competing on an international level. I am very proud of how much the industry is growing in Nigeria.
Who is your favorite Nigerian designer?
Tokyo James. His clothes blow me away. I wore his clothes for Few's Next Face (modeling competition. The fabrics and the way that the pieces were sewn was perfect. And I was like, 'This one, yeah…we're Nigerians!' I cannot wait for him to be shown to the whole world so that I can see a designer from Nigeria in fashion week as one of the top designers. I will be so excited and able to say to everyone, 'Yeah, yeah, it's from Nigeria, you know, that's how we roll.'
Who is your ultimate style icon?
Myself [laughs]. Me. I can wake up tomorrow morning and say, 'Oh, I saw Rihanna dressed like this.' And I want to copy her or I ant to do what she did. Then I put it on, I'm like, 'I'm not Rihanna. Eniola, you need to dress like you.' I do nott have a fashion icon. You see me today, I just woke up and put [on] like two layers, boots, and I just came out like, 'This is me.' I am my fashion icon.
What do you usually like to wear?
If I am m not doing anything, I am always in my pajamas. 'Netflix and chill' comfortable clothes. If I am on a walk or running errands, I am wearing my pajamas top and the most comfortable, silky, cotton trousers. I always want to be comfortable in what I'm putting on.
What is one skin care or beauty product that you can't live without?
My moisturizer, Embryolisse.
What Beyoncé song completely embodies you?
'Run the World (Girls)' has been one of the songs that I sing whenever I need motivation.
(left) Dress by CALVIN KLIEN 205W39NYC, hat by 3.1 PHILLIP LIM. (right) Top and skirt by 3.1 PHILLIP LIM, shoes by ACNE.
Who is your favorite artist now?
I do not have a favorite artist. I pick songs that speak to my soul. After getting into the fashion industry, I started paying closer attention to the kind of music I listen to and I started paying attention to the actual beats in the music. Sometimes I do not listen to the words, I just listen to the beats and create my own scenario in my head.
What beats are speaking to you right now?
The beats in Major Lazer and DJ Maphorisa's 'Particula.' Featuring Ice Prince, Nasty C, Patoranking and Jidenna. The beats are everything. Everything!
What is it about the beats that effect you?
They motivate me to be more creative. Sometimes when I am getting dressed and need a little motivation, I dress to a particular beat. This morning I was listening Kranium 'Nobody Has to Know.' and the beats inspired me to wear this outfit: sweater under a big shirt and boots, big earrings and Afro.
If you weren't modeling what would you be doing?
I would either still be teaching or I would be in law school.
What kind of law would you want to pursue?
International law.
Do you have any pre-runway, good-luck rituals?
I always pray. I ask God for strength in my legs and my eyes. I do not want to trip and fall on the runway.
Are there any beauty hacks or secrets that you grew up with in Nigeria?
My mother would only let me wear lip gloss growing up. We used to do beauty hacks for skin in my grandfather's backyard. My sister and I would mash ripe plantains and mix with honey and aloe vera. It evens out the skin tone and prevents acne. If you rub it on your body, leave it for ten minutes and then take your bath, your skin will glow.
(left) Top and skirt by ECKHAUS LATTA, shoes by ACNE. (right) Dress by SAINT LAURENT BY ANTHONY VACCARELLO, shoes by THOM BROWNE.
Did you go natural with your hair recently?
I did starting about seven months ago. I stopped using a relaxer in my hair and allowed it to grow in naturally. My hair was damaged from the different styles during shows and at shoots. It is still a work in progress but it is much healthier.
Has it been difficult to transition and take care of your hair while working?
It is difficult. Your hair is constantly being styled in various ways with different tools such as flat irons which is really harsh on the hair. I do treatments and leave in conditioner to try to maintain healthy hair.
Does your mom give you any hair care tips?
My mother is a hairstylist so she gives me tips on which products to use.
Is it especially difficult to take care of your hair during fashion week?
It is the most difficult time. My hairstyle is being changed constantly and the products that are being used are not always the healthiest options for my hair.
What other areas of the fashion industry do you think that you would want to try?
I would love to explore beauty and skincare. My sister and I grew up trying so many different skincare routines with natural products we mixed ourselves. Some day, we would love to work on it again one day.
What is your go-to off-duty look?
Probably my pajamas!
What is the best advice your mom has given you?
Be patient, always patient. Growing up, she would always say 'Eniola, you need to be patient.' And I'm like, 'Mom, patience does not get me stuff.' Now, I understand what she was saying. When I was teaching, I began to understand what patience really means. Because with children, you cannot rush them.
Everyone needs patience in their life and things will just fall in place. When I call her and say 'Mom, how are you?', she always say, 'Are you okay? Eniola, God is going to help you, just, you know, keep your mind calm and be patient.'
The Mane Man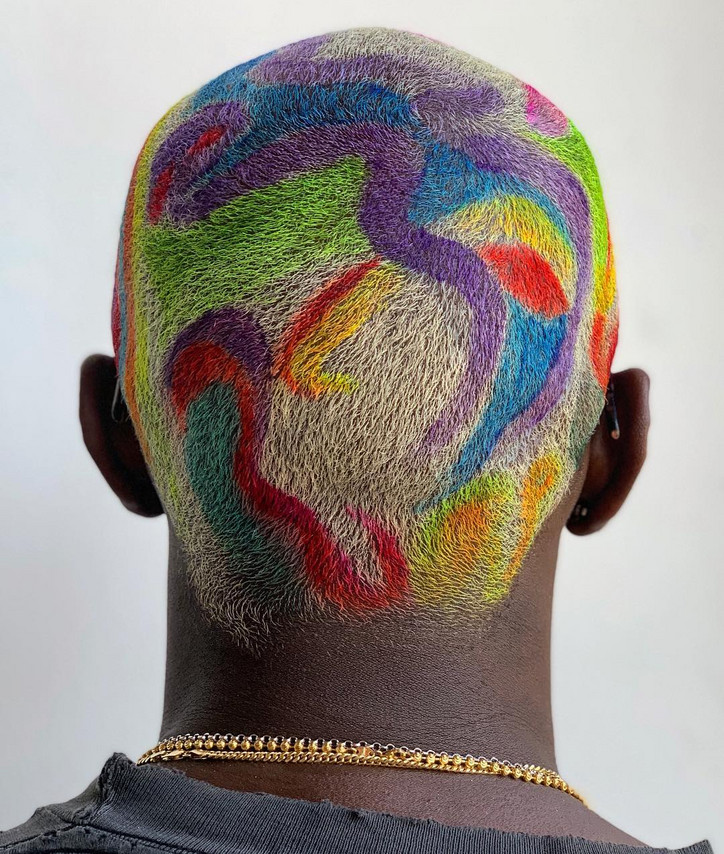 With an artist such as Moon at the helm, the colorful hair trend cerainly won't fade anytime soon. Check out the interview below.
What is your current "spirit color"?
Hard to say. Colors are like emotions; I wake up with a favorite one every day.
How do you come up with a look for someone?
Magic based off of someone's energy. People have color auras that lead their look into fruition.
What was the most dramatic or daring look you've ever given yourself or a client?
Every look is the most dramatic and daring.
Which artists do you look to for hair inspiration?
Cyndi Lauper—she's a queen. Yves Tumor is killing it with his looks. And I love what Tyler the Creator is up to as well.
What hair trend are you hoping makes a major comeback?
Hairspray, experimenting more with your hair, glamorous makeup.
What hair trend do you never want to see again?
The verbiage of "effortless hair." I want to see hairstyles that provoke excitement, that give you freedom.
Do you have a favorite color?
Green today, blue tomorrow, pink on Wednesday, neon yellow on Friday, and coral on a leap year.
If you could only have one hairdo and color for the rest of your life, what would you choose?
I haven't had it yet. You guys will be the first to know.
What is your favorite hair care product?
Mousse—so much action at the pull of a trigger. Sachajuan does a good dry shampoo mousse, and Virtue has a sexy moisture mousse, both not heavy at all.
What are your tips for caring and maintaining dyed hair?
If you're gonna have dyed hair, you have to water it like a plant. Spritz leave-­in conditioner during the day or at night.