Roy Blair's Nostalgic Happiness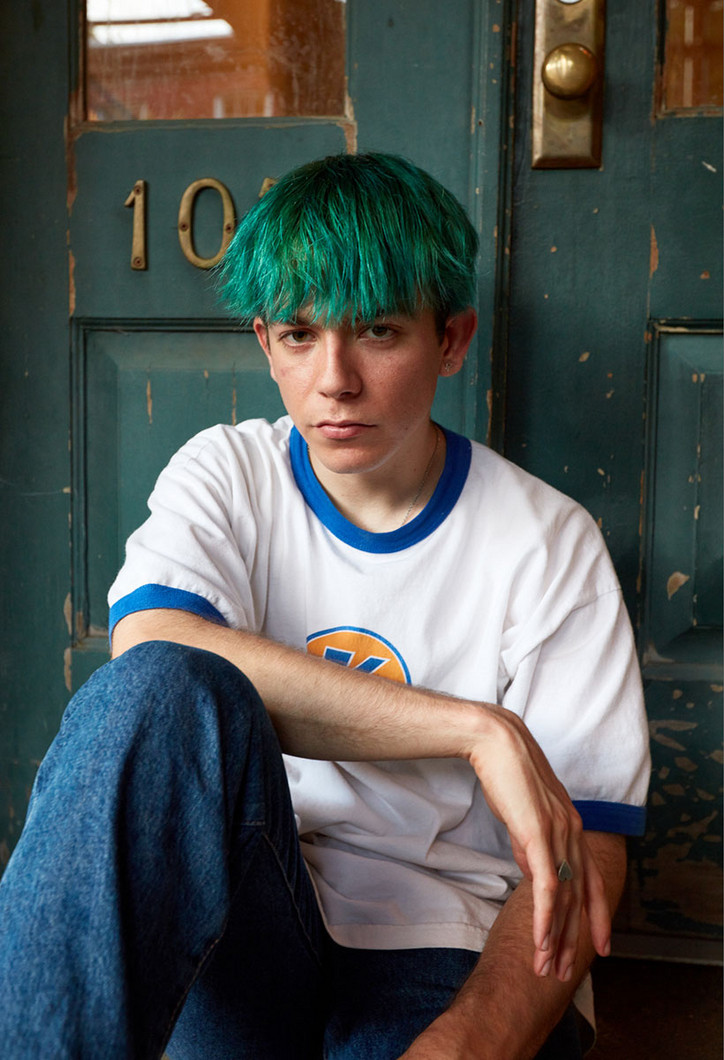 This comes as no surprise: the native West Coast crooner cut his teeth working alongside Brockhampton's Kevin Abstract, who he sang backup for on his American Boyfriend tour. Blair's promising debut, Cat Heaven, and recently released single "Dennis", show an artist with the willingness to evolve. When we sit down to talk, Blair is quiet at first, eyes seemingly hidden behind his green hair—it takes some prodding and a cup of coffee before he starts opening up. After a while, he reveals himself as a deeply sensitive and humorous soul with a myriad of surprising influences floating around his head: Acne, Alanis Morissette, Oasis, Michael Jackson. He's a Scorpio, which would explain the initial silence and the reflections on nostalgia, great joy, and making great art that would comprise the entire conversation. 
What can you tell me about "Dennis?" It sounds a little different from Cat Heaven in that you give yourself more freedom to freestyle and be loose. There's definitely a shift. 
I think the sound goes a little further, for sure. 
Why did you decide to go in that direction?
It just felt natural. It wasn't like "oh, I need to do something different." It was just what I did for the album, it's how it came out. 
Is the lead single for a new record? 
It's a one-off. 
I love the cover art. 
Thank you. 
I wanna ask you about the show at the Bowery Ballroom on the 24th. How did that go?
It was good! It was my second show ever as a solo artist. It was like twice the size of the first show. The first four or five rows were my fans and then the other people were just kind of standing there...it's pretty terrifying when you're dancing and moving around onstage and everyone's just standing still watching you. It's really weird, and there was a light on the crowd. The people were just standing there and could make eye contact with me and it was freaking me out. 
Sounds like a New York crowd. 
I was told that's a New York thing! The first few songs I was the most on edge and things were kinda weird, but then it got better because I just got more comfortable on stage. I think the performance was good. 
How does that compare to the crowds in L.A. ?
I think they just want to move a little bit more. There definitely are people who just like stand there, but I guess I just feel, like, more warmth. That might be because I'm from L.A., but it's definitely a thing. 
Before I heard "Dennis," I watched the video for "Perfume." I was thinking a lot about the kind of dreamy L.A. aesthetic it evokes. It's beautiful imagery; why choose to draw on that nostalgic, vintage look? 
I think the album just reflects on childhood and stuff. I think the best way to sort of represent that was going back to what my parents were playing in the car growing up, which was a lot of 90s stuff. Bands like Oasis, Alanis Morissette...their visuals and branding and taste played a part in how I was overseeing that video's creative direction. 
I feel like a lot of people of our generation have a muscle memory with VHS, but since we grew up in the digital age we're all very much...nostalgic? We crave those colors and that style because it's familiar and slipping through our fingers at the same time.
I think we're into nostalgia as a society right now. There's cool things and not-so-cool things about it. I think for the kid coming of age now, it does come from a place of us not knowing how to cope with the world changing. 
It's harsh, to realize the world's always changing. 
Each generation's going to deal with it differently. I think nostalgia is how our generation is dealing with it. 
As far as sonically, I know you've done a lot of work with Brockhampton, who are so particular. 
I worked with Kevin [Abstract] on this record. We worked on his last one before Brockhampton really took off. It kinda came together at the right time when we both wanted to play with guitars. He was always like, "Oh nobody's using guitars, I want to use guitars, I want to do something weird." When we met I was doing a lot of like weird guitar and rap stuff, and then it started just working itself out in a really cool way and I think we both taught each other a lot...he taught me a lot. I definitely think it was both ways with how we handled the sound for both Cat Heaven and his album. 
So I know I already asked you about the differences between "Dennis" and Cat Heaven, but your music pegged me as...not pop, but kind of? I think it's annoying to put music in a box because right now everyone's inspired by everything, but it has a strong pop sensibility. Where did that come from? 
I think like all the music that like I've been into since like day one—like when I was a kid—has been really accessible but hasn't been afraid to do something challenging. I think you can have a good hook and make it in a way that isn't conventional. You can have an unconventional pop song, and I think that's what separates the best music from the rest. It's a family tree type of thing where everything is connected, but it's your footprint in time in the bigger picture. That's what makes great art: taking something so common, like a great hook, like a Michael Jackson song, and making it weird. Rough it up a little bit. 
Do you like Michael Jackson?
I love Michael Jackson. 
What's your favorite Michael Jackson song?
"Baby Be Mine" or...I like "Girlfriend," off Off The Wall alot. I like "Rock With You," too. The video for "Billie Jean" was always a favorite of mine. It's still really cool today, with the lights. 
It's extremely dynamic. 
For sure. 
Are you making any new videos in the future? 
There's the one I'm making for "Happy." And after that, I don't know what I'm gonna do next, but it turned out really cool. The video to me really encapsulates the feeling I was trying to convey with the song. It's sort of a "day in the life" type of story with a horror/sci-fi twist. I thought it would be crazy interesting if the mood of the video didn't match the song at all, just like the lyrics to the sound of it. Juxtaposing emotions is something I'm probably always gonna do in my career. 
Vapid question, but what color are you gonna die your hair next? I'm digging the green, I must say.
I don't know. I might go back to blonde and then from there I might go like purple...like a real deep purple. 
What's your favorite color? 
For the past year, it's been green. But when I was little it was pink. I was into orange for a few years. 
Since you're focusing on your solo career, and you're so young with so much ahead of you, what's the end goal? Is there an end goal?
I was having this conversation yesterday with some friends in New York. I really want to make records that would have inspired the 14-year-old version of me, the one who wanted to be big one day and thought he couldn't have it all, the 14-year-old me thinking "I can't be a big artist." I want to inspire kids who were like me when I was 14, who thought they couldn't be big enough or weren't good enough…you shouldn't think that.