Saint Laurent Gets Wet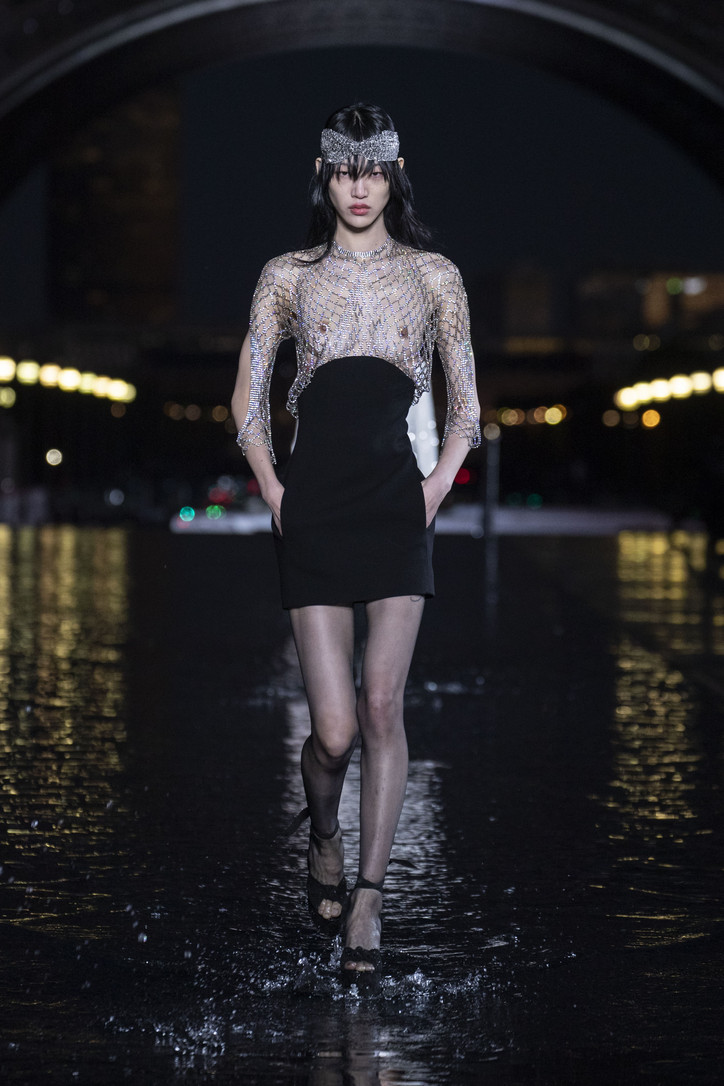 That's not to say Hedi didn't love women. But Vaccarello knows how to blend the hard and soft; the bold and subtle; the masculin et féminin. And that's exactly what he did this season.
As viewers walked into the Saint Laurent show yesterday, they were greeted with a spectacular scene complete with a lake, white-painted palm trees and a lit up Eiffel Tower. It was a magical ode to the City of Love, plus a little punk rock grittiness, just like the collection, which literally walked on water. Models like Freja and Binx Walton glided down a water runway with wet hair, wearing suede blazers, black bodysuits, ruffled Victorian blouses and sheer black maxi dresses, finished with sky-high platforms, the likes of which have become a brand staple the last few seasons.
Alongside signature all black looks, Vaccarello also used pops of gold, leopard print and red suede, as well details like multi-color star patches and sequins. There were also a few floral print looks, and Sudanese model Adut Akech wore a Yves Klein blue suede mini covered in silver stars and a giant bow on the back. But it was the brand's blazers and slim-fit tuxedos that really captured Vaccarello's vision: with Saint Laurent, women look sexy in everything.
View some highlights from the collection, below.
Photos courtesy of the brand.