Serve the People Lucien Smith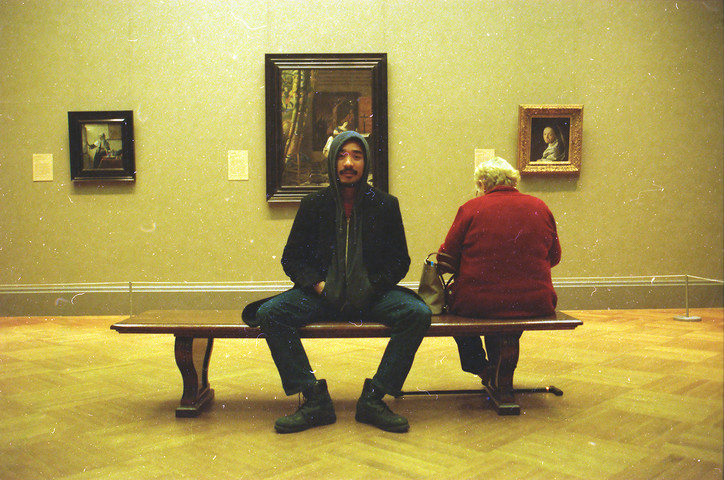 I first met Lucien in 2012 shortly after he graduated art school. I drove upstate to his studio near Bard College. He was renting this big red barn as a live-workspace from James Ivory of Merchant Ivory fame.
Within a year we did his first New York solo show at Half Gallery, "Good Vibrations." It was all appropriated guitar bodies which Lucien had then turned into wall sculpture by either painting or adorning them with bottle caps, glitter, tin foil, etc. Think John Armleder meets junkyard Duchamp. The exhibition happened to occur the exact same week as Superstorm Sandy, and there was talk of holding our opening by candlelight. In the end, the power was restored forty-five minutes before the show started. I was relieved but also slightly disappointed, like when the cops don't show up at your house party.
Soon Lucien was working on tumbleweed paintings and seed packet paintings and pie paintings. The pies were meant to mimic when a slapstick comedian throws a cream pie in someone's face, the type of practical joke that the subject and perpetrator tend to both be in on. While researching this cultural phenomenon, Lucien stumbled upon an old radical named Aron Kay who pied politicians as a form of political protest (he also once pied Andy Warhol). One of Kay's recurring symbols was an STP logo—Serve The People—bastardized from the better known motor oil of the same name. At first STP was conceived by Lucien to be an online art registry for unsigned painters and photographers—a way to get the word out about lesser-known talent—but it continues to morph into something new with each passing season.
BILL POWERS — For people unfamiliar with the organization, what is STP?
LUCIEN SMITH — It's a group which seeks to nourish emerging talent in art, music and film. Our goal is to provide an alternative platform for creative inquiry and experimentation. We want to help bring awareness to the unrefined, uncommercial and create a market for it as well.
BP — What are some historical precedents for this type of collective?
LS — We can look at groups like the Black Mountain College, an experimental environment that became a cultural incubator for emerging talent in the 1930s and 1940s. I think pre-2000s American culture could support underground movements which are now harder to establish. I think society has taken many significant turns in the last decade, one of those major factors being social media. While I believe it has allowed us to connect in an unprecedented way it also has shut out a large number of people. Things today go from 0 to 100 into the mainstream and oftentimes are unsustainable. The point now is to get unseen, unheard work out into the world with the support it needs, to an audience I believe is waiting.
BP — In 2017 you had a temporary space in Los Angeles called "Appointment Only," which staged a series of art shows.
LS — Yeah, it kind of started by mistake. I had founded STP initially as a creative agency meant to represent artists, but I was still trying to figure out the best approach to achieve that. In the meantime I had a painting studio in LA which was often unused, so the idea for "Appointment Only" was to utilize the space by any means. I started a small residency program there which ended with a solo exhibition by our artist-in-residence Alexander Muret. We also closed with a group show organized by young curator Matthew Brown.
BP — Now that you're back in New York, what's the next stage of development?
LS — Spring, 2018, we hope to stage our first happening called "Group Show." We announced an open submission call earlier this year for artists who wanted to participate. I thought maybe we'd get a hundred portfolios at most. Instead we got eight hundred. The focus is primarily painting or two-dimensional work, but "Group Show" will include some sculpture. I think the gallery system is counterintuitive in that most galleries frown upon unsolicited submissions where that's exactly what we aimed to collect. It's about editing down the eight hundred artists to maybe fifty people so there's a perspective to the curation.
BP — Who are a few of the artists you've selected for "Group Show" so far?
LS — They're all amazing artists. I would feel bad leaving anyone out. So I'm just going to list everyone we have confirmed so far…Luisa Alcantara, Rosa Arango, Jasper Arasteh, Laura Baran, Eliza Barry, Max Berry, Eric Blum, Michelle Brandemuehl, John Cahall, Chris Capoyianes, Elliott Chambers, Richard Choi, David Dellagi, Amanda Doran, Jan Gatewood, Adam Glibbery, Oscar Godfrey, Andy Heck Boyd, Zach Helper, John Spiliopoulos, John Hurley, Katerina Janeckova, Stephanie Krawchuk, Juliette Lemontey, Anders Lindseth, Greg Ludlow, Mack Ludlow, Rebecca Michels, Jesse Morsberger, Brendan Mulcahy, Tessa Perutz, Michael Reeves, Sarah Schechter, Jo Shane, Fabricio Suarez, Michael Trinsley, Eric Wiley, Tong Zhang, and Aaron Zulpo. All of whom contributed amazingly strong artworks!
Yeah, it kind of started by mistake.
BP — So how does STP branch into music?
LS — We have begun working on a small record label STP Records. We will deal directly with a Digital Service Provider and be releasing content directly to iTunes, Spotify etc… The music industry is changing so fast, and I believe for the better. Artist are releasing their own content independently which I think is fascinating. It's a little harder for musicians to do who have a small following though, so we want to work as the aid in that aspect. Last week we met with Michael Holman of the band "Gray" who myself and Sasha Frantz my partner at the label are HUGE fans of. He has an unreleased solo track from thirty years ago that we are going to put out on a AA two sided 12 inch vinyl along with a new recording. We are very excited about that project.
Things today go from 0 to 100 into the mainstream and often times are unsustainable. The point now is to get unseen, unheard work out into the world with the support it needs, to an audience I believe is waiting.
BP — You personally made two short films to date: "A Clean Sweep" and "Snowy Day". Are you striving to help younger artists make art films or do you hope to produce proper cinema?
LS — Film is definitely an interest of mine. I think all films are art. I hope in the near future we will be able to start talking about putting out short films, hosting our own festivals, and eventually producing features…
BP — Tell me more about the food intiative STP organized in LA?
LS — STP's roots have always been grounded in the idea of a healthy community. I first appropriated the acronym for my exhibition "Scrap Metal" in Kansas City, MO at Bill Brady's gallery. I discovered a photograph of a banner which took the very popular then logo from the STP Motors Co. and said "Stop the Pigs, Serve the People!". I was fascinated by that gesture, taking corporate imagery and giving it a liberal rebellious perspective. That is exactly what STP is in a nutshell. Serving the People is STP's way of giving back to the community directly. Portions of all our sales and revenue are going to be directed towards pre-existing and internal food initiatives. Currently it is being run by young chef Macklin Casnoff. He has been working on small public events called "Stir the Pot" which focused on gathering people in public places and providing them with a meal put together from rescued ingredients provided by neighboring restaurants. Eventually we hope to turn that project into a nation-wide initiative. – END
All artwork courtesy of STP
Brendan Mulcahy
Man 2017 oil on canvas,
22 x 15 in.
Laura Baran
Cemetery Walk oil on paper,
12 x 9 in.
Anders Lindseth
A Painting of a Fishbowl, at Night oil on canvas,
20 x 22 in.
Luisa Alcantara
He Never Called Back and THAT'S a True Story 2017 oil on canvas,
11 x 14 in.
Eric Blum 
Untitled No 784 2017 ink, silk and beeswax on panel,
59 x 47 in.
Greg Ludlow
Like New 2016 used tires, acrylic paint and tire rack
28 x 48 x 28 in.
John Hurley
Untitled Oscar Godfrey Windancer oil on canvas,
13 x 11 1/2 in.
Sarah Schechter
Untitled 2016
24 x 35 in.
Zach Helper
Desert Bush photograph,
20 x 24 in.
Max Berry
Cut Fruit & Bowl 2017 oil and acrylic on poly cotton
29 11/12 x 48 1/48 in.
David Dellagi
Bim and Bam Walk Down a Street in Algeria 2017
acrylic on canvas, 75 x 98 in.
Chris Capoyianes
Untitled oil on canvas,
18 x 24 in.
Elliott Chambers
Green Shadows Jan Gatewood
A little bit smarter 11 x 8 1/2 in.
Tong Zhang
Party 2016 mixed media on paper,
21 x 24 in.
Chris Capoyianes
Past Midnight oil on canvas,
20 x 16 in.
Michael Reeves
First Day of Camp
Oil on Panel 6 x 11 in 
Amanda Doran
Mother 2017
27 9/16 x 19 11/16 in. 
Aaron Zulpo
Rocket Launch 2017 oil on canvas,
11 x 14 in.
Michael Trinsey
Ocean Swell acrylic on board,
24 x 32 in.
Jo Shane
Autobiography All The Psychopharmaceuticals
1995 - 2015 pill bottles, sheetrock and insect eradicators