"Sweat" and "Machine"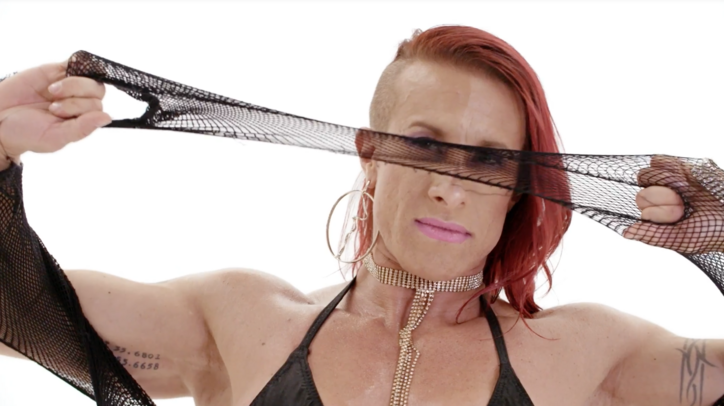 In "MACHINE," a crimson-haired female heavyweight stretches and tears her mesh bodysuit as she contorts her impressively-sculpted body over sleek techno beats. "When we were casting this film, I knew I wanted the contrast of a very 'masculine' body with a very 'feminine' face," Kirk says. "Despite this, though, gender was not my primary concern here."
The true focus of the series is to showcase very specific personalities and subcultures—the young skinhead, the female bodybuilder—and subvert stereotypes surrounding them through movement, through their distinct and personal relationship with the camera. "In the case of 'MACHINE,' I see hard work, I see dedication, I see mental strength—which is beauty, and beauty isn't feminine nor masculine."
Watch "MACHINE" below.
'SWEAT,' on the other hand, studies the movement of two male subjects as they run on a treadmill, frantically smoking bent cigarettes and drenching themselves with bottled water. "I wanted to use my close friend Axel Swan because of the fact that he's 6'3" and probably the skinniest guy I know," Kirk tells us. "I knew he would look rather awkward and uncomfortable in all the positions he'd be in, and that element of discomfort is something I want to be present in all of my films." 
With that, it seems that the central goal with the Status series is to not show our differences through movement, but rather how movement is a universal, unifying language. "We found ourselves in a studio with people of different generations, backgrounds, tastes and beliefs, yet once the music was turned on the energy in the room would immediately and indiscriminately balance." 
When I ask the artists if they think fitness is important, Bato replies: "Everything is important."
Watch 'SWEAT' below.
Director of Photography: Jon Jenkins
Casting and Styling by Roff Studios
Makeup and Hair by Shideh Kafei, assisted by Cris Danilhidalgo
Producer: Maximilian Kurzweil
Creative Developer: Nathan Bouton
Art Director: Jordan Marks
Color Correction: Edwin Rodriguez 
STATUS ARTISTS:
'Machine': Vanessa Adams
'Sweat': Alexey Glebko and Axel Swan
MUSIC BY:
'Machine': "5000 Moments" by Julia Govor
'Sweat': Starship Journey (Alien Apartheid Mix) Originally by Syringe, Mixed by Arsene Survie & Martin Daa Funder