Tattoo Fan Club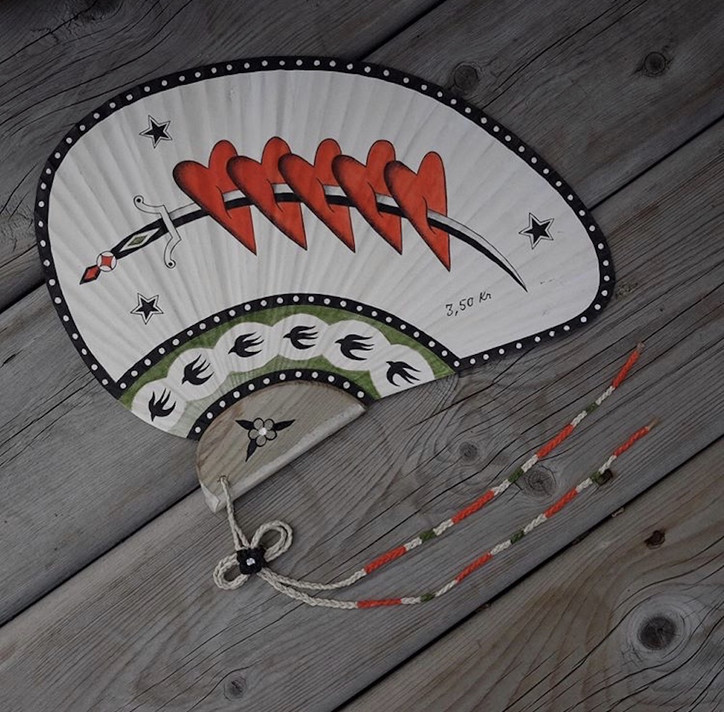 Stef's hoping to rack up that much or more with this year's rendition, aptly named Tattoo Fan Club. Like last year's use of Russian dolls, this season's auction comes with a twist––participating artists have to ink their best work onto a traditional Japanese Uchiwa fan. Plus, the works have to be inspired by a tattoo legend of the artists' choice.
All of the proceeds will go to Operation Underground Railroad, a charity that helps children escape sex slavery.
office spoke to four artists about their Uchiwa fans. See what they had to say below, and find out how you can help at ourrescue.org.
I decided to participate not only because it was an interesting and inspiring concept to paint the fan, but specifically because of the fact that everything gets donated to a great cause. Stef worked tirelessly to organize and make this happen, so it's him who really deserves a huge pat on the back.
I chose a rather unknown artist from Denmark named P.Petersen. He was around in the 30s, and his traditional flash, which is quite folky, struck a chord with me.
I ended up painting a folky traditional sword with five hearts, along with a border of dots and a thicker border of birds. I drew a lot of inspiration from P.Petersen's flash sheet in terms of color, which I seldom use, and style, as well as the fact that he would mark his sheet with a price. So, I did the same––3,50kr.
Lastly, I decided to experiment and tie my own omamori knot. I hand braided it and made the knot, followed by painting it to match the colors used on the fan.
When Stef invited me to participate in this project, I saw it as an opportunity to explore another style and thought it would be nice to contribute to a charity.
I painted my fan based on the style of tattooer and painter Rosie Camanga, whose career was based largely in Honolulu starting in the mid 1940s. Rosie's work has inspired myself as well as many others, I'm sure, to try and break away from the rigid guidelines of traditional tattooing that I was brought up to uphold. Amidst the never ending sea of stylistically similar tattooing, Rosie's style is truly unique, and the crudeness of it seems to add to the humanity I see in his work. 
My fan is inspired by the work of the great Bert Grimm. He's a big influence in tattooing these days. I used some of his flash to make a scene on the front and back. I wanted it to be related to each other, so it really looks like a little story. I also wanted the tribute part to be very clear, so I kept it as close as possible to the reference I used out of respect for his work.
I hope someone will enjoy it and buy it so we can raise as much money as possible for Operation Underground Railroad. Thanks for bidding, and good luck!
I drew what seems to be emblems found around the fertile crescent carved in stones usually marking important places. And I tried to make them into tattoo ideas.
I'm glad I could do this fan for the project and be a part of a bigger collective of artists who donated their works for a great project. It's great to know that we can give something as a tattoo community.