Twin Shadow in Real Time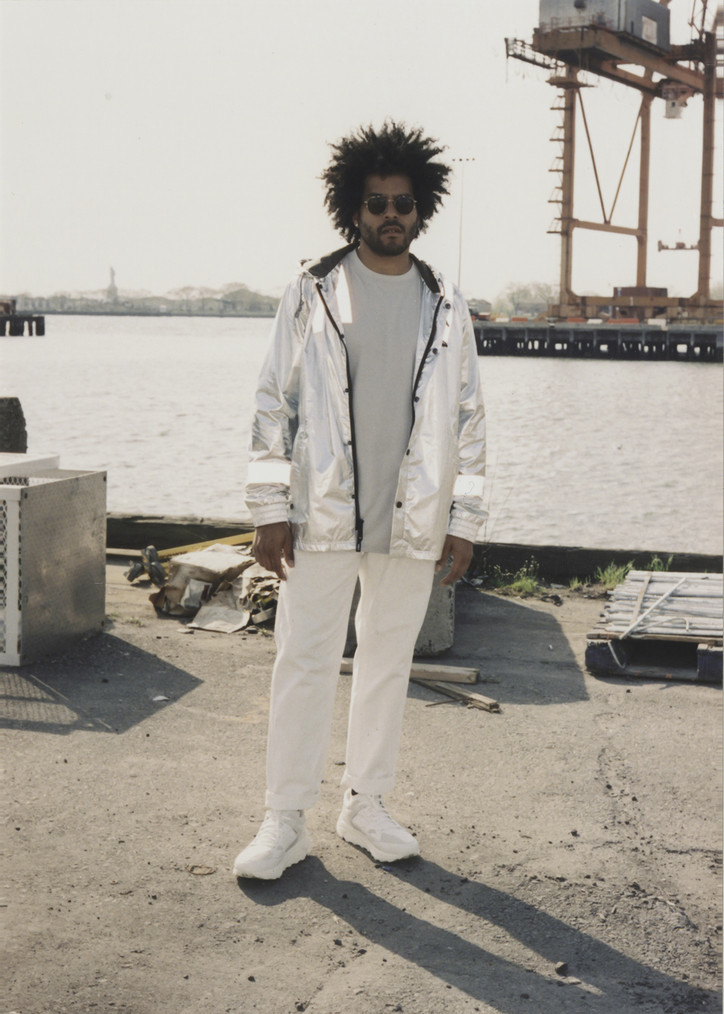 The 35-year-old musician rose to fame in the early 2010s with his 80's-influenced, guitar and synth driven sound. Then, in 2015, the artist went through a life-changing experience: his tour bus crashed into the back of a semi-trailer leaving twelve people hospitalized, and Lewis' right hand needing several rounds of reconstructive surgery. Lewis had some rethinking, and rebuidling, to do.
It's quite fitting, then, that his new record is not only titled "Caer" (which means "fall" in Spanish), but that it explores the intricacies—mentally, physically, sonically—of getting back up from something seemingly world-shattering. Read on to see what Lewis, Jr. had to say about finding peace, exploring new sounds, and touring with Beck.
OFFICE- You just went on tour fairly recently. How was it this time? Are you someone who enjoys "tour life?"
TS- It was a really good tour. It wasn't our tour so much, this time we went out to open for Beck.
How was that? Had you toured with him before? 
No, we haven't, it was just that kinda out-of-the-blue type of thing. But he was cool, super nice.
What's the vibe when you're on tour, typically? My dad was a musician, and I used to tour with him, but back then we would be on a bus with other bands, and I'm not sure people still do that these days. 
No (laughs) people do still do that, we've had tours where its us on a bus, and we'll bring another band with us.
It's pretty fun, did you get to do that with Beck?
No, no. And, it can be fun—but when its long periods of time, and I've done tours like that, it can also be tough. Dealing with your own interpersonal band relationships is hard enough…(laughs)
Well creatives are…a lot. There's a lot of energy. 
Totally. It actually reminded me, last night I went to this art opening. Basically, I walked downstairs and saw someone I knew, who was introducing me to this other person that he knew, but right as I was meeting them, that person saw this other person who owed him money, and then just confronted him, right there in the space. I was just like, "this is amazing." In LA, that would never happen. There, everybody's fronting that everything's good so much of the time.
I know, I lived in LA for a bit. I couldn't deal with LA— but then again, I grew up in New York, and when Europeans come to the US and they're horrified, thinking we are so rude. I don't think we're mean, it's just honesty. 
It's very reactive. People think that Hollywood is so self-serving. But so is art, and so is fashion! It's all really disgusting, mostly. I don't want to say that music isn't, but what I like about music is that you are making an intangible thing. The music industry is certainly wasteful, but its not nearly as wasteful as other creative industries.
That's actually a really good point, because even if its fucked, pop stars are still giving people something enjoyable.
And it's less connected with the politics of dealing with gatekeepers and this and that, even though that exists, but ultimately the people as a mass also decide whether they love something or not.
That's true, how has your new album been? Do people love it? 
Across the board, the reaction from my fans has been, "oh wow, this is a really personal record, I needed to hear that. It has helped me a lot." And the critical response has been exactly what it always has— a mixed bag.
Do you read the criticism?
I read some, but not as much as I used to. You find your audience, and then it's about finding more people who can understand what you're doing.
When you're creating the album, do you think about your fans in the process— about their response? Or is it just an inherent thing? 
Not anymore, I can't. It's funny that all artists go through a similar chain of phases— I think I'm at that phase where I am the most reclusive I've ever been. I've been taking an online drawing class, it will end up being 80 hours in total. I am focusing on growing impulses and talents rather than focusing on being social. At the same time, I've never interacted so much with my fans. For the first time I started answering all my DMs and trying to have conversations with people. It is about seeing the current state of things as an opportunity.
I think that's like...the healthiest thing I've ever heard from someone working in music. With that trajectory you're en route to writing a self help book. That's what you're supposed to do once you get to this point— but nobody really does. People tend to just burn out. 
It has to do with where the world is at right now. It's become very apparent that the things that were very important are meaningless right now. In the '80s or '90s, I think it was easy to burn out because it was easy to think that going to some brand event or being seen was what was important. I've realized what I create is most important. I make art in a bubble, and a lot of the world makes art in a bubble. There's definitely something wrong with it. I'm just trying to come up with my own answers.
What have you come up with?
Last night I took this really long walk and I just let myself wander. It was crazy, the things I encountered. Just to walk through a neighborhood you don't know, to expose yourself to something, to have a conversation with people you know and people you can't deal with, and to deal with the people in your life you hate and avoid. Everyone has to have their own challenge with themselves.
It seems like you shift genres a lot.
Yeah I jump around a lot cause I think I get bored easily. It's maybe not the best thing to do all the time. I'm interested now more than ever in going back to my roots, and my love for Dominican music. I feel like guitar-based music, from an Alternative standpoint, has kind of run its course a bit.
It's rare for a musician who shifts a lot to go back, because I feel like you're gonna interpret it with all the growth that's been in your music. That could really be the key, though. 
I hope so, that's the risk.