Uffie is Still the Outsider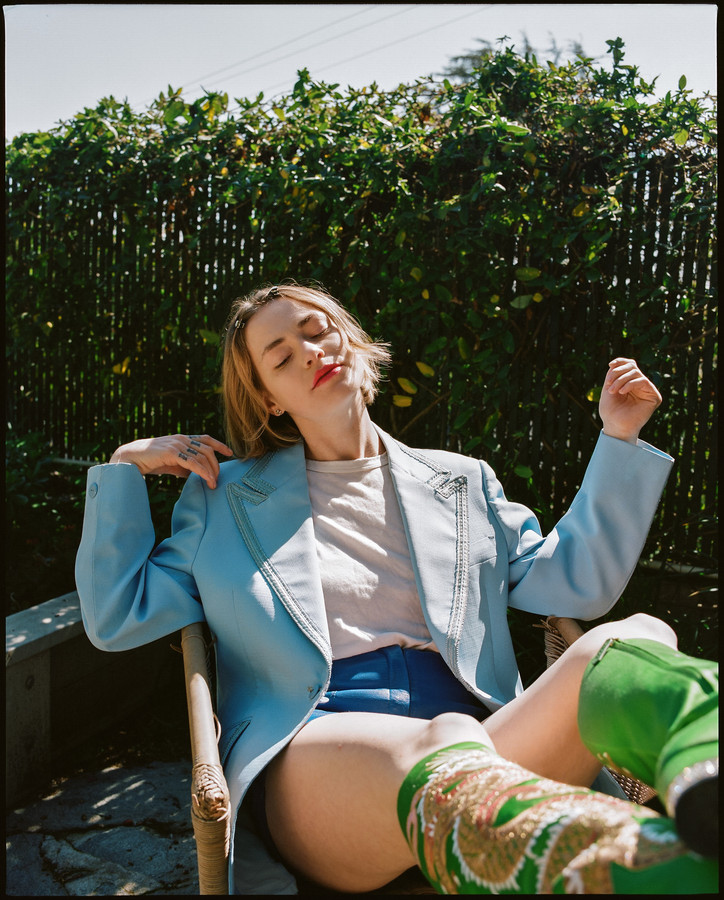 Then, to much online fanfare, Uffie started dropping a slew of new singles early last year. On "Drugs," over a wistful synth, she tries to persuade a lover to choose their relationship over partying. Standout single "Sad Money" is a meditative, emo trap ballad, in which she sings, "I wish I had a falsetto just like Swae Lee / I wish I never found out about Gucci / I wish I knew the best things in life are free." Over a decade later, her sound and lyrics are still as singular as ever, incorporating modern music trends yet still making it her own. It's like she never left.
We sat down to chat with Uffie about her new EP Tokyo Love Hotel, emo music, and self-care. 
How has the reception been for this EP so far?
It's been really good. I was definitely a little nervous, obviously, releasing my first big body of work in a long time with this EP. And also because it's such a different direction, but it's going really well. Playing it live a couple times has been really fun.
I had this one week where I was really sad, and I was listening to "Sad Money" on repeat. It felt really meditative. Do you have any songs or artists that you listen to when you're sad?
I have to be very careful with sad music because it can just make me 10x more sad. But someone I do love for that meditative, calming-out-of-the-sadness feel is Johanne Johanssen. He's a classical composer from Iceland, but it's very beautiful. It's kind of loopy and repetitive. That's definitely my morning sad vibe. 
All clothing vintage, shoes by Gucci
Did you listen to music in the making of this record? I know a lot of artists don't like to listen to music when making a record because it distracts them. 
I definitely try to stay away from music coming out now, like New Music Friday and whatnot. I kind of have a select few artists that I always listen to. I love The Knife, Fever Ray, Animal Collective, Bowie, some older hip hop that I always listen to… But I do try to avoid trends. 
I feel like self care is such a thing right now in music. In so many interviews I've been reading lately, all the artists are talking about focusing on mental health and going to therapy and stuff like that. Is this something you've seen pervade your own work, or just something you've noticed? 
Definitely. Do you feel like that's something you've noticed more recently? 
Yeah. Even in the past few months. 
I definitely get that. And I notice that in the younger generations. When I was a kid, everyone was always about blazing and getting smashed and going to shows all night, which is a great period of life. But I feel like kids these days are very about the future and about positivity. I think it just reflects what's going on in the world. I mean, it's really hard to manage to eat well and exercise, especially when you're lacking sleep. All these things are so imperative to your mental health, and you just deteriorate without them. So I'm definitely trying to figure out how to meditate to have that calming moment, as opposed to turning to something like Xanax.
I feel like social media plays a huge part in that—anxiety, feeling insecure, being too in your head… 
For sure. I had this conversation in a session yesterday. We were just talking about life, how we are a generation that had a glimpse of life before the internet, and how people could not be flakey. You had to show up if you said that you were meeting someone. It's kind of crazy how, as a parent in a generation where my kids can have a phone, I feel more comfortable letting them roam solo in the streets whereas back in the day, we couldn't do that. It's interesting going through social media where there's so much of the bad news in addition to good news. So it does bring that anxiety. 
You said you don't listen to much current music, but the new EP is pretty trap-influenced, right? 
Yeah, I mean it's more like when I'm in a big writing period that I tend to not, but between that I will. But yeah, I do love a good trap drop. 
What do you think of the overall trap trend? 
It's just so swaggy to me. And I love mixing it with vocals that aren't necessarily with that kind of drum. But I am hesitant because it is a very popular thing. 
You don't wanna overdo it. 
Exactly, or get stuck in that sound. But it's fun to dabble. 
What was the process of writing and producing for this album? 
I spent a while, a year and a half maybe, making so much music. I mean, the folder is crazy. It's more than I've ever made in my life, and I think it was necessary to find the sound. For the EP, all the songs except for one were made within a six or eight month period, so they're all very relevant to me. I didn't go in wanting the EP to be about anything specific, but I was going through a breakup, which is always good inspiration, and they all just kind of came together really, really naturally. 
When you first came up on Myspace, I feel like you were doing something totally new. How do you think you came about that new sound? Was it just your influences at the time? 
Well, I didn't plan on being an artist, it was just this fun thing where I got to write a song because I loved doing poetry and writing. The reaction I got on Myspace when it did well, I was like, okay I mean why wouldn't I do this? But I think not having that pressure of trying to figure out what I was doing, was definitely a magical part to that formula. But also, I was really uncomfortable singing, so I did it in more of a rap style. I'm such a sucker for autotune and vocoder, so we threw it all in there. So it was kind of just what I was comfortable with, and it ended up working.
Autotune is also an interesting trend. All credit goes to T-Pain. 
Seriously! Do you remember when the Waze direction app had a T-Pain voice? 
Of course! I feel like you kind of paved the way for artists like Charli XCX. I know you were on her song "Babygirl," but what do you think about her music and what she's doing? She's kind of a trailblazer in her own right. 
100% in her own right. Charli is a friend, I love her. And what I'm really impressed by right now is that she's producing this band, and she's on so many songwriting credits. She's in every lane, and I feel like that's such a prime example now of what you need to be as an artist because you're not just an artist now, you're a brand. She's definitely just winning in that lane. 
What's on your plate now, are you planning a tour for this record? 
There are discussions for a summer tour, probably starting in Europe, but that's not confirmed yet. But I will definitely be doing more and more shows as the year progresses, especially in summer. And we're just wrapping new music currently. 
Are you dropping something relatively soon? 
Yeah, within the next month. That's what's so exciting about being an independent artist and the advantage of how you can release online now, it's really cool. You can make something and literally be like, hey I feel like this would be great right now, and just drop it without restraint. As a musician, it keeps things really current to you.
Tokyo Love Hotel is available now.