Ward Stegerhoek: The Man, The Myth, The Legend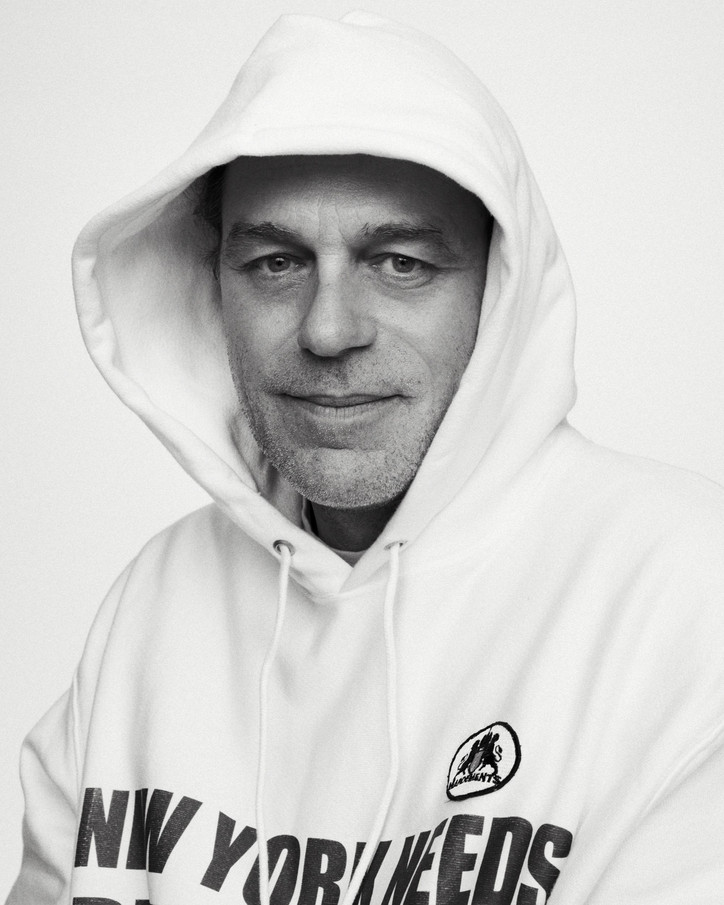 What are your first memories in the salon?
Well, I started cutting hair at home. After a few months, my mom kicked me out because she had carpet in the house and was tired of the mess. I ended up meeting a very funky guy in Holland called Leo Spindellar, and he was kind of a jet-set hairstylist in Holland that did pop singers and stuff like that. He was very into nightlife so he would show up late for work sometimes, and one day he showed up so late he gave me a pair of scissors to start cutting his client, and that's basically how I got started in the salon. I was there for three weeks and then I became a haircutter.
As one of the most renowned hairstylists in the world, do your clients give you free rein over their hair?
Sometimes, I would say they trust me. My approach to hair is not so much about doing intensive hairstyles or things like that, but more treating people with their hair in a way. I like to make people feel like they have character through their hair.
How has styling hair influenced your career as a fashion designer? Are there lessons/values you have carried over into your more recent projects?
Of course. I've been around fashion shows and worked with the best stylists and designers in the world. I've seen them all work on branding themselves so even though you're just doing the hair, you're kind of like a child in that you're absorbing the creative environment. It feels like my whole life has kind of been like working and learning in the higher academies of fashion.
When exactly did you decide that you wanted to start creating and building your luxury streetwear label, Wardements? Can you describe a specific moment?
Well, it was a funny coincidence of things because I basically already made clothes at a very young age—I actually made clothes before I cut hair. Throughout my whole career, I made some funny t-shirts and stuff like that for myself and my friends, and then it turned into making some really funny stuff that would make everybody laugh on set. Wardements is widely known for its humorous takes on popular culture.
Why is it important for you to incorporate humor into your work as a designer?
Basically, it all came together with those funny tees that I made for myself. At one point in 2017, I made a couple of sweaters for myself that some models on set started asking me for, like Gigi Hadid, for example, and some photographers- they wanted these sweaters. So I was like, okay, and then I made twelve that I gave away as a gift to my colleagues or clients that always laughed at them… not really planning on making a brand at all. Then, when those were given out several of them ended up on the internet and Instagram and on my wall, friends' walls, and then I got this spontaneous reaction. At that time, we had no plan to become a brand or anything. I started seeing my sweaters all over the set and on fake billboards in Tokyo that a fanbase made. One day, a request came in on my DM's for sweaters that basically I was ignoring because I had no production or plans to be a brand. After a few months, I went through the DM's and there were over 250 requests for sweaters. That's basically how we started. Your label recently launched a collaboration with Orange Babies, an organization that helps mothers and children fight against HIV in Africa.
How did you come about this project? Why did you choose to partner with Orange Babies specifically?
Well, Orange Babies are celebrating its 20th year anniversary this year, and I was already there with the very first fashion show they decided to do. Because in the very early stages it was just very few hair, makeup artists, and set designers from Holland coming together to do this show, we managed to pull it together pretty well! We managed to get people like Mario Testino and a few big-time models to help us. The tickets for this show went to the babies. Now, going forward a few years, the soccer wives from some famous soccer players in Holland got involved, which created a lot of publicity and donations started coming in. By putting up a few hoodies—I don't make a single cent from the hoodies, all the proceeds go to Africa—I've probably touched the lives of 850 somewhat children with the proceeds of the signed hoodies, which isn't a huge number, but every life matters! Many of the big-time models like Christy and Cindy and Gigi started signing the hoodies and putting it on their feeds, and this is how Orange Babies has attracted renewed focus from the outside. We want to generate publicity, really just any awareness we can get. I've got big plans for this. 
What's your mantra (if you have one)?
Oh, I never really needed one it seems! Every day I wake up ready to get started on whatever the day brings. I can't really work very well around people that have a lot of pretenses, that's not really me. Instead of trying to make all these achievements on my own, I like to pool the achievements together—it's the bigger picture that counts for me. I don't want to cut everybody's hair, I just want to create one amazing haircut that inspires everyone to go out and do it. I just want to be generous with my talents and gifts.
What's one beauty product you never leave the house without?
I have this oil that I put that on my face every day after or before I shave. It's the most beautiful oil I've ever found. It's the True Botanicals Renew Pure Radiance Oil. You only need a few drops. I put it on my face before I shave and I've never had a shaving rash since I started using it. I don't need any other moisturizer. I put it on right after the shower when my skin is still wet. 
What's in this season in terms of hair color?
There is a resurgence of brighter colors, like in the 90s- we had those East Village kinds of grungy people in fashion with dark blues and orange hair and pink hair. Then it kind of disappeared but it seems like multiple hair stylists brought this back into the industry. I guess it's inspired by pop music artists. However, I think what's really important is that people make sure their hair stays on their heads! Do these trends, do these hair colors, but make sure it's done in a gentle way—add conditioners and masks, just make the process of hair dying as gentle as possible.
Name a hair trend that you hope never comes back. 
All those Marie Antoinette styles and all the wigs. I mean, I'm very good at wigs and I do it when people ask- all the freaky stuff, too. But I like trying to make people's own hair look spectacular. It's more that I try to make the people look incredible, rather than just their hair... their hair travels along, but I'm more into character than style if you know what I mean. In the younger years of my career, I did more creative things- more arts-and-crafty hair. But I've learned to fine-tune my hairstyling in that less is more. A good cut can change your life. My favorite style would be a cut that flatters a person's natural state.
Who cuts your hair?
Anyone. I've had models cut it, kids cut it, babies cut it, assistants cut it. It really doesn't matter everyone's had a hand in my hair. That's how I baptize people, pretty much (laughs.)