Sign up for our newsletter
"Why"
Check out the video below.
Lil Tracy, Forever the Antagonist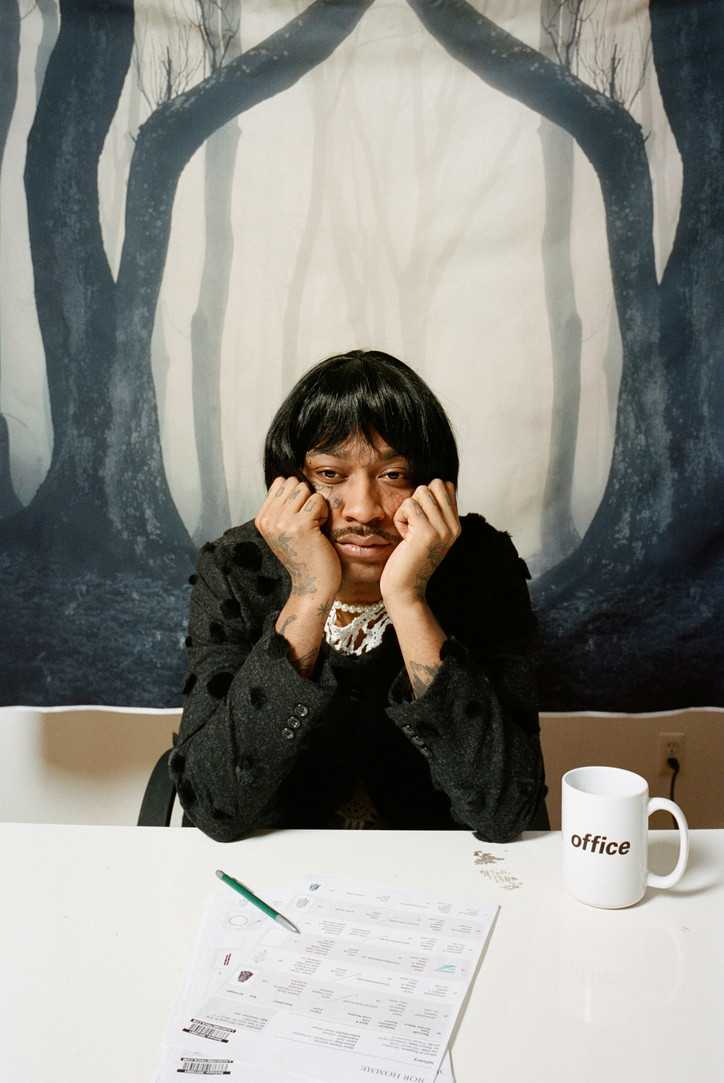 Cover photo—Jacket and top by COMME DES GARÇONS HOMME PLUS
Luckily for Tracy's peace of mind, he's refurbishing his previous dysphoric threads and wearing a lighter and more carefree version of himself. To be known merely as a "SoundCloud rapper" would be an understatement. Tracy's diverse discography mirrors his mutinous lifestyle, purely driven by an appetite for freedom.
In his upcoming record, Designer Talk 2, Tracy channels that insatiable hunger for pleasure and channels back to his source of confidence: his roots. This nod to his home base can be heard woven into tracks that pay homage to true designer talk, Virginia flex-flare. This style of music can be heard mastered by acclimated artists like Pharrell and The Clipse, but with a flamboyant Tracy-twist to it.  It is safe to say that, at least right now, Tracy is in a pocket of flexing and fun.
The rapper stopped by our office to play dress up, and to talk about his new album and headspace.
How're you in these trying times?
I'm good. I've just been playing a lot of video games.
Are you playing Animal crossing?
No, I've been playing Minecraft.
You've been dropping music at such a rapid rate ahead of the newest album. "Bonjour" is the latest single. I'm assuming you speak French?
No, I don't. But I made the song during a time where I was talking to this French girl and she was trying to teach me to French, so yeah. 
Left—Jacket, shirt, pants, and necklace by ALEXANDER MCQUEEN; glasses Lil Tracy's own
Right—Coat, sweater, pants, and shoes by ALEXANDER WANG; Gloves stylist's own
No but seriously, ["Bonjour"] definitely has a more upbeat and whimsical feeling to it. Very astrological and other-worldly sounding. Where are you traveling to with this song? 
Well, I actually made this song about a year ago so it's not my current frame of mind. But, this song is traveling to a world of, like freedom. I want everything to be carefree. 
It kind of feels like you are scoring the sound of a video game or anime. What video game or anime would you think "Bonjour" best fits in with? 
Probably Minecraft. 
This is very different than your regular sound and kinda stray aways from your emo roots. Is this the sound that we might be hearing for the whole album of DT2? 
Well, I made this song a year ago so the whole album will be completely different but it does have some similarities. I don't know, I think it will have some of those emo roots but a more free sound. 
If you could describe what pocket you're in for this newest album, what would you say with just a few words? 
Finesse, carefree, and like you said, whimsical. 
Right—Jacket, top, and pants by COMME DES GARÇONS HOMME PLUS; sneakers by NIKE x COMME DES GARÇONS HOMME PLUS; necklace stylist's own 
Are you scared of neglecting your emo loving fans with a different sound? 
I think I'm ready for a new sound and don't really give a fuck what people think. I think I have so much of that music, the "emo music," that if those fans don't like this they can always go back to that. 
Because of your roots, I'm assuming you went through a hardcore emo phase. If you did what did that look like and what were/are your favorite bands?
It actually wasn't an emo phase. It was definitely more punk. I never really dressed super emo, I used to go to the thrift a lot. So whatever I got from there. In regards to bands, The Casualties, South Central Riot Squad, and the P.I.N.S. were my favorite. 
On some of your other albums, you play the trope of the antagonist a lot. On your newest, would you describe yourself as the protagonist? What does this newest relationship look like? 
I think I will always see myself as the antagonist. Forever. 
Villian or superhero, who are you rooting for? 
It's funny you say that, because ever since I was a little kid I always rooted for the bad guy. 
So this newest album is about flexing and fun, do you think producing this type of music has changed your outlook on life or does it just reflect your current frame of mind? 
I think it definitely shapes my outlook. If I make happier songs then I will feel that way, as opposed to making sad music. I use it as a form of therapy and it helps me get into that right headspace. 
Flex talk is definitely huge in the South. Are you taking any of that Virginia flex flare? 
Definitely. I am taking a lot of inspiration from Virginia. I'm working with a lot of artists and producers from Virginia so there's a lot of that sound. 
So you're in your Pharrell pocket, so to speak? 
Exactly! I fuck with Pharrell a lot. 
Speaking of flexing, what was your latest flex that you bought that genuinely made you really happy? 
I have a lot of things. I just bought this really nice Vivian Westwood hat. Its like wool and fur. And then this crystalized Chanel bracelet 
And that you regret buying? 
I regret a lot of shit, probably just these pants I have. They don't fit. I'm giving them away. 
Left—Pants by DAILY PAPER, boots stylist's own
Post-quarantine, what looks will we be seeing from Lil Tracy? 
I'm really into sportswear, so I'm trying to get more into that. Like rich tennis wear. 
Any specific colorways? 
I'm fucking with yellows and greens lately. 
It seems like you're breaking barriers when it comes to fashion and music. Where does that inspiration come from? 
I think you're either born with it or you're not. From a very young age, my dad just instilled confidence in me, so I have never been scared to try out any look. 
Lastly, in regards to the style, in 2018 you tweeted about not wanting to fight because you have too many piercings. I've always wondered, how many piercings do you have? 
Now I have a lot less. When was this? In 2018 I had a shitload. Maybe like, I had my nose pierced, two eyebrows, two dermal piercing, and a lip piercing.
Diana Gordon Is Reclaiming Her Time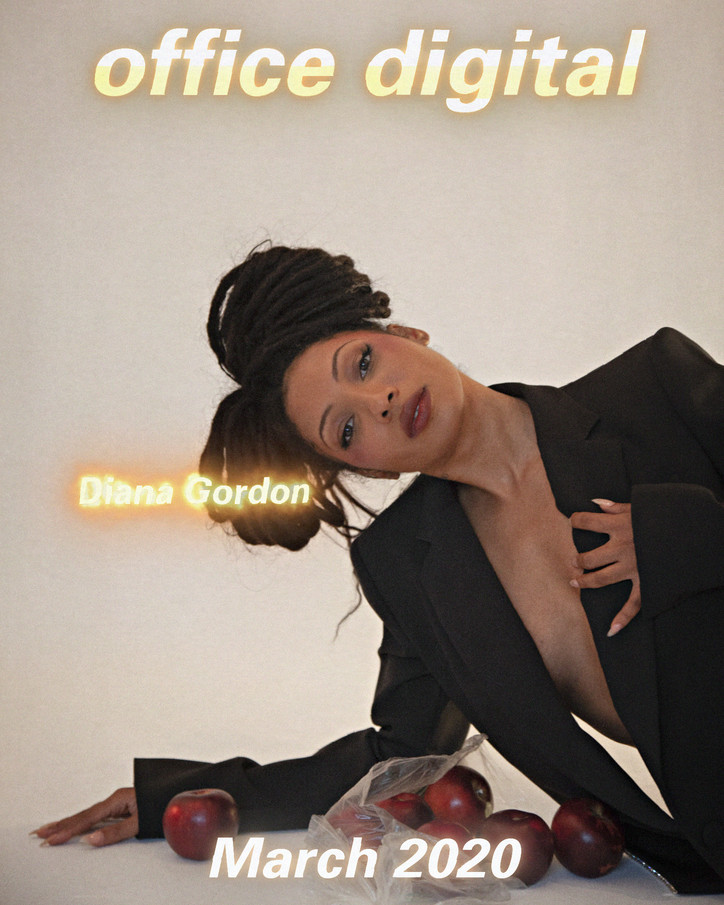 "Songwriting was never something I was proud of in the past," she tells us. "I'm starting to own that it is part of my story. I always wanted to be the artist because I'm an artist through and through. But what really took off for me was songwriting. It paid the bills and that gave me the time to build my art—financially. That [songwriting] is what gave me the accolades. But there is something to be said about these powerful women calling upon me to help them. I had to realize that was a gift. Especially someone coming from where I come from."
Diana hails from Southside Jamaica, Queens. New York. Foch Boulevard. Baisley Park. Eight people living in a two-room house. From early on Diana had a lot of responsibility, pain, trauma, and lots of religion. "I'm trying to step away from being ultra-humble. I'm so used to being a servant because of my life: helping others, having so many siblings. I got into this role of how can I help you opposed to how can I help myself. I got into a role of downplaying my greatness."
Left— Shirt, jacket and tie by GUCCI; Boots by Y/PROJECT; Panty, jewelry: model's own
Right— Jacket by AREA; Boots by GUCCI; Tights: model's own
But fate can't be fooled—there is no stunting her greatness. Diana's first big break came in 2005 when she was contracted to write for Mary J. Blige. She went on to create for other multi-platinum selling women (J.Lo, Dua Lipa and Beyoncé to name a few), which aided in her career as a professional singer. She signed with Atlantic as Wynter Gordon. However, with every passing year, Diana learned who she did not want to be.
"Everyone wanted me to make R&B songs about love, and dance like Chris Brown. By my eighth year, I had my eighth A&R and each one had a vision for me. I got stuck doing dance music, which is what they wanted me to do. I had yet to explore anything because I was fully busy on tour with Flo Rida, on the Hot 100, making crazy money, touring the world, playing the biggest festivals…and I hated it. I was making $20k a night at 5AM. I never drank and I don't smoke, so it was not my life."
On New Year's Eve in 2011, Diana sat down with her label president and explained to him that she was not looking to be the next Katy Perry. That wasn't her. After hours of back and forth trying to convince Diana to stay, he agreed to let her walk away. "Real things happen on the ground. Real things. The people say what's hot, not the radio. That's what I wanted. I wanted the people. And walking away from millions of dollars was part of that shit." She used the money she acquired to pay for studio time—her way.
"I have crossed a bridge and I'm not in the same place anymore. I can't continue to use the pain as fuel. I have to find something new, something positive and exciting. Build new memories, meet new people, and be inspired by different art."
I want to grow. I want to touch people the real way. Be genuine and honest and let them see me for real. And not pull away because I'm scared.
Right— Blouse by CHELSEA MAK; Boots by PRADA; Socks by CALZEDONIA; Panty and gloves: model's own
Whether Diana knew it or not, every YouTube single and music project, made way for future success. Her cult following grew. She was ahead of every wave that would follow. Though Diana was still underground, she was becoming the tastemaker, and people were tapping in. "It's like when you know you're the mood board. For once, I don't want to be the mood board. I want to be the main thing."
You ever get turned out by an artist for the first time after attending their live show? Maybe you had heard of them before, perhaps they never crossed your path. But somehow, some way you ended up at a venue. From that first note, they captivated you. You experienced all the glory and magic, then…poof!! You are a diehard fan. That is the effect of Diana. She is the main thing.
Not only is Diana's voice cut from the same cloth as Tracy Chapman and Joni Mitchell, but her pen game and star quality are on or above that caliber —she is fresh as fuck. From being mentored by the late Jazz whiz, Hugh Masekela, to mentoring young talents like Chloe and Halle, Diana has range –vocally, artistically, spiritually. She's an all-encompassing boss. "This is my jump into consistency. This is my jump into doing beautiful visuals consistently. You can be the only one to take power of your life."
…And what a powerful life force she is.
I want to be the best me that I know exists and it's my job to get there. That's my goal now.
"I am very happy. I'm in a place where I don't give a fuck. I am really committed to making things that feel real to me. I want people to hear my voice because it's special. I want to tell the truth in my music and my lyrics. I want to be raw and bare."
Before the world was thrown for an overwhelming loop due to COVID-19, Diana Gordon was set to open for Yves Tumor and play a handful of select venues. Sometimes it takes drastic measures for us to find solace in simple pleasures. May you be healthy, productive and as peaceful as possible during this time.
If you don't know where to start, get into Diana's discography. She will take you places.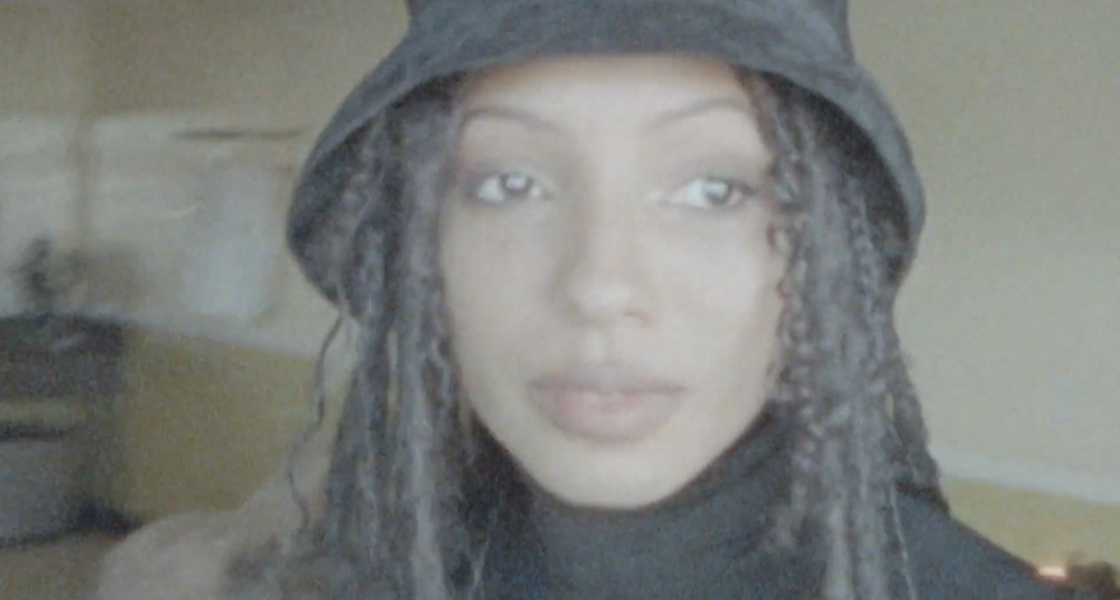 Rollin' with Diana
Having just dropped her new EP Wasted Youth, Diana is continuing to prove that she is more than just a songwriter to the stars. She is an expert at using her emotive, flexible voice to infuse a raw and gritty authenticity into anything she sings. 
Watch the video for "Rollin' (Acoustic)" below.