Why Did They Kill Bambi?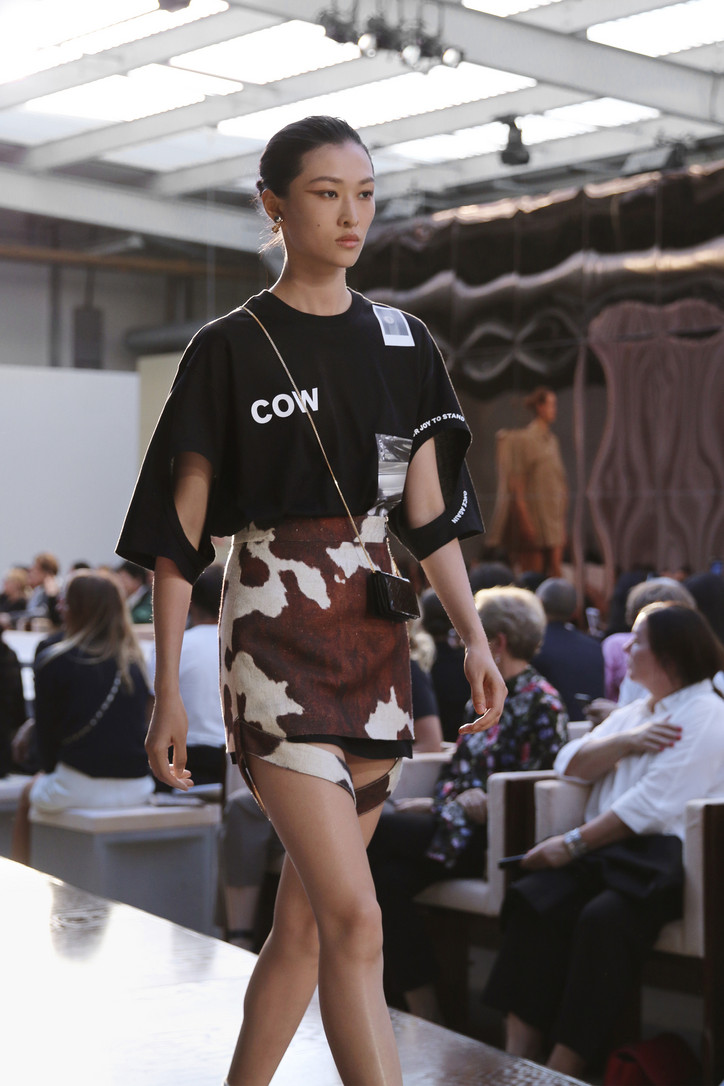 Monday's show took place in the hanger-like South London Mail, where soft khaki seats surrounded an extra long elevated catwalk. Pillars were mirrored and the space was divided by wooden walls, window panes and translucent panels. As the show was about to begin, what appeared to be solid roof peeled away, revealing a giant glass ceiling that let the mid-afternoon light in.
Compression sleeves with printed squares, and shirts and pants with vintage photographs, sheer polka dots over animal print (animal prints appeared throughout the show—not least of all a deer patterned shirt that read "WHY DID THEY KILL BAMBI?"), and thigh harnesses were among many unusual decidedly non-Burberry, but very Tisci-esque touches. Not to mention the embrace of the logo trend, which seems to be going nowhere.
The men's suiting, which is generally not the most thrilling moment of any show, was actually aa standout—inventive and new in simple details like three button closures and chest-mounted bands for ties—while remaining timeless and unaffected.
Another exciting invention were belts and bands that stretched high on the chest, breathing new energy and strangeness into Burberry.
And of course, the brand's signature trench coats made an appearance, revamped with an array of new detailing, including chains, detached feathers and snakeskin-embossed leather.
In a lot of ways, the show almost felt split—the first looks were very traditional Burberry, but as models continued down the runway, Tisci's influence became more and more apparent. And while some reviewers have called the show's 134 looks unfocused, there was not a dull moment, and contending with the brand's legacy while invigorating it with a unique, contemporary creative vision is certainly no easy task. Not to mention the introduction of evening wear—primarily in the form of simple, refined black jersey dresses.
As for accessories—they were also mixed. While there was some exciting new footwear (including a pair of faux crocodile pumps that are already available at the London store), the bags left something more to be desired—though there's definitely a certain kind of (great?) novelty in Burberry making oversized fanny packs. And post-show, no one can stop talking about the fake passports that hung around the models' necks.
It was particularly exciting to see Tisci's embrace and revamp of Burberry's trademark check, which the brand has been pulling away from in recent years over its associations with knockoffs and classist fears of footballers in brown, white and red bringing down the brand's cachet. Turned into stripes and deconstructed into multi-patterned shirts, Tisci remixed it into a new, cool, distinctive tartan.
While exhaustively going through each look would be well…exhausting, suffice to say we're liking the new direction. And you can peep some of our favorites, below.
Photos courtesy of the brand.