XXX is Blowing Up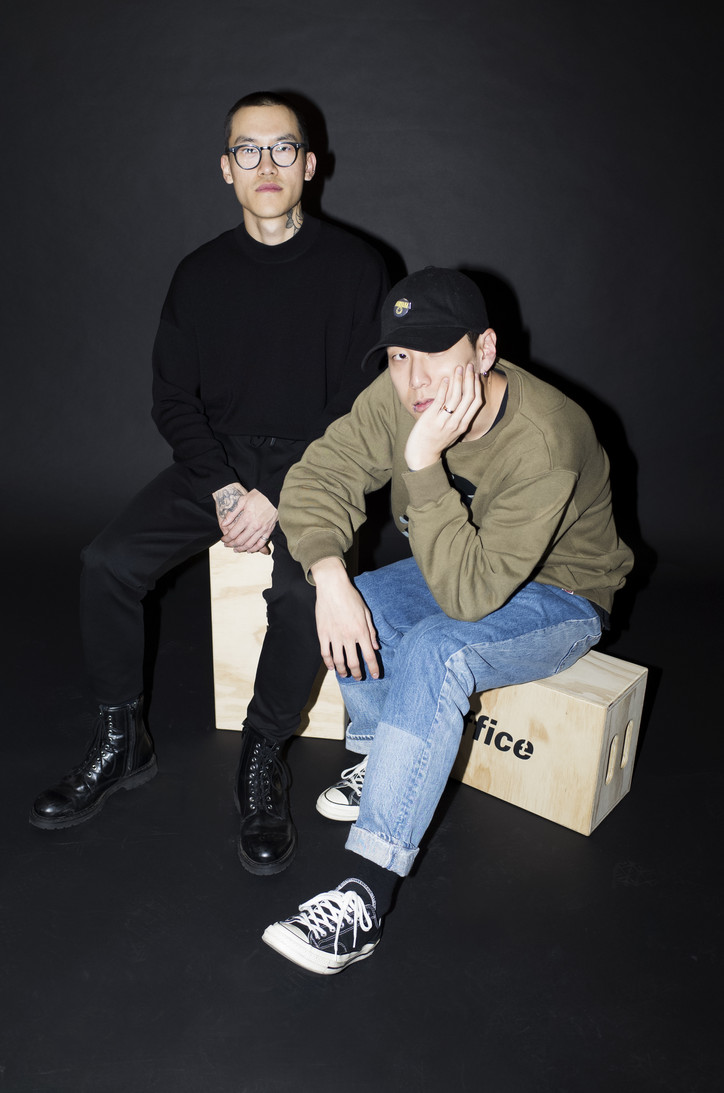 With their new album, Language, the duo confronts convention directly—by evading it entirely. Combining dubstep drops with electro beats, far-reaching classical samples and Ximya's hard-hitting raps, XXX achieves a completely new sound of their own. And lyrically, Ximya was way more honest on this album: "It's about how I hate everything and everything hates me. If [the audience listens] carefully, there's something they can learn from the things I've done wrong," he said.
But there's also something to be learned from what they've done right. The only way to blow up on the music scene in South Korea, Ximya tells office, is by competing on the TV show Show Me The Money, where rap crews are judged by an audience and other rappers for a cash prize. Ximya and FRNK, of course, opted to skip the show—because they knew their music wouldn't be understood by a general audience. And the whole thing is a little sacreligious, anyway. "I think it's a hard thing to even define art," says Ximya, "so how is it possible to rank how good you are?"

The band stopped by office while they were in New York to talk about the Korean music scene and Language.
What do you rap about?
Kim Ximya: It's usually about how the system is always taking advantage of the artists and not providing much.
What's the inspiration behind the lyrics and production of the new album?
Kim Ximya: I usually compare my situation to other artists at home. So, I feel like I should be as popular or as rich as the other guys back home doing music. But just because we're producing music that the majority of people who consume music don't understand, we're not as popular or as rich as the other artists.
 
FRNK: I'm kind of an introvert, so the inspiration usually comes from other music and movies I like.
How successful do you think you should be by now?
 
Kim Ximya: You know how the music scene today is really fast, and if you blow up on Soundcloud, just like that you're a superstar? Back home, it's not exactly the same. But I think we should be as big as the other artists in Korea.
Why is it so different there?
Kim Ximya: There's only one way to blow up and it's by attending this TV show called Show Me The Money where rappers get auditioned by other rappers. If you win, you get $20,000, and no record deal. But all the young kids watch the show, so if you do well, you don't even need a record deal because if you use the fame right, you'll blow up.
Why didn't you do that show?
Kim Ximya: I felt like joining the TV show would be a suicide mission, because we're not the types that would do well on the show—our music is too different.
It's a hard thing to even define art, so how is it possible to rank how good you are?
How do you think Language compares to your previous release, Kyomi?
Kim Ximya: For Kyomi, we experimented with commercial, relatable sources that the audience could relate to, and made fun of those said sources. But for Language, FRNK took on some of non-emotional, unique, fresh sounds that the audience hasn't really heard of—and tried to experiment and not make fun of those sounds.
Lyrically, what was the shift like on this album?
Kim Ximya: It's more understandable than what we did on Kyomi. For that album, I wrote lyrics that you wouldn't understand if you read them without thinking—there are metaphors and hidden stories that nobody's found until now. But for this one, if you heard it once, you'd get it—it's way more straightforward compared to our previous work.
You rap partly in Korean and partly in English. What's the goal behind that?
Kim Ximya: I think rapping in Korean is very difficult. The history behind rap comes from the States, so no matter how hard you try, it's hard to beat how good it sounds when people rap in English. I do need to use Korean because I have to tell something to my Korean audience, but limiting myself to only Korean—it'd be really hard to sound good.
XXX is really hard to search online—do you think you might change it as you guys gain popularity?
Kim Ximya: I would really like to change it, not because it's hard to search but because XXXTentacion has passed. And when we came up with the name, we had no idea who he was—it was before he blew up. Since he passed, too, it's kind of weird. But I think we'll stick with it.
What do you want audiences to take away from Language?
FRNK: Because the album is open to interpretation, to me, it doesn't matter what you learn from it—it's open ended for the audience.
 
Kim Ximya: Listening to this album is like listening to a person who has failed many times. So, when this person speaks, everything is negative, everything is about, 'Watch yourself,' 'It's dangerous to try things.' My lyrics aren't helpful—it's about how I hate everything and everything hates me. It's more important for the listener to interpret what's being said, though. If they listen carefully, there's something they can learn from the things I've done wrong.
What do you see for yourselves in the future?
FRNK: For me, it's about doing a variety of things while I can—band music, writing for movie soundtracks.

Kim Ximya: For me, it's about blowing up. I want a convenient, lazy way of making money.
'Language' is out now.