Bushwick Open Studios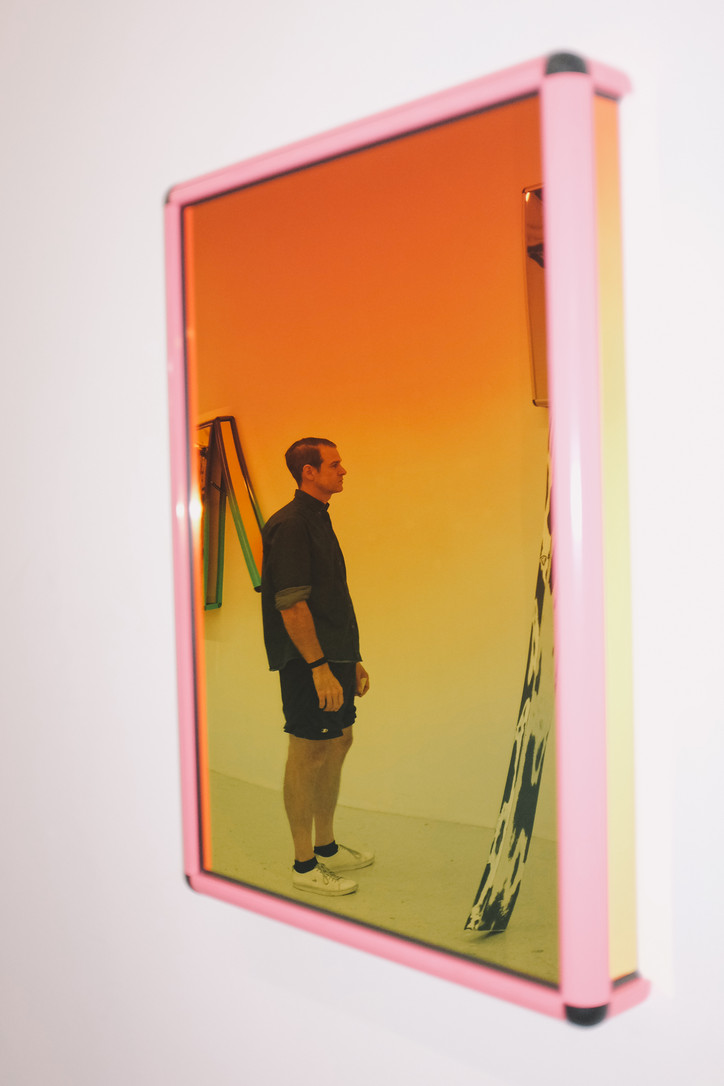 The event runs for three days and office hit the scene on Saturday to get an inside look at the work and workspaces of Bushwick's brightest new talent.
Here's a rundown of the artists who caught our eye:
Insil Jang
Artist Insil Jang works with photography sourced from government archives and historic records, silkscreening the imagery onto gleaming mirrored surfaces that give viewers a look at themselves, as well as the faces of those who history often forgets. Standout subjects include The Kim Sisters, a Korean-American music trio who performed on national television more than 20 times in the '50s and '60s. Another is Wong Ark Kim, the San Francisco-born Chinese-American whose Supreme Court case led the American government to begin issuing green cards to people whose parents are not U.S. citizens. Jang's work with Ark's image brings an important yet overlooked piece of American history into the modern world. The artist has recently evolved her practice to include personal photographs of Asian-American men in vulnerable states.
Julia Sinelnikova
With a day job in set design, Julia Sinelnikova's personal practice involves site-specific installations called Fairy Organs and Reveals & Sprites. Sinelnikova finds inspiration in the female-centric Eastern European folktales of her childhood which focus on the duality of beauty and nature. Stepping into her studio is like stepping into a high-fantasy realm populated by floating organic forms—modular designs with hand-cut details that Sinelnikova says can take up to a year to create.
Michael Stefanovich
Sculptor Michael Stefanovich has been working since 1996, using stone to express his inner emotions and ideas. With sculptures made of marble and rare alabaster, Stefanovich's finished works include an incredibly timely large-scale marble form called No Water Without Waves, that combines hard and soft edges to represent the ways in which society can function when people with opposing opinions cooperate with one another. Showing us a number of his completed projects, Michael expressed that he approaches his work the same way he approaches life: with a sense of engagement, immersion and respect for the experience.
Bobby Hill
Working with screenprinting and collage, artist Bobby Hill's studio is a paint-splattered gallery of pop-culture icons and history makers from the worlds of music, film, fashion and politics. Bobby chooses established subjects, like James Baldwin and Alek Wek, based on the significant impacts they've made on modern culture, as well as newcomers like Lil Yachty, who he believes will expand their influence as time continues. Bobby has also been working on an untitled series of figurative collages that are evocative of '80s hip-hop meets '60s psych.
Greg Allen-Müller
With elements of the readymade and formalism at the forefront of his practice, Greg Allen-Müller is an artist of few words who prefers to let his conspicuous yet enigmatic work speak for itself. Many of his sculptures resemble large medicine cabinets with color-tinted mirrors and compartments that open automatically courtesy of hydraulics. While not speaking much about his work, Greg did express the necessity of art in his life as a means of escape from the stresses of everyday reality.
Camila Cañeque
Staging her installation in the basement space of 17-17 Troutman Ave's artist studios, Barcelona-born Camila Cañeque's Summer Painting is composed of 50 gallons of melting ice cream, spread out into a swirling, marble-esque designs that evolve and change throughout the course of the day. Having done the installation twice before, Cañeque's work demands patience and the contemplation of passive movement across the 10 hours it typically takes to fully form. The process is one the artist admires as it makes the piece "like a blooming flower—you never know when the drama will unfold."
Vaidehi Kinkhabwala
Dividing time between New York City and her home country of India, Vaidehi Kinkhabwala addresses masculinity in its range of forms with Rooster Series, a collection of rooster paintings wherein the namesake animals each represent a man from her own life. Many of the works are meant to critique the toxic traits of the subjects, as is the case with The Traitor —a depiction of a duplicitous-looking male chicken representing a friend who espoused feminist views to the artist's face while contradicting those statements with their behavior. On the other side of the spectrum is a subject representing the artist's father, whom she credits with using his privilege to actively combat misogyny and elevate the platform for women in his community.
Taha Clayton
Kinship between subject and artist radiates from Taha Clayton's oil-on-panel portraits of effortlessly stylish men and women from across the globe. Often styling his subjects in select pieces from their personal wardrobe, Clayton's works are imbued with dignity and an understated reverence. A particularly striking work titled Angel of the Sunlight depicts a farmer that the artist met while traveling in Nairobi—the subject's vibrant clothing and shadow-obscured face are rendered with such photorealistic detail, while still retaining the appeal of seeing the artist's hand in his work.