FERNANDO by Sebastian Faena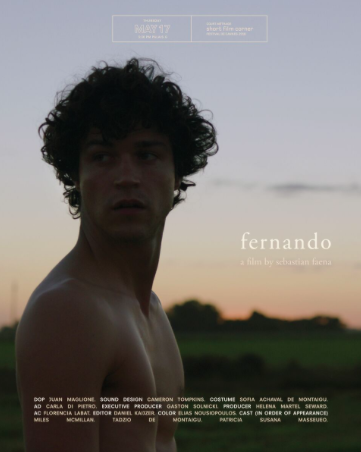 After all the hours put into this project – how does it feel to finally be presenting it to the world?
If you put so much of your heart into anything, you do it so that yourself and your work gets to be on exhibition. So it's relieving and gives me a joyous sense of closure and gratitude for those who helped me make it happen.
Who is Fernado and what drove you to write his story?
Fernando is my brother whom I never met. A picture of a child who looks like me but is blonde, holding a tennis ball smiling. It's the most iconic, an almost religious image for me since I first knew about him.
FERNANDO is about a boy who goes into the country to escape the "distractions of social life" as you put it. How personal of a project was this? 
The film is an illustration of a year of my life when I moved alone into the country to do just that. I had a red truck and my dog, a few books, no phone and the spectacle of nature was more glamorous and magnificent than anything I had ever experienced before (Fernando is my godson Tadzio's character, not Miles').
One thing I noticed in FERNANDO, as well as in "Those Wrecked by Success" staring Gigi Hadid, was how saturated it was with the sounds of the world, almost as if it was its own soundtrack. How important is sound to your style? 
Very, you can manage the audience's emotions like a puppeteer with the help of sound and personally I avoid loud noises in general.
How did you know Miles McMillan was right for the lead? Can you tell us what it was like working with him? 
He's my best friend, his co-star is my godson, Tadzio. Fernando was made by the people I love the most and make me feel the safest. Miles had never acted before and I believe he did it in a very unique way. His instinct is so right, he's honest, elegant, a natural actor and an original in every sense.
By presenting your film at Cannes, you're joining a 86 year tradition of celebrating cinema. What does that mean to you? 
Last year Miles and I were here for work, him for a show, me for a campaign and we said to each other "we are never coming back here if it's not for a film". And this is just a year later. So that's a very nice feeling.
DOP Juan Maglione, SOUND Cameron Tompkins, COSTUME Sofia Achaval De Montaigu, AD Carla Di Pietro, EXECUTIVE PRODUCER Gastone Solnicki, PRODUCER Helena Martel Steward, AC Florencia Labat, EDITOR Daniel Kaijzer, COLOR Elias Nousiopoulos
CAST: Miles McMillan, Tadzio De Montaigu, Patricia Susana Masseueo