Sign up for our newsletter
Greater Land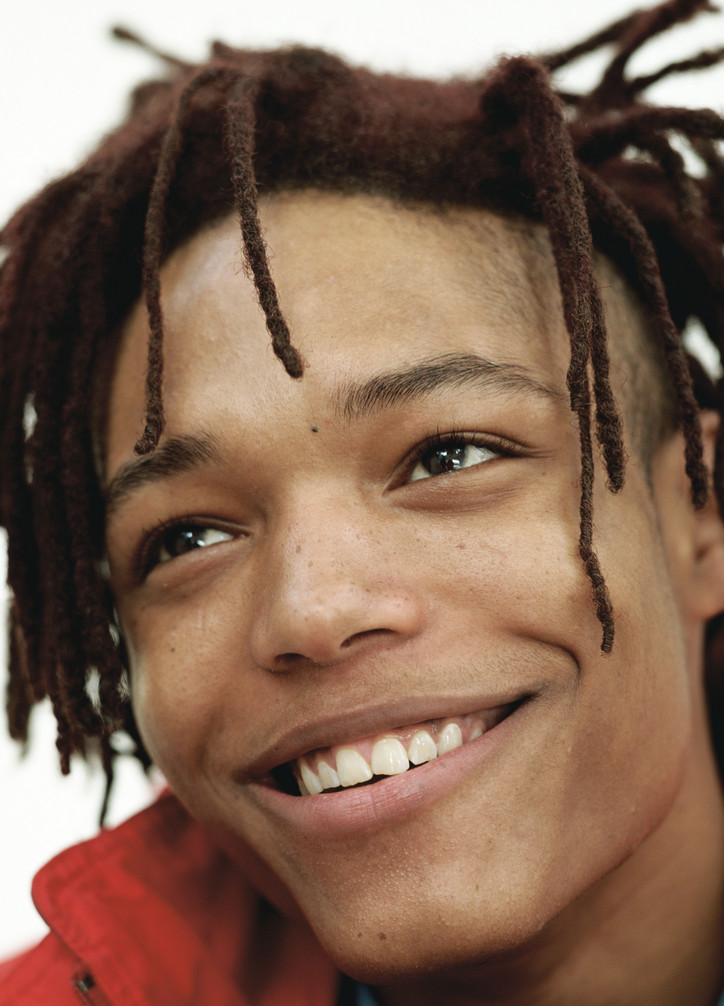 Photo Assistant - Eduardo Silva
Fashion Assistant - Sebastian Jean
Production - Office Solutions
Production Assistant - Sara Juric
Dyke Soccer
office sat down with both Alex Schmidt and Yael Malka, devoted Dyke Soccer player, to discuss the overlap of sports, art, and queerness.
What were the main reasons of starting Dyke Soccer?
Alex Schmidt: I had played soccer my whole life, but had fallen off from it because as I was coming more into my own queerness, I wasn't comfortable playing in straight-dominated leagues. I think I had always been uncomfortable with it before, but didn't fully understand why. I played in co-ed leagues when I first moved to New York, and after a few years of that I knew it wasn't my scene. Having played with girls in high school, I was like, 'oh man, this is the first time I don't feel like the weirdest one on the team, like the person on the outside of these blonde suburban girls.' And then when it started to evolve, it became a lot more about providing free physical and mental health support because there are no queer gyms in New York.
How were you hoping playing for Dyke Soccer would be different than playing for other leagues in the city?
Alex Schmidt: In a lot of other leagues, people aren't passing the ball and people have no interest in building a team language, which is what you need to get really good. I think Dyke Soccer culture is about supporting each other and improving as a team. We support each other in ways that's more than just playing on the field, and that's when I feel we're actually getting better at soccer.
What was the reception when you started it?
Alex Schmidt: In the beginning, I was really focused on recruitment. I'd go to parties and it would just come up in conversation. It's funny how many queer people we are already friends with wanted to play. I started building up an email and google group and now it's maybe 250 people in New York, 100 in LA, and reaching a much wider net than just my social circle. It's definitely the land of cancel culture so making anything political feels scary.
Yael Malka: It's really special to be in a space where you wish what they did could be part of your everyday life outside this community. Like, just being aware of people's pronouns - that that is part of an introduction is really important. It's a learned language Dyke Soccer has helped me enforce. When I go on shoots, I ask people what their pronouns are and everyone is so happy that that is something that is important to me. Dyke Soccer was immediately inclusive and not intimidating, and I think a lot of that stems from being a queer inclusive team. It's a space that people feel comfortable in, especially trans and gender non-conforming folks.
In that vein, was there a purpose behind the name?
Alex Schmidt: There's a soccer tournament in San Francisco called Festival of the Babes, and they say it's for lesbians or people who don't mind being mistaken for one. That made sense to me, but I wanted a broader word that felt more inclusive and I think 'dyke,' to me at least, feels less like an identity and more of a political umbrella that encapsulates a stance. I don't even know if I identify as a lesbian, so 'dyke' just felt like the word that was closest to home.
I think the way you bridge your art projects to Dyke Soccer has put a lot of people onto the program. Can you tell me a little about the Queer Speed Cruising project?
Alex Schmidt: I met Lily Marotta a few years ago on a webseries called Sad Girls Club, and we started teaching "Queer Art of Improv" classes. They were a reaction to general improv classes being an extremely straight culture. That was the start of us being like, 'pseudo-business partners.' We started Queer Speed Cruising last year for a fundraising party that Personals was having. Dykes are thirsty for connection, but no matter how many followers or likes you get, you have to meet up in person eventually. So we thought, maybe meeting a bunch of people in person at once is the move. It's partially us doing bits and running speed cruising, and over time, we've figured out how to get refs who are facilitating the process of signing up. Everybody is usually staffed from Dyke Soccer which is a way to keep projects connected, and to also keep money in the family because we pay everybody.
I was going to mention, I think it's a big deal Dyke Soccer is free for everyone…
Alex Schmidt: Somebody today at the game was like, "that's why I come. I wanted to play soccer but every league was 200 dollars to join." We did a GoFundMe and raised plenty of money to fund the program. It's a way to be more inclusive for people. They should know to come whether or not they have the money to contribute.
And Yael, you've worked as a ref for Dyke Soccer?
Yael Malka: I've done it twice now and I think the event speaks to Alex's ability to cultivate and create these communities and languages. As a ref, we understand it's really scary for people to come - a lot of people come on their own - it's nerve wracking! I get asked a lot of questions and I talk them through those nerves. You see crossover from Dyke Soccer but there's also around 200 people that come to speed cruising and you get introduced to. My community has gotten so much larger and that feels really special.
What was your soccer background?
Alex Schmidt: I started playing when I was four, my dad is famously obsessed with soccer. Around the time of 6th or 7th grade, I started playing year round. I played a little bit in college, but I went to a liberal arts school and it's not the same. I had a really tight knit team in high school, and we were really good so it was so much fun, but that was the time I was friends with the straightest girls and partying and drinking screwdrivers every weekend. Moving here, I tried those co-ed teams, and I still get texts saying "we need a woman to fill our quota on our team." That's just the most demoralizing thing.
Yael Malka: I played when I was younger, but hadn't played in a really long time before Dyke Soccer. I always loved watching it, but also felt like the co-ed teams I was invited to play in wasn't my environment. I feel like I was waiting for something like this, where I felt I wouldn't feel uncomfortable or judged for needing to get back into the rhythm of playing again.
It's so energizing to see Dyke Soccer bridge the art and sports world. 
Yael Malka: Yeah, I went to an art school as well where there was no real emphasis on sports, which is why it seemed to take a back seat for me. There was a division for me, my art identity and my sports identity. It's really hard to put taking care of yourself first and that started changing for me when I was twenty-three or so, when I realized you can have both. You don't need to choose one. I'm starting to see it in more artists now who are taking better care of themselves and seeing the importance of working out.
Alex Schmidt: I'm into group therapy and trained in a specific form of pedagogy that has to do with social constructivism. It feeds off the concept that you say yes to each other's ideas and you buy into each other's realities and build new knowledge throughout. You build a culture by deciding every time you step into a room or field, you're building a new one. That's what I try to tell the team, for example, if the weather is bad, it's not my call whether we play. If you want to go to the field, let people know, and it can still be on. I'm not the principal, I'm just a facilitator. Art and Dyke Soccer toggles back and forth and feeds to other parts of our work. Dyke Soccer is in a show that's hosted by an organization called Slowe Club in London and Yael's photos will be in that. I always want to hire queer people or people of color and the team is helping me do that by getting to know my teammates on an authentic level and discover their work.
Do you see any similarities in how you approach art to how you approach athletics?
Alex Schmidt: My role in teaching improv or anything, really, is to see myself as a conduit verses a professor. I never want to tell anybody how to make their art or how to be funny. It's more discovering 'what's your reality, what's your medium, and speak to your intelligence around that.' I've taught investment bankers, preschool teachers, all different kinds of groups, and everyone is funny because everyone has a really specific idiosyncratic reality that they come from. I did found the Dyke Soccer team, and I am a captain, but I don't see myself as a principal or president.
You both have shown a lot of interest in sculpture work. Do you think sculpture has a different relationship with the audience than other mediums?
Alex Schmidt: Yeah, I want to make a space that's for sure a showcase of my sculptures and my aesthetic, but is also functioning as a community hub and a place where you might spend lots of time. I think there's a lot of work now that's built to be used and for you to sink into. A lot of people ask me what my medium is and I truly can't think of a medium I don't like to do…all the mediums, that's the medium!
There are a lot of different mediums in Group Fail Pony Play that showed at the Leslie-Lohman Museum last year. Can you tell us a little about that project?
Alex Schmidt: Yeah, the name itself is a really distilled poem, I wrote down a lot of different words that felt central to my work - which is all about building as a group instead of moving from a place of individualism. Failure is really central because I feel there's a lot of empowerment in choosing that; accepting failure as the necessary result in order to take a risk. Pony, I think, relates to queer sexuality but also has a lot of ties to my personal life with 'horse girl' and the fact that I have a lot of autism in my family, so there's a really strong culture of horse therapy I've been around. This creates a crossover between sex and therapy. Play derives from the form of pedagogy that is the concept you should always be moving from a place of play. The piece has quilting, rug tufting, ceramics, live programming, and a performance video. The ceramics range from more flat pieces to ones that are more figurative that have tongues and strap ons. The performance piece is called Power Bottom which entails me topless riding a barely trained horse in North Carolina with a long white wig and kink wear. The audio is me being coached by Lily the Horse Tamer, and it feels a lot like her teaching how to train your bottom to a top.
Yael, you are also a photographer. What's your relationship with sculpture work?
Yael Malka: After I started doing more sculptural work, my mind goes there immediately because a lot of time it makes more sense to have the work be a physical object. A lot of what I use are found objects and I love the idea of taking something already in the world and changing the context of it or using it as a ready made. I'm really interested in ephemerality right now, so I want to keep pushing down that path.
Yeah, we saw a lot of themes of ephemerality in Almost Touching and Performance. Can you tell us a little about Elastic Behavior?
Yael Malka: I had stayed overnight in the Sahara desert and was so fascinated by the ways time worked in the desert and how there were physical imprints in the sand that would get erased immediately. The desert is in a constant state of motion. The piece, sand falling out of an hourglass, was made to be durational and lasted the entirety of the exhibition. With the sand piling on the floor, making its own shape, erasure and accumulation is happening simultaneously. Most of the world's architectural structures, as well as electronics, use sand as a base material, which led me to think about consumption, land, and borders. Borders are arbitrary decisions made about where a state or country starts and stops. The sand falling onto the floor is a reminder of that because it's land that truly can't be defined or fenced in.
A New Skate of Mind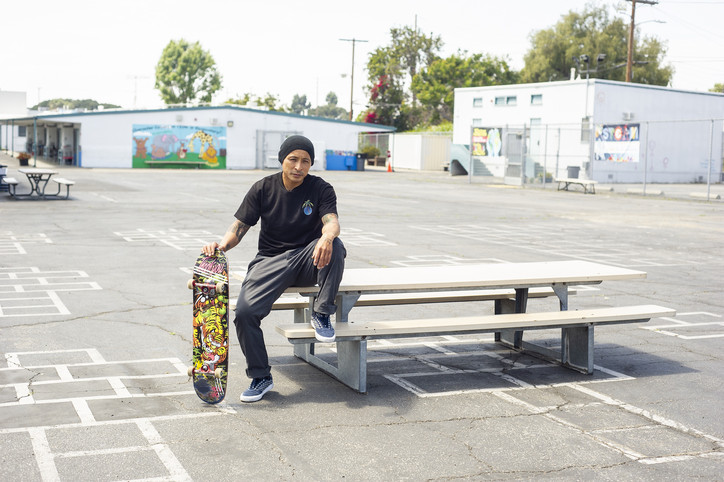 Later on, Song abandoned skateboarding for some time but eventually came back in full force. In 1997, he and Mullen released "Rodney Mullen vs. Daewon Song," a now legendary skate film, among many other videos. Song has since started his own clothing company, board brands and eventually went on to design skate shoes for adidas. In collaboration with adidas Skateboarding, TransWorld Skateboarding put out a documentary in March 2019, detailing the life story and career highlights over the course of the widely influential skater's 30-year career. "Skateboarding just kind of took over, and it saved me. It put me on this path where I became an individual, because I could just go do it on my own," he said in his interview with office.
I was really excited to see that adidas and TransWorld came together to do a documentary for you. How did you feel when you heard they wanted to put that together?
Daewon - You know, at first it was just supposed to be a seven-minute video tribute to the Legend Award that TransWorld was gonna award to me about a year ago. But then adidas stepped in too and said, 'Let's make this something bigger.' And I don't really like getting a lot of attention, so I was a little intimidated at first. And a lot of these guys they interviewed had spent so much time skateboarding. Longer than me, a lot them. It took me back to those days when I was a kid… it was nice to look back. I was blown away. I was so appreciative that they put this together, because now it's like I have something to show to my kids. Like, 'hey I had some moments!'
Yeah, a lot of amazing moments! It was cool to see people like Rodney Mullen and all these other skaters tell your story and how it impacted them and their skating.
Yeah, and those guys have done so much for me too. Rodney took me in when I was fourteen, maybe even younger. And just giving me that opportunity as a kid—that's why I feel like he's still responsible for me. There was a point in my life where a lot was going on with my family and things like that. So he knew I had some issues where I was at the time. So I always thank Rodney for doing that stuff for me. I'm going so off track…
No, this is great!
He really took me out of a point in my life where I needed that. There was a point in my life where I was gonna veer into who knows what. I was on a bad path. How I grew up, where I grew up—it was an easy recipe to go in the wrong direction. So I thank God for Rodney coming into my life and saying, 'Hey we wanna hook you up,' and being a bigger brother for me.
That's really amazing. Rodney took you in, and then, the first time most of skateboarding really saw you was when Love Child (1992) came out. How did you feel like that video part set the stage for your career?
It's still weird, because that was my first video part for the industry. Not counting the one that me and my buddies made on the VHS thing. Silly stuff. But yeah, that being my first video part was pretty wild. The way we filmed back then, nothing was really thought about. We went out with the guy, and he just filmed you skating. It was so natural. He'd be like, 'Hey what do you guys think about the spot?' And we were just like, 'Yeah let's skate it.' You enjoyed yourself. The funny thing is what just going out there and having fun will do for you. And in that era of my life, I was just all about fun, and I couldn't believe that someone wanted to video tape me do some tricks. As a kid you're blown away. You're like, 'That guy's filming me!' I was so pumped. You do throw in a little more effort, because a camera's pointing at you. But in all honesty, you just have fun and skate and do you. I know a lot of parts nowadays are sought out. There's nothing wrong with that, because you do have to think it out, and you wanna put out the best things that you can and make sure you're happy with it. But yeah, that part was just kind of an amateur trying his best to film a video part that he had no idea how to do. And that was it.
Sometimes, you can really see that bit of spontaneous nature in skate parts, and I think it adds a lot to it.
Yeah, and sometimes it can backfire too. At the same time what is really a backfire? That people just hate it? And honestly that happens a lot too, and you have to just kind of suck it up and go, 'It's the industry we're in—you're gonna get hate. And you can't be bummed. Everybody's entitled to their opinion. I'm honestly just sitting here saying that, but when I get the hate stuff, it does bum me out, I'm not gonna lie. And half the hate stuff too is just bullshit, because they're just trying to get your attention, so you hit them back and go, 'Hey, I apologize you hate my skateboarding, and you hate me. But I wanna tell you that I think you're awesome! And they hit you back and go, 'Dude hey, I didn't mean that. I just wanted to get your attention, and I like you and your skating.' So you just never know.
Like I said, this world we're in—it's like Joe Pesci. He's one of my favorite actors growing up, and all of a sudden, he started doing all the comedy stuff. I got all bummed out, and it's like, why? He's still doing his thing. He went from like Goodfellas to Home Alone and it was like, 'What? What is that?' I was all mad at him, and I don't even know him. And I just sat down, had a cup of coffee and was like you know what? I still love Joe Pesci, and he's his own person and does his thing.
Yeah, because we like a certain version of a person that we're used to.
And I tend to switch the version of who I am a lot. And in skateboarding, I tend to like move around and I get into different things. There's an audience that's like, 'why'd you switch that?' But I love the input—I love anyone's input and anybody out there that supports you and stuff like that. You can't be offended by it. If they don't like you for who you are now and they like you for who you were then, it's just an opinion. You just have to kind of roll with the punches, and that's why all that stuff nowadays with social media and stuff, people get so—it's a hard place for some kids to be. And kids, they have to just be an individual and look at themselves in the mirror and just know that they are an amazing person whoever they are, doesn't even matter about any sort of accomplishments. It's an accomplishment to stand and talk and be yourself. It's a hard thing, I understand. If you told me that when I was a kid, I got caught up with trying to be like, 'Hey, I think I'm a gangster.'
But I caught myself though, and I asked myself why I was doing all this stuff, why I was so caught up with being somebody I'm not. And skateboarding just kind of took over, and it saved me. It put me on this path where I became an individual, because I could just go do it on my own. I don't need anybody around to go onto a corner and just go, 'I'm just gonna do this on my own, and it's all under my control. It's all just what I'm doing underneath my feet.' It helped me so much.
Yeah, that's awesome. For myself and for a lot of people that grew up skating, it was almost an escape from whatever we had going on. It was really fun and it was completely our own, which is why I loved it growing up.
It's self-discipline! You're just trying to get that one kickflip. You knew damn well it wasn't even being documented. It was for yourself; it was documented through your eyes. It's just like, 'I need this.' Nobody's around, and you finally land it. And then who cares who's around? That was for us as individuals. I made it. And for that moment when you landed it, the amount of energy and positivity and happiness that runs through your body—it is irreplaceable. Wow, if you could feel like that every day, you know? It's an amazing thing.
I agree completely. Following up on your relationship with Rodney, it seems like you were the only one that stuck with him while a lot of guys left World Industries. Did you realize the impact your loyalty had on Rodney at the time?
No, I didn't. I was in La La Land, becoming the troublemaker kid. I was hanging out in the Wrigley at Long Beach, doing my own thing. I was just trying to go to parties, and I was involved with a lot of girls at the time. It was a wild time. A lot of guys were leaving and I was like, 'Oh well, they're just starting their own thing.' But the minute I talked to Rodney and he told me that all these people left, I could hear it in his voice. This was the guy who took me under his wing and protected me from everybody that hated on me. And to hear him break down and say, 'Hey, I don't know where this is gonna go,' it broke my heart. And the emotion in his voice when he was telling me this—it really got to me. Rodney took care of everyone like they were his own, especially me. And I was like, 'I need to get back in this thing and support him.' I told him, 'I guess it's just you and me!' And I was dead serious... I have this guy's back. He's like a big brother to me, and he saved me from other things. And I'm going back in there and trying my hardest.
That's great that you had such a strong mentor in Rodney. You saw what he did for you, and you wanted to be there for him.
It was a respect thing. I know you have people in your life too where your respect level for them is—they'll do anything for you, and you just know in your mind that you just have to step back up and help. You're not going in there to fight people—you just need to go back in there and skate. We have to try to help build this company back from where everybody just took off. I'm not hating on any of them. Everyone has their own path and what they wanna follow. You see where they all went, and they're all doing great. They're doing their thing. It ended up coming back stronger, it ended up being a good story.
Yeah, wow. I guess another pretty impressive thing with your career is that you skated for DVS Footwear for so long. 19 years! That's incredible.
Nineteen years with 14 pro shoes.
The Daewon 3 was actually my first skateboard shoe that I ever owned.
You know what's crazy is that everybody I talk to, they always talk about that one. It looks like a runner. So maybe it was a little ahead of its time. They skated kinda good, but they skated kinda weird too. I liked them though. There was a lot of opportunity to go to different sponsors, crazy different offers that were just wild at the time. And I was like, 'Woah you guys, this is a lot that you're trying to offer.' But my whole thing was about being loyal and sticking in there with the people that brought you in and gave you the opportunity first. But I was working with these people, and I realized I had a family.
That's way more important to me than making more money. Money is money, but friendship and that family value of holding onto something and being around people that you love? That was really important to me. The happiest thing to happen to me was connecting with adidas. That place, that team, the people they back… They got all these pro-skaters that were so amazing and had such an impact in the industry. And then later down the line, if [somebody] is just not really in the skating anymore, adidas takes them under their wing. And then they're still working for adidas. They're getting all these guys under the company to come around and work for them. And not only are they amazing people, but they're amazing skateboarders. They know what they're talking about; they know what they're doing. So it's just beautiful—I feel so at home. They just know everything about it. So there's no bullshit with them.
Yeah, it's fully skateboarding. They built the whole thing to really be done by skateboarders that know the industry.
It is. And of course you got your outside people that wanna hate, but adidas has been here for twenty plus years now. They have done so much, and they try to do these events. They have given so much back. They've hired so many pro skaters that just don't like skating anymore or just can't 'cause the industry is just a cutthroat place. And they provided jobs for so many skaters that deserved to still be involved in the industry, because they're super gifted people. And the thing is I get to witness that and be involved with it. I love it. I back them so much that if somebody tries to come at them, it's, like, nah. You're talking to somebody who 100 percent backs adidas and everything they're about.
Yeah, that's amazing. It seems like the Daewon picnic event turned out really cool, and it was rad to see so many OG's and young people.
I know! That was so crazy to see all the young guys just killing it. It was insane to see 20 years of the evolution of skateboarding over picnic tables in one day. It was a hard day for everybody, because everything was planned—it happened on Mother's Day, and it was still good. I was still happy, and the documentary was great too. In all honesty I don't think adidas really cares about the turnout. I think they care about what kind of event they throw and if people are happy or not. And you know, all the OGs showed up. It ended up being a great event.
Yeah, it's amazing. All the coverage I saw looked like it turned out great. One thing I noticed watching the documentary: I was surprised to realize you've had at least five last parts, like the last part in a video. I don't know of anyone else who's done that. I was like, 'Damn! That many last parts?'
I don't even know how many last parts I've had. I don't even wanna say that on record, because I feel like a douchebag sitting here trying to figure it out now!
Yeah, it's like between five and seven, which is pretty amazing just to see that throughout all the years you've constantly put out such high quality footage. That was a pretty cool thing to realize watching the documentary.
Yeah, the documentary—it's crazy, because I did the interview for that documentary a year and a half before it came out. I didn't see the documentary until the premiere. I had no idea what I was walking into. How crazy is that? They just took an interview they did awhile back, went off of what they knew, and interviewed people... Pretty crazy!
Wow, that is pretty crazy.
It was, and I was so happy with how it came out. And of course there's about 50 percent of my life that really reflects on who I am today that isn't in there. But the thing is, a lot of it is a little more dark, so it's just not the time for it. And I love the positivity that they kept within that. They did an amazing job, so I'm happy.
One thing you're known for is being a donut connoisseur. What would you say is your perfect donut?
My perfect donut is the donut you can never find anymore. A perfect donut is fresh off the fryer, spun around in sugar and just a little bit of strawberry filling. Just a little. That's it, that's all I want. And you know how hard it is to find that?
Everyone's just overcomplicating it.
Everywhere you go now, it's like, 'We have bacon with chives and kale and toasted almonds with syrup. And you're like, 'Okay well that sounds good, but honestly, I don't feel like having kale right now. I wanna have a donut.' I mean I do back it though—this donut industry has really stepped it up. It really went out there! Everyone's making craft beer and fancy drinks, so let's do something with these donuts! But I'm more of a basic donut kind of guy. I like to find those old donut shops that are still surviving. Like, hell yeah, you guys have been here for how long? I love you, and I back you. So, I will support you, and I will buy a dozen donuts that I don't even want, but I'll share them. 'Cause I just wanna give you business.
One thing you're definitely known for is having a super creative approach to your skating, everything from rooftops to rocks and trees. Was there any skateboarder that inspired you to step outside of how everyone typically skates?
I feel like everybody in the industry has inspired me. Skating has been around for so long. Many people have gapped trees, you know? A lot of New York-style skating, too—these guys just smash everything. They ollie over a pole, over a cart. They crooked-grind a bike. And I feel like everything out there in skateboarding kind of inspires me. I get in these modes of like, 'Ah, I just wanna skate only that one thing.' And that's my problem. If it's mini ramps, it's only gonna be mini ramps for three months. And I just want to film as much as I can on that. If it's rocks, trees and a branch, I just wanna skate that for three months. But I get intimidated by a film crew or publicized contests. I'm just not the same.
I feel that, for sure. It's funny how much it can change when doing it on your own time versus having all these people. It's almost like public speaking. You recently teamed up with Torey Pudwill to start Thank You Skateboards.
I wanted to move on, and do something with Torey. We thought this could be fun. This could fail, and this could be horrible, and we could be both left with nothing… What's life without a challenge? Go challenge yourself! Go hope. All that excitement—there's a thing that that does for you as a human. For all of us, we love it. You know what I mean? For me, skateboarding is my life. It's my passion. And you know Torey, people hated on him too. And I was like, 'What if people don't want you on their company?' I told him he was gonna blow up and have other opportunities.
I don't feel like anybody has to commit themselves to you or to any person. But Torey, he had my back. Rodney, I had his back. You do small gestures for somebody, and it really goes on forever. You build this friendship and respect for each other, and it's great. Us teaming up and doing this, it's the best thing, and it's been so fun. It's not like we're killing it, but it's been fun, and we're doing decent. I love seeing a new board company, and it's just me and Torey doing our own thing now.
It gives us an opportunity to find new talent, like how Rodney found me. And I can sit there and say to them, 'You know you might get hated on, but trust me—I have your back. And I believe in you even though nobody else does.' Hopefully, I can do that with somebody, and be the 'Rodney' for some other kid. That's a big thing for me. I wanna spread positivity. Skateboarding is a place where you can be yourself as an individual. You can be whatever you want. Be you, and there's a possibility that you can make something out of it and push it into a career. But honestly, it's not even about that. All that matters is that it brings you joy.