Hip-Hop Alien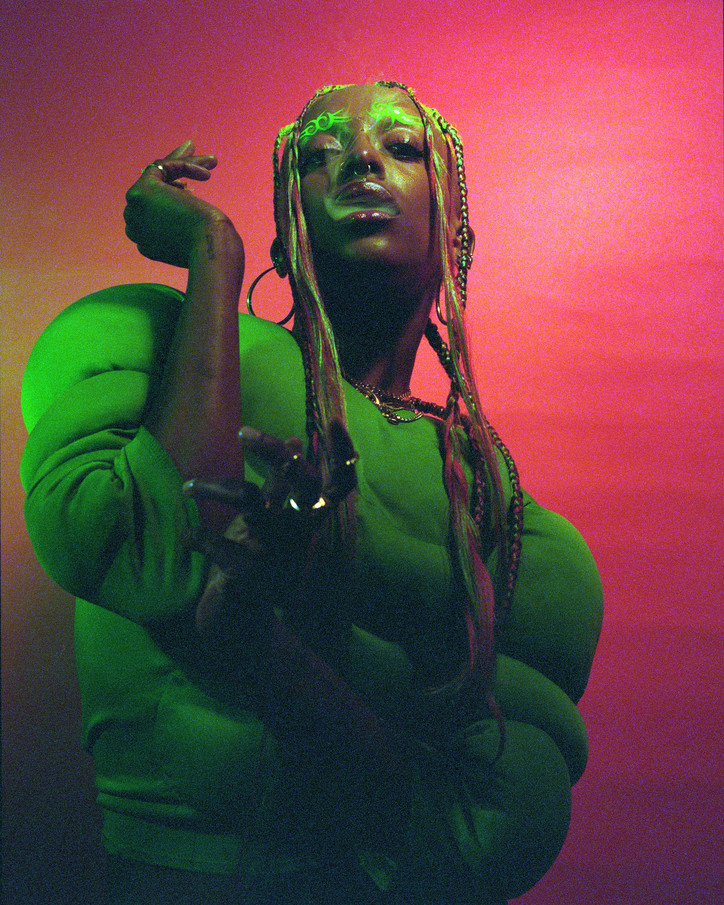 She's an influencer, in every sense of the word—and not just someone who has a few thousand Instagram followers and lists it as her occupation on LinkedIn. Take the toxic green hair we saw on the Vetements runway in Paris last week—Yvon's been rocking that shit since 2015.
Clearly, color is definitely something she does not shy away from, embracing a neon palette from her hair, to her eye color, to her clothing. Having distinguished herself as an artist who's not afraid to experiment with herself and her look, Yvon continues to push boundaries and inspire others to do the same—in both their beauty routines and everyday experiences.
As fans of everything about her—from her now-signature green braids, to her refreshing attitude—office Beauty couldn't resist the chance to pick Yvon's brain about her beauty bible.
What's one beauty product you can't live without?
First of all, water—always, in all ways. More recently, I've been getting into my skincare and I love anything that makes you feel bouncy and gives you that glowy moisture.
What about hair—what's one thing you think it can communicate better than any other physical attribute or accessory?
To me, hair is the personal antenna that expresses our connection to something outside of us.
If you could pick one movie to describe your personal style, what would you choose?
The Fifth Element, for obvious reasons, but also, Friday, because it was a staple—I grew up on that shit. I loved Nia Long's outfit—the one with the striped shirt with the heart in the middle and the white miniskirt she was wearing when she came over to see Dana and Craig. Ugh, so good. Even in my final extraterrestrial form, that outfit is perfect for any day, in any weather.
What's one beauty stigma you wish would take a hike?
Fear of darkness.
How many licks does it take to get to the center of a tootsie pop?
Just some good sucks and a bite.
What's one beauty fad you hope will make a major comeback in 2019?
It's funny, nothing is really 'out of style' for me right now. Fashion, beauty, style,and trends are all moods in a sense—there's always room to feel. I try to encourage people to feel freely; feel how you once did, how you want to in the future, and most importantly, how you want to now.
Build a sandwich and explain how each ingredient reflects one of your qualities.
I love a good open face PB&J—toasted sprouted bread, crunchy peanut butter with the finest mixed berry jam, because I am classic, exquisite, yummy, balanced and essential.
What beauty looks do you associate with each season?
I can be pretty simple. Some naked brows and glossy lid does it for me year-round.
What's the first thing you would do if you won the lottery?
I did, and I called my mom.
What's the weirdest thing that happened to you this week?
Unexpectedly, I got offered a position as Creative Director. More T on that soon.


Follow @officebeautynyc for more on our favorite models, makeup artists and product reviews from our office Beauty Committee.