Sign up for our newsletter
Joey Bada$$ drops ALL-AMERIKKKAN BADA$$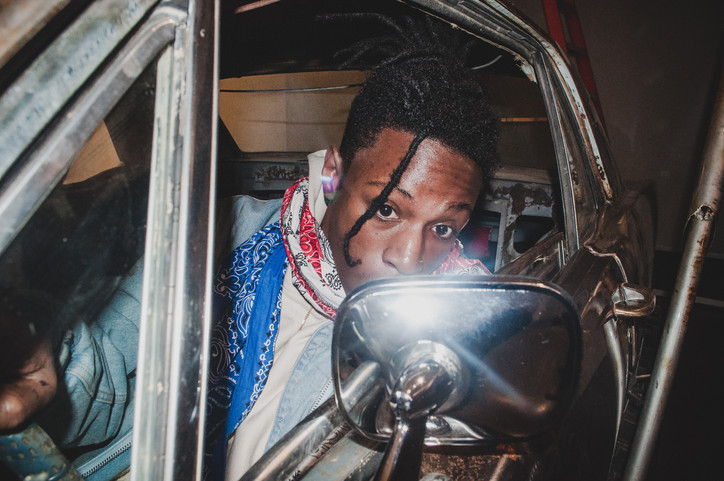 Taylor Bennett Is Ready to Be Himself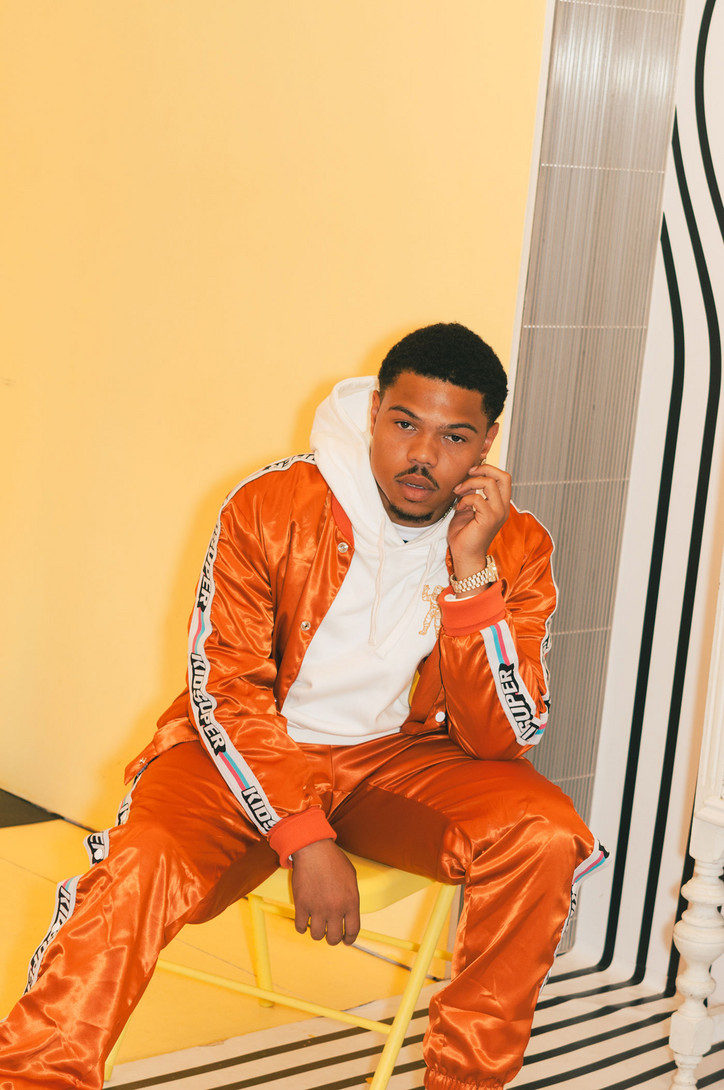 The neon colors of The Egg House are the perfect backdrop for Bennett, who deals in bold statements and colorful hues—if you watch the video for "Rock n' Roll", the latest single off upcoming EP Be Yourself, you'll know what I mean. The 22-year old Chicago rapper is already staking his claim in his hometown and the world: a powerhouse in his hometown DIY scene, he's now released two EPs under an eponymous independent label and has brought on singer-rapper Bianca Shaw as his first signee. When he came out as bisexual last year, he put himself at the forefront of one of the most important conversations in rap today: the intersection of blackness, sexuality, and the toxic hypermasculinity that pervades the genre and has silenced these voices. On the forthcoming EP's title track, which Bennett released during Pride month, he raps "I'm an outstanding Afro-American bisexual havin' shit" with breathless flow and authority. Sitting next to him in this oversize egg carton, one can't help but feel the slightest bit intimidated.
With the music turned down and the blunt nearly ashed, Bennett and I look at each other. He nods. "Should we start the interview?" As Bennett eyes a small bowl of melted vanilla ice cream someone disposed of as a makeshift ashtray, I turn on the recorder.
You sure you wanna do that? I feel like that's a waste of perfectly good ice cream.
No...do you want the ice cream?
No...[Laugh] So I guess, basic music journalism question: you released a new single at the beginning of June to mark Pride—tell me about it.
The single's called "Be Yourself." It's a song about me being more comfortable as myself, I put it out for the fans and for the world, but mostly for a roundtable discussion. If you look at the picture, no matter if you're homophobic and you're homophobic, you talk about it. I think that's something that really needs to happen because nobody has that conversation. It's something that we isolate from the everyday world.
Is the song more about actually starting that conversation?
That's what the album is about overall.
When's that coming out?
Early July, so this month. For now, the song is definitely more about getting in touch with Taylor Bennett. It's about where I'm at in my career to give my fans and listeners a better idea of who they're supporting.
I dig that...I remember reading about you and thinking about when Frank Ocean came out and how that shook most of the music industry.
Definitely very important. Frank's one of my good friends, but something important to always acknowledge is that Frank is R&B, and it definitely crosses over to hip-hop, but I think as a hip-hop statement, there needs to be a minority face that empowers being yourself, and I think there's nobody doing that. That's why I'm interviewing with you, we're trying to get the word out in every way possible. We want to use my music career as a platform to speak and reach masses that are much larger than I could've reached through hip-hop to talk about a situation that I think has been urgent and that says something I think is isolated on purpose.
Male bisexuality?
The conversation! People just don't talk about it, which is the problem. It's about talking about it. We don't talk about it, and that's the problem. 
I feel like just in terms of the American public, do you think nationwide audiences are ready to have that conversation about LGBTQ+ representation in rap and be receptive?
I think in 2018 when kids are getting gunned down, when there's mass shootings in gay nightclubs in Orlando, when all these things are going on there's no better time to talk about it. There's no better place to be than America. Something I've been saying really often that I can't stop saying is that we may not be the land of the free, but we have freedom of speech. That's something we take lightly as Americans. There are people all over the world that look at us because we might not always prevail, but we have the ability to challenge, and that's important. We have the ability to be heard if we have the platform. Because I'm an independent artist and I'm not so worried about what major labels think or what brands think, I can speak my mind and say how I feel. I think that's the difference. Ya dig?
I'd really like to hope that everyone will listen to the conversation you're trying to start. I often feel like Americans, especially in metropolitan cities, just kind of see what's happening and everyone's like "how did Trump happen" and we forget there's an entire middle part of the country we're so detached to. All of this violence has been a part of this country's history, and you putting that on blast is really important.
Thank you.
Do you feel like there's gonna be a rallying call behind you?
I think I'm aligning; that's something I was talking about to my manager the other day. Usually when you're on the right path and doing good things with your life, you'll meet people that believe in the same things and are headed in the same directions. Doesn't mean you have to work on the same team or they have to be on your payroll, but that there's somebody out there that also believes in and is fighting for the same things that you want. That means that there's a movement. I talk to kids all the time that say they came out to their parents, and I don't know if there's a specific wave behind me, but I feel there's a wave and a generation of people that know the systematic oppression that we've been and are going through and that are ready to rise up and are conscious enough to understand how to. I think I'm just a part of that, I don't want to be a leader or any of that shit. I'm just doing it.
I think it's especially important to be this open about everything you're being open about soon after Pride, especially in the middle of an administration that's denying that it's even going on.
I had this conversation the other day. Major companies and, period, during Pride Month, everybody screams "pride," but it's not a 24/7 thing for most of these companies. This is a time to capitalize off of something that a lot of people—lesbian, gay, bi, trans, or wherever one falls—including straight people are engaging in and paying money to participate in parades, buy clothing, transportation...businesses take advantage of it. I think it's one thing if "oh, I know the parade is going to be here so I know I'm gonna triple stock my load because I'm going to sell a bunch of lemonades," but it's another thing to say "I know Pride is coming, so let's get someone who represent this sexuality or something and let's capitalize." I don't rock with that. The whole purpose of doing this is that it shouldn't be a big deal if you're gay or if you're not gay, it shouldn't matter. It's not even a conversation. At that point, it's kind of like...now you have to watch the direction and I have to watch the direction of the people I'm working with and the things that I do, because there's a community of people I represent that I always have to take into consideration before I do anything.
Do you have any musical inspirations? Anyone you want to work with? I remember you and Young Thug were linked.
Young Thug's actually on this album! He's a great person and inspired me a lot with this project. Such a hard worker, brilliant man. And you know, Kendrick, Lil' Wayne, Kanye West, Jay-Z, Twista....definitely, clearly, Chance. Vic Mensa. A lot of different Chicago artists that are on the come up: Sweeno, Noname, Saba, Supa Bwe, Eryn Allen Kane, Bianca Shaw...
How big is Chicago's scene getting?
We have a really big scene, man! There's a lot of people that aren't famous. I was raised in Chicago, I've moved through Chicago all my life, born and raised. There's a lot of Chicago artists that inspire me that aren't famous artists per sé, especially in Chicago.
Like?
Femmebot, he's an amazing artist. Chicago has a huge fashion scene, too. Dope Boy Magic made by Joe Fresh, Sensei by Vic LLoyd, one of my favorite brands, Leaders 1355 by Corey Gilkey. Jugrnaut by Roger & Manny, the twins, the brothers, Off-White by Virgil Abloh...there's so many different brands and different things that come out of Chicago.
Are you touring anytime soon?
I think I'm gonna go on tour with a major artist...I shouldn't be speaking about that right now [Laugh]. But yeah, that's happening soon, gonna play Lollapalooza, very excited for that. Playing Chicago August 3rd, that's gonna be very dope.
And what are your plans for the near future?
I think I definitely want to do some kind of project that is kind of a multi-ranged project. Some kind of charity or possibly arts and craft kind of cool but somehow make it not corny event in Chicago and probably start moving through the Midwest, nationwide, and then, hopefully, worldwide. And of course, the label...
You have a label? 
Yeah! Tay Bennett Entertainment, Bianca Shaw's my artist. She just put out a song, featuring me and Twista, y'all should go check that out. She's also on "Be Yourself." Amazing artist, very talented, very happy and gracious to work with, African-American woman from the west side of Chicago. So, yeah.
Location courtesy of The Egg House.
Premiere: Rotana - "Her Life"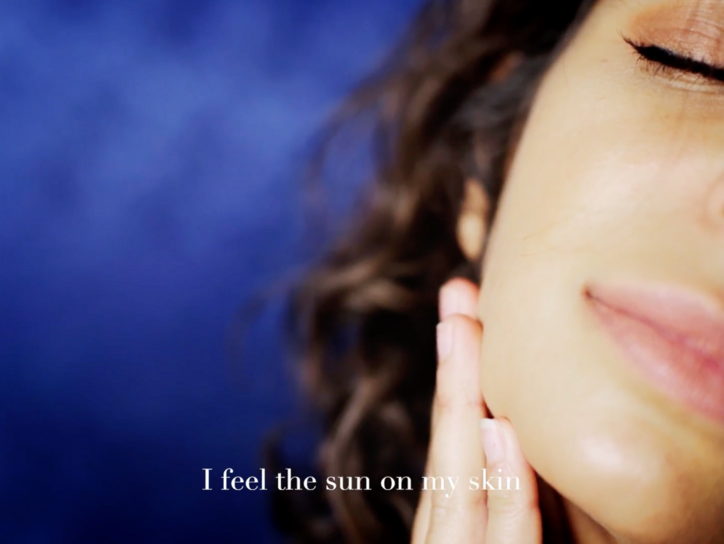 office had the chance to catch up with Rotana just in time for the debut of her EP In Her Life, a sensuous mixture of lyric and body that surges with energy. Positioned before a rich royal blue tapestry, the artist gifts the viewer with an immersive experience of her life that is as erotic as it is poetic. 
What do you think the correlation is between lyric and body? How did this relationship inform your movement in this video?
I was really just moving to a feeling of being free and doing things for myself. Personally when I do that, very sensual relationship is created between body and lyric, one that reflects the relationship I have with myself and the way I interact with the world around me. That's what this video captures, a very slow, intentional movement. I take my time, and really that's what the words are talking about. You can barely hear it but the song is in the background, it's an Arabic song about a girl waking up and listening to the roosters crow, and there's this theme of really just taking your time when your doing something for yourself.
What type of influence does your gender have on the work you produce?
I mean it has all the influence; I write everything I write from a very personal perspective and my perspective is that of a woman. It's all I've ever been, so it's really everything. And also that piece is a very personal anecdote of my experience as a Saudi woman because it really took me twenty years to realize that anything I wanted was there for me to grab. To realize that everything that I did could be for my own pleasure, and my own enjoyment, and it didn't need to be served to God, or men, in order for it to be worthy or sensible. I think that's a very unique anecdote of my experience growing up in Saudi Arabia, but I don't think that there is a woman on this planet that doesn't have that moment. Some people have it when they're six years old and some people have it when they're seventy. I'm just trying to put out content that is going to help women to come to that realization sooner. My sister had that realization for herself when I started pursuing my music because she saw me do it. So I just want to do my thing so people can be like 'oh shit, everything is there for me to grab!' because no one told me. 
Describe the power of performing under your first name.
To me I never even thought of not using my name, especially when decided to pursue the pop-music industry, which is so saturated yet there isn't even a single female Arab presence in it. I'm guessing there are some Arab artists, but they were born and raised here in the United States. It was really important for me that I took my language with me. Rotana is a type of date in the Western province of Saudi Arabia and it comes from where the prophet lives, so there is kind of this cultural and religious meaning to it. I hold on to my religion and culture out of love and respect. I don't follow it strictly or in any extremist way, but I want to insert that culture, that beauty, into the west because I think that there are very few voices that are using our language in a dynamic way. So it was never really an option not to use my name, and it sounds good, one word.