KESH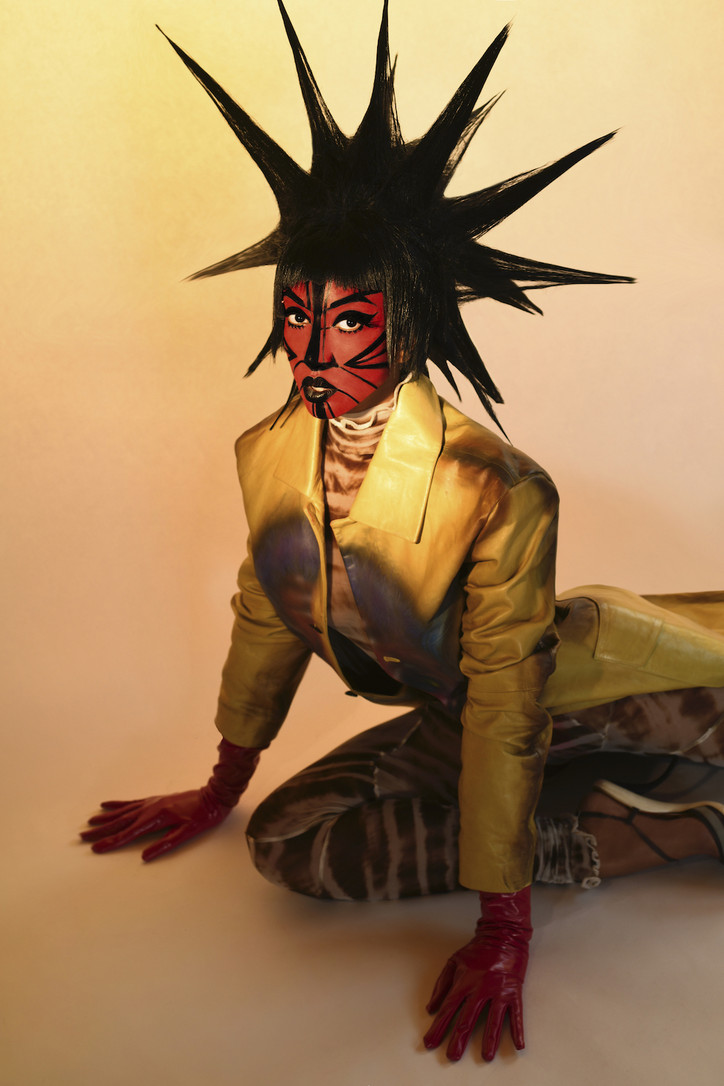 You're an artist, musician, designer and a DJ—how do you describe yourself?
I'm a creative with a specific visual and sonic identity that flows naturally through my being. To strip it down to it's core, ultimately I'm expressing my emotions and experiences via any available medium that I'm drawn to. I consider my body of work to be a multidimensional narrative of my journey.
Where does your iconic eye motif come from? What inspires your work?
I'd say my journey in this life is the main inspiration behind the works. All the subjects I focus on come from my own experiences or feelings.
The Eye came directly from an early piece of work titled "Fetrinite". This piece represented my first real steps into becoming a visual artist. I'd evolved my works and found the confidence to create a limited edition run of prints to purchase. Fetrinite sold out and led to a continuation of works until I went through some shit and packed up and moved to LA. I couldn't create for a while because I was lost in the hurt but eventually I came back to the surface I got myself a studio which I called "The Cave." 
From there, I started a deconstruction process of works I'd made previously. I wanted to try and decipher what it all meant. During that time I took 'Fetrinite' and experimented with it, stripping it of all colour and adding pieces and taking some away. I sized it down to the singular Eye and the rest is history. I made hundreds and hundreds of them and covered The Cave with it. I became a recluse and used it to inspire my first real body of work titled "ME.ME.ME," a show which explored loneliness. Ever since then it's been with me and remains relevant to the vision. 
Can you tell me about some of your recent and/or favorite projects?
In terms of recent works I currently have a large scale digitally interactive public work on display in Detroit, Michigan. It's on view at The Belt and was curated by The Library street collective and Lady Phoenix as part of Detroit Art week 2019. The piece is an interactive work that's activated by phone. It stems from the original work which debuted in a group show titled DIGITALIA at the San Francisco Museum of The African Diaspora in 2018. This series was exciting as I was able to work with new technology and see the viewer interact directly with the piece via the visual and sound. I've had so many messages from people who've enjoyed the work because of the interactive element, which makes me happy. 
In terms of more recent favourite projects, I DJed on top of a mountain in Sochi, Russia at a snowboarding festival and it was actually insane. It was so high up and you had to take 4 snow lifts up to the top of the mountain. At that time of the year it's usually sunny but this day it was snowing so hard. The stage was outside and I didn't expect anyone to cut through the snow but people came and were dancing in their snowsuits going crazy! It was so fun and so so beautiful up there. I'd never been on a mountain before and I connected with it  deeply. I wrote a song about it. It's going to be on my EP.
Another project I loved was KOM56, which I did in Switzerland with 1.1 Gallery in 2016. I conceptualized an immersive installation and a month long interactive experience that ran through different cities in Switzerland. It was an intricate process that involved multiple factors combining art and music.
We started a laborious process building out the space into an observable bedroom filling the entire room with "The Eye" and dressing the space to fit the creative identity. I then immersed myself into the space digging into my musical archives and finding previously unfinished works to develop and evolve with my co producer Amir. From there we created two works titled "Not Gaan Out" and "In A Dark Corner." Once they were completed I began to perform them at various Swiss music venues and galleries. I'd never released my music publicly, so the works I performed were new to everyone in the room but me and my team. This was such an interesting way to start my performance journey as sonic recognition from the crowd is usually much more beneficial.
But I wanted to explore. I wanted to see how the beats and melodies connected to an unaffected ear. There was this one moment at my final show that I'll never forget: it was at a venue called Hirscheneck, this grimy, basement punk venue with a good sound system. I started to perform "Not Gaan Out" and finished the vocal section. The beat moved into the forefront and I remember being on the stage and watching the crowd begin to move in unison. First as a slight sway, then larger to the point that everyone was moving as one. It was deep to me. There was no specific beat structure in this part of the track, just these low warps that Amir and I had created. All the individuals became a mass and they were connecting with the sound. This meant a lot to me, as it showed me that none of them needed to hear the song beforehand to have some type of connection with it.
You put on Instagram recently that you could write a book about everything that's gone down in the last decade. If you were to write it, what would it be called? 
"How many times can you kick a dog before it bites back?" I wanted this to be my album title but it's too long and I know it'll be misinterpreted.
What projects do you have in the works?
:))))) Eeeee I'm so excited. I'm going to finally release "Not Gaan Out" digitally in March and I'm in the final stages of preparation for the music video so that's taking most of my time. :))) There's a full concept behind the whole EP that'll play out over the year and this shoot for office is the debut of one of the characters. My demon. She plays a huge part in the project so you'll be seeing more of her. Also I have a show and performance at Untitled Gallery, New York in June andI have some performances lined up butIcan't say what yet! 
Who do you crush on/who would you like to see wearing your designs?
I don't really have anyone specific that I wish would wear my clothes. I'm more interested in seeing it on the people that are on the same wave. People that know how to wear the pieces in the way I like without instruction. That for me is way more exciting. But also Aphex Twin would be so sick. 
What's your process like for designing? 
My process has changed with time. And my love for designing and has come and gone and come back again. For a while I haven't made anything at all. All my energy was spread and I couldn't give it what it needed for it to be at the level that I require. I released a tee in 2018 and an archive tee from the LJUS2 show last year but that's it. I haven't been allocating the time as I've chosen to focus on the music.
I throw down sketches when the ideas appear and store them away for when I'm ready. I can feel it coming back. Creeping in. I've been having some really interesting conversations about certain pieces I have in mind but I'm going to hold on pulling the trigger. Right now I need to focus my energy on the music. 
What's your mood going into 2020?
Gratitude and care. I'm trying to be more thankful for everything. My mind works so fast and I move quickly too, so I can forget to be grateful for the little things like the food on my plate or the air that I breathe. I give thanks over a meal but find other thoughts getting in the way. 2020 I am trying to focus more on an overall gracious outlook on the blessings and basic luxuries I have in my life. I also want to care more. Because for so long I didn't. And I still kind of don't. But I'm trying to care more. About everything.