The Magic of Aaliyah Hydes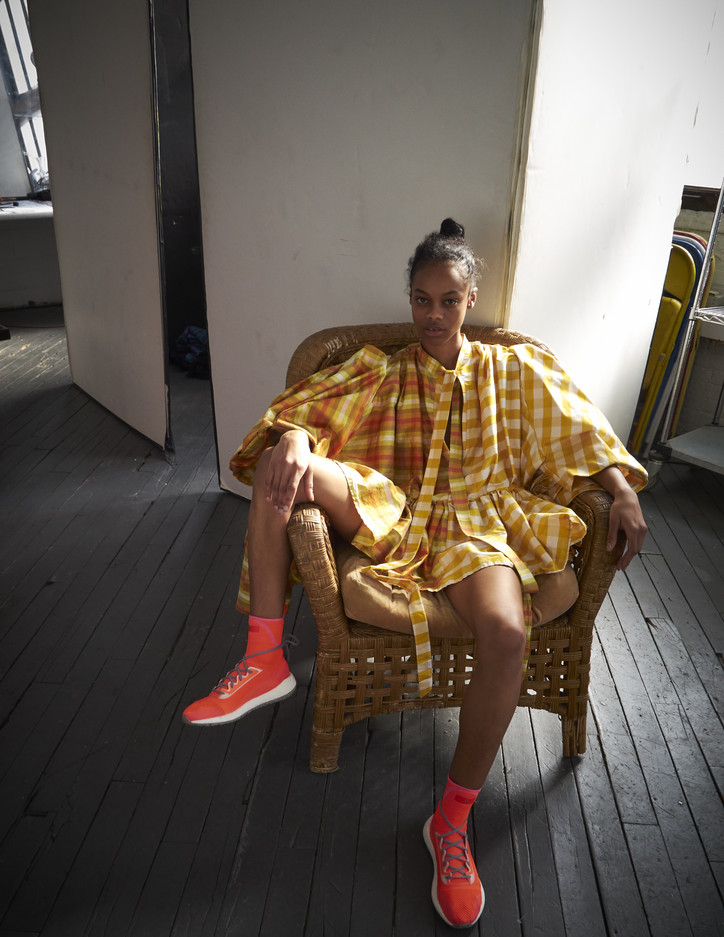 Above - Dress by CHRISTOPHER JOHN ROGERS, shoes by ADIDAS by STELLA MCCARTNEY
Now, it's strange to think of a world where Hydes was intended to be anything other than a model. Flaunting her iconic wide-toothed smile with her enchanting doe eyes creasing, it's clear that modeling comes like breathing to Hyde. office beauty sat down with her to bask in a little bit of her magic.
Left - Top, pants, and shoes by DION LEE
Right - Top and skirt by CHRISTOPHER KANE, shoes by REEBOK
Tell us a little about yourself.
I grew up on a little island called Grand Cayman, and I've always wanted to be an artist, but that wasn't really accessible on my island. So I've always dreamed of coming to New York and going to London and living that artist life. And I've kind of done that for myself—I am doing that for myself.
How did you get into the modeling world?
Growing up, I grew up pretty tall and skinny, and people would make comments like "you should be a model" and things along those lines. And I guess I've always kept it kept in the back of my mind like a backup. Like, if I ever wanted to, I could [model]. I was in college in the UK, and I was at the point where I was thinking, "Is this for me? Is this what I really want to study, or do I want to do something else?" That's when I thought maybe I should give modeling a shot. So I took a six-hour train to London, found this little agency, and I walked in with my little heels. I felt like I was on America's Next Top Model, and I pretty much took that chance. I knew that it was for me when I saw their reaction to me. They were so intrigued. They fell in love with me, and I fell in love with them.
Do you have a certain model you look up to?
I don't know if this is too cliche, but I definitely look up to Naomi Campbell. For one, her confidence is definitely admirable, and I struggled with my body image for a while. I felt like my arms were a bit too muscular and maybe it wasn't feminine enough. I feel like Naomi has that strong physique that made me feel like I didn't have to be skinny. I met her as well, and she was so lovely. So I actually do really look up to her.
No one will believe in you if you don't believe in yourself first. You have to believe in your own magic.
Left - Top and pants by NINA RICCI, shoes by ACNE STUDIOS
Right - Dress by SAINT LAURENT
What's your favorite thing about modeling?
Probably traveling and meeting new people—maybe moreso the people. I am so fascinated by human beings and just how unique everyone is. I love the fact that I'm thrown into these situations where I'm forced to interact with all different sorts of people. That's my favorite thing about it.
Where's your favorite place that you've been to while modeling?
My favorite place is very hard to choose, but I think I would have to choose New Orleans. It was so inspiring, and I'm obsessed with the architecture there. And I feel like New Orleans is this blend of mid-Western cowboy kind of culture mixed with the French and mixed with African. And when you're there, you can just feel this power coming from the ground. You can feel the history. Also, everyone is so nice. I would love to go back.
How do you achieve glowing skin?
As a model, I've started to invest more in my skincare. Two products I use and recommend would be the Fresh's night cream and Garrett Lang's day cream.
Left - Top by UNRAVEL
Right - Dress, boots, top, and bottom by GUCCI 
What is your most memorable runway fashion show?
It was the last Gucci show I did. I felt amazing walking down the runway. I felt invincible. The runway was crazy, and the energy was insane. Afterward, I was hanging outside, and A$AP Rocky came up to me and said, "You killed it."
When you're not working, you are _________.
I'm trying to learn different languages. I'm going to art exhibitions. I'm trying to take advantage of the city I'm in.
Is there a brand or person who you're dying to shoot with?
I would love to shoot with Juergen Teller.
Do you have any advice for aspiring models?
There are going to be a lot of times where you feel kicked down, and this may be cliche, but you have to keep your head up. No one will believe in you if you don't believe in yourself first. You have to believe in your own magic.