Resist, Rave, Repeat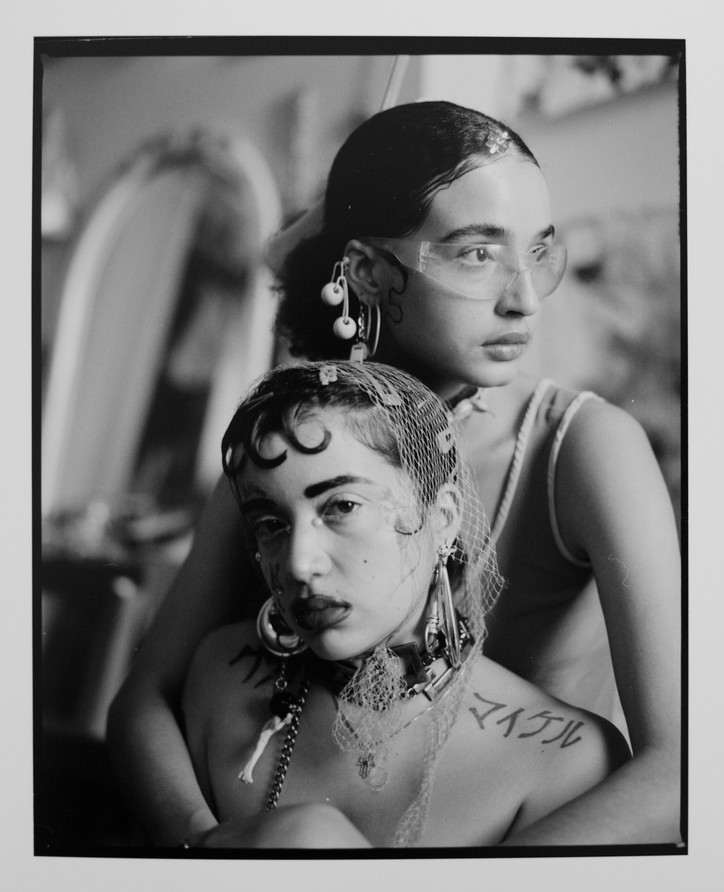 Whether they're in pigtails, pasties and covered in glitter, or rockin' their natural hair and product-free mugs, Pauli Cakes and She Marley Marl are always celebrating the beauty in imperfection, and promoting unapologetic self-love.
"When you treat yourself and put yourself first, your beauty will shine from the inside out," says Pauli.
"We are both attracted to the idea of doing and being things that people don't usually think of or wouldn't willfully try," adds Marley.
—both in the club and IRL.
Below, the DJs tell office their go-to club bangers, and why being beautiful really means being yourself.
What do you guys do?
She Marley Marl: I'm a DJ, painter, curator, organizer, entrepreneur and model. I have an organization called Dis Trick, which is a platform for underground artists to communicate, collaborate and politically resist.
Pauli Cakes: That's always an open ended questions for me—I do a lot. I consider myself a multi-faceted creative energy and experience. I'm a DJ, curator, performer, nightlife personality and stylist. I have a curatorial platform called Club Cakes, I pull looks, make music, curate events, paint, draw, do healing work and dance. Within all of those realms, I ultimately do the lord's work hehehe.
How did you start DJing and working together?
She Marley Marl: Music is always been a huge passion of mine. Growing up, I was always passed the aux cord, and I loved making playlists for my friends or for random moments—I'm extremely hyper-aware of how music influences people's mood and experience. I started DJing when I invested into equipment and taught myself when I was about 13 or 14. I also met Pauli around that age, who I instantly loved and connected with, so it just made sense that we join forces. I think the first official time we worked together was when we threw a event and pop-up shop at some random person's house on 14th st, aka selling our old clothes and small paintings for cash. I DJed and Pauli handled the vending—I think the owner came home later and kicked everyone out. We actually made a good amount of money, though, so it was success.
Now, years later, we live together in Bushwick, and recently launched a party series called Dis Trick x Club Cakes that emerged from us feeling like we needed to create our own spaces where we belong. There are so many mass market 'queer safe space' parties that are just the opposite—they use those words because it's become a buzzword and term. We were tired of going to proclaimed queer spaces that are just rich, white, cis masc for masc men taking up space. We wanted to create a space for young underground Queer Trans GNC POC to kick back and feel safe and not tokenized. Through launching this, we began curating together as well as going b2b [business-to-business], since a lot of the time, we still don't have budgets to book other DJs. Sometimes, after paying people and covering expenses we'd make only like, $10 each. It didn't matter, though, because the feeling of knowing my community felt like they could belong overweighs everything.
Pauli Cakes: I've always had a passion for music—I'd always mix two songs together in my head and envision background music for any sequence of my life. I grew up in the city around a lot of loud sounds and music playing around me 24/7. I've always been fixated with the way music and art controls energy and spaces, so I naturally gravitated towards becoming a DJ. I wouldn't let go of my iPod classic as a kid and downloaded virtual DJ when I was 15 and started fucking around. I actually had no idea what I was doing when I got booked for my first gig—I just knew I loved what effect good music had on people.
As for Marley and me, we met when we were kids—Marley was 14 and I was 16—and we both had urges to work on creative projects and use our art to amplify our voices. That's what bonded us together instantly. Our first gig was set up out of this random guys house—we just wanted to create a creative space where our friends could sell their art, we could play music and curate a unifying platform. So, we did, and it worked, and we kept doing it.
What's your collaborative process like?
Pauli Cakes: Our collaborative process is really special, loving and silly. I feel like we put a lot of intention and energy behind everything we do, which is what makes it special. Our creativity, love and passion for resistance are some qualities that make up our bond, so that makes collaborating come as a natural process. We work really hard and have a lot of fun, and it's really cute, and fun, and messy. We trust each other's hard work and judgement, which is what makes our collaborations honest, beautiful and successful. Did I mention we have our own made up language with our own form of social cues? So, we're pretty much great work partners.
She Marley Marl: It's 55% serious work, 20% laughing 'til I can't breathe, 5% random noises, 10% artistic procrastination, 10% having multiple disasters but somehow making things work perfectly.
How does beauty play into your DJ performances and personas both individually, and as a duo?
Pauli Cakes: There are different layers of beauty and how it pertains to craft—an individual's physical body and one's spiritual self. The vibrance that I put into my music transcends material—it's a feeling and an energy, a spark that ignites an energy. I put that into everything because I feel secure and confident in my craft. Whether I'm on a stage in front of a crowd or hidden behind a booth, I'm still going to pull a look that reflects how I feel, because my beauty routine is my ritual. There's definitely something to say about the comparative beauty of good music with a fly artist, but music and physicality are two different entities. I feel bonded to the parts of myself that I find beautiful—my vulnerability, openness and fearlessness—and that shines through my music, performance and persona.
She Marley Marl: My style helps me reinforce my identity for the night. But sometimes, I throw on a white tee, jeans and sneakers and call it day.
What's one beauty product you can't live without?
Pauli Cakes: Got2B Hair Gel and lip gloss.
She Marley Marl: An eyebrow comb and clear gel.
What's one beauty trend you wish would just go away forever?
Pauli Cakes & She Marley Marl: I think we both agree Kardashian brows must go! Most beauty trends nowadays are a product of black fetishaztion. The beauty industry perpetuates a lot of toxic standards and we have to deconstruct all of them, and find beauty in our differences and amplify that. Also, enforced uniformity in fashion—yikes.
What does being beautiful mean to you?
She Marley Marl: I don't really know. I like to think of the word 'beautiful' as a passionate adjective, and not a word that refers to beauty standards. But I think that someone is always extremely special and radiant if they understand self-love and are able to unplug from conditioning.
Pauli Cakes: 'Being beautiful' is a matter of self-love. People are so fixated with this idea of 'being' a 'beautiful' person, which entails torturing ourselves, not knowing that beauty is more tangible than it seems. Being beautiful is sharing, loving, giving and receiving, putting thought and intention into adorning yourself.
If you could give each other makeovers—and the person getting their glow up couldn't refuse or deny anything—give us the full scoop.
She Marley Marl: I can't even imagine giving Pauli a makeover or vice versa, just because we both have such defined ways of expressing ourselves that we both respect a lot.
Pauli Cakes: I have no interest in giving Marley a makeover unless she wants me to. Our individuality and differences are what we love and respect about each other, and I wouldn't want to make Marley over in any different way.
Do you feel naked or less beautiful without makeup? Or do you think makeup just enhances who you already are?
Pauli Cakes: Not at all—I feel more vulnerable and opaque without makeup, but I do not feel less beautiful or less enhanced. Honey, my energy and spirit is already enhanced! I love being naked, and I love being able to pick and choose who I share that with, but I also love being in 11 inch platforms and a three foot pink wig serving. Putting on makeup and clothing is a personal form of self-preservation, healing, protection and therapy for me. My looks feel like my armor and protective wear, but I don't feel like not wearing makeup is a reduction of my character.

She Marley Marl: Never. I love not wearing makeup; I also love putting on makeup—I feel beautiful either way. And that doesn't come from ego—I just usually have a lot on my mind and I don't concern myself with validating my looks. I do love to experiment with makeup because I always wake up feeling different or inspired by something, and makeup allows to execute certain looks.
Dressing up is such an important part of nightlife and club culture. What's the getting ready and going out process like for you?
She Marley Marl: I'm late to everything. Recently, I've been a lot better at self-timing, but up until now, getting ready has been stressful. Usually, though, it's easy for me to pull a look together because I'm always thinking about new looks to try, or different ways to express myself. I consider myself to be quite fluid, so I dress how I feel.
Pauli Cakes: Most of the time, messy boots—I'll spend 3 hours cleaning my room and 30 minutes destroying everything while getting ready. I'Il get inspired sporadically by a thought, mood emotion, reaction or object. I usually do hair, makeup and then clothing—I'm known for being a little late, too, but I'm working on it.
Can hair and makeup be tools for activism? Or are they just about dressing up and having fun?
She Marley Marl: I think it's different for everybody. I feel extremely liberated when dressing in crazy looks, while others might feel extremely degraded. Like everything I do, I'm always thinking about politics, especially as a Queer WOC, because I have to. I like to think the way I dress inspires others to not conform.  
Pauli Cakes: I also think it's very different for everyone—but for me, personally, it is. I never had the courage to express myself the way I wanted to growing up, when I was in a place where I hated myself. In a world that tries to eradicate individuality, making the choice to pick and choose what feels true to you and your physicality is a radical form of activism.
Do you dress up for yourself or others? Or both? If for yourself, what's the best part of getting all dolled up? And if for others, what do you want them to take away from your looks?

Pauli Cakes: It honestly depends—for me, I would be lying if I said I always dress up exclusively for myself. I work a lot of different jobs which require me to role play and project different aspects of myself. Knowing that I could dress up as a million different people, things, spirits or entities and reverberate back to myself at the end of the day is so fulfilling. I hated my physical self for a long time and found it nearly impossible to acknowledge my beauty—in that way, I found it impossible to dress for myself. Acknowledging my self-worth and love makes every look, at the end of the day, for me. I don't get to determine what I want people to take away from my looks, unless they are paying me for a specific looks. However, I feel a lot of my looks are charged with ideas of resistance. I like incorporating a lot of heavy metal, bold colors, chains and blood into my looks.
What's your favorite part about working together?
She Marley Marl: The laughs. Literally no one makes me laugh harder than Pauli—she's so ridiculously funny. We've had so many crazy experiences together that are just so random. Even at meetings, if I look at her in the eyes I'll just die, because I feel like I instantly know what she's thinking—it makes me feel like I'm 12 again, about to get separated from my friend because ya'll being too loud.
Pauli Cakes: Everything. Marley is my favorite person in the world—she literally makes me pee myself laughing. I really trust her judgement and I can't say that for many people—we're both confident in our ability to heal and change the world, which makes for a beautiful synergy.
What are your go-to tracks to play on a busy club night? A dead night to get the party going?
She Marley Marl: Go-to track is def something from Todd Terry or Ron Hardy, and a banger that will always make people crazy is usually some Baile Funk or Vogue beats. Modern music is something everyone usually loves.
What beauty advice would you have engraved on your tombstone?
Pauli Cakes: 'You look beautiful when you resist beauty standards which are set to destroy you—and demon semen keeps the wrinkles away.' I want to get cremated, though!

She Marley Marl: 'You're a reflection of what you put into your body. That's not just food—it's your relationships, your knowledge and the environment you choose for yourself.'
Follow @officebeautynyc for more of our favorite models, makeup artists and clubland looks.