Lucy Burt Loves a Fresh Face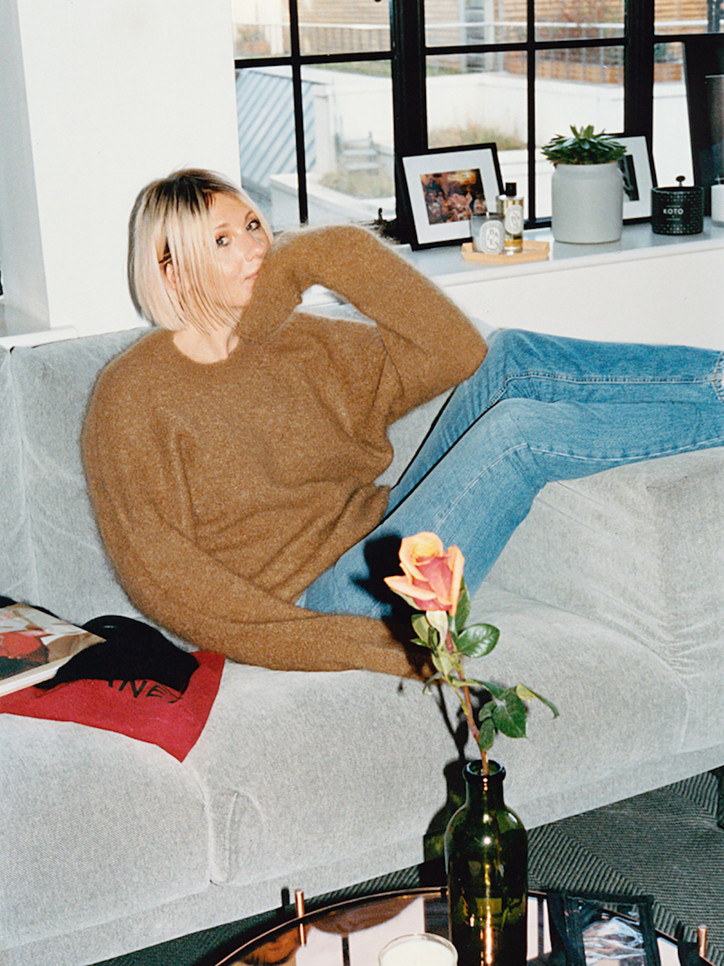 In what ways do you think makeup can defy social norms?
I like to feel there is an ease and looseness to makeup, and that it belongs to a real woman. Its versatility can inspire individual beauty and bring a certain elevated edge that breaks the rules of the conventional…it's surreal. 
What are some brands or products you are loving?
Currently in my kit, I am loving VINTERS DAUGHTER Active Botanical Serum, DIOR Flash Radiance pen, CHANEL Le Volume Mascara in black, ESTEE LAUDER Intense Kajal pencil in blackened cocoa, SHISEIDO Eyelash Curlers, DECLEOR Aroma Sun Face cream SPF50, WELEDA Skin Food, NARS Lip Liner and Semi Matte Lipstick both in Morocco, TOM FORD shade and illuminate cheeks 02 sublimate, TOPSHOP glow stick in Heat, CHARLOTEE TILBURY clear brows, GLOSSIER coconut lip balm, and SK-II facial treatment masks. I love to keep it all together in my Burton Double Deck Travel Bags.
How do you seduce someone?
I believe there is something magical in the power of the eyes. Looking at someone and holding their gaze can be hypnotic. That's why I'm such a fan of mascara and LOTS of it!
How do you know when you've done your job right?
I feel in this job there is no right and wrong. Often what is created is very much in that moment and is an interpretation of a vision, as well as a collaboration with whom you're working.
In the current makeup world that is dominated by trends, how do you think you can keep your individuality while still being connected with what is popular? 
I feel individuality and freshness can be revolutionary but some of my most memorable moments have been touched by the creative excellence of others in some way. Makeup isn't my whole world, and the industry is much more than that. It's a creative collective with lots of opportunity for artistic crossover and personal connections. To be surrounded by compatibility and immersed in world of inspiration whilst giving back your own creativity is a good place to start.
Who is your muse?
I loved the supermodel era of the late eighties and early nineties. Kate Moss is eternally effortless and cool and I like the shift in attitude of modern beauty.
What would you be doing if you weren't a makeup artist?
I've always felt a connection with animals. I'm interested in wildlife conservation and the impact it has on our environment. It's easy to feel passionate about, so I would most probably pursue that in some way. 
What is something that has inspired you today?
It's been a combination in the last 24 hours! I love the countryside and taking long walks with my dog through nature! I also travel a lot and take inspiration from the people I meet, the looks I see on the street and places I visit. I love to read old magazines and visit old photographic reference book shops – my favorite is Comptoir de l'Imagein the Marais Paris.
In what ways do you think "makeup" is shifting?
At the heart I feel perfected skin is vital and timeless. Rooted within natural beauty it creates realness and a toned down backdrop to all elements of changing makeup textures, colors and accents. Evident highlighting and contouring will be replaced with a less forced shaping of the face and I feel a return of androgynous toughness coming though – it's a boy girl thing!
What scares you the most?
I'm quite conscious of my health and looking after myself is really important for me. I love to cook good organic food and make sure to drink plenty of water. I always travel with a stash of lemons and matcha green tea, which I swear by! I like to exercise and try alternative therapies and remedies to combat stress, which helps to keep a balance in my life.
Weirdest makeup job you've ever taken on?
I love to work with teams collectively, so experimenting with makeup and having creative freedom rarely feels weird. If it doesn't feel like it's working that's the beauty of makeup you can always take it off! One season for JW Anderson the makeup took an unexpected turn though and we ended up doing a completely impulsive painterly and colorful concept for both girls.  It was a effortless and looked magical, I loved it.
Is beauty in the eye of the beholder? 
I think what is interesting is that everything is open to interpretation and personal taste. I like imperfections and quirky surprises, they are what makes a person stand out and uniquely beautiful.