LVMH Prize Finalist - Cecilie Bahnsen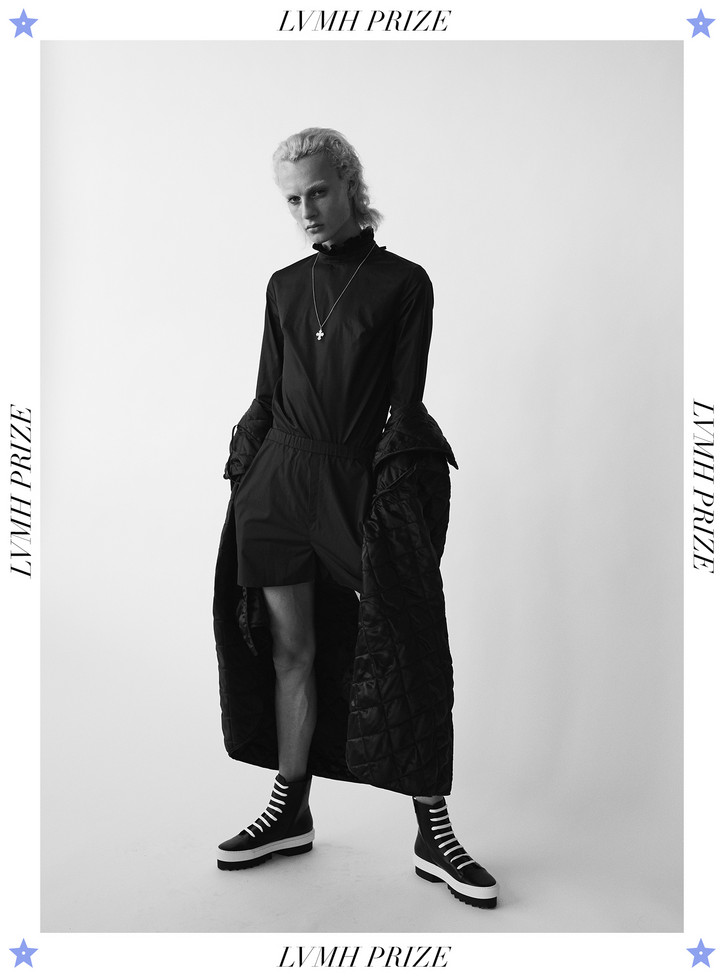 Designer Cecilie Bahnsen epitomizes top-notch Danish craftsmanship and, as a relative newbie within the fashion industry, is clearly bound for something beyond the seemingly limited confines of the European fashion industry. 
Being nominated for the coveted LVMH Prize is giving Bahnsen the opportunity to fulfill this prophecy, and deservingly so. With this newfound spotlight illuminating a plethora of open doors, the designer is navigating her decisions carefully and precisely, so that her inevitable success story is achieved with the same sophistication and airiness that can be seen in the actual designs themselves. Bahnsen's Fall 17 collection was inspired by the Catholic school boy uniform, and she presents it in a way that meets in the middle of "goth" and "angel," its myriad of distinct silhouettes lending themselves to both ends of the spectrum. We talked with Bahnsen about the honor of being an LVMH Prize finalist, the future of Danish fashion, and how her brand represents modern sophistication. 
You are the first Danish finalist for the LVMH Prize. How does this feel?
I feel very privileged and super excited. I am so impressed with the effort and time that LVMH puts into finding the talents for the prize. At my first show at Copenhagen Fashion Week in February, LVMH had a fashion scout. After the show, he recommended that I apply to the prize. At this stage, I was already so impressed that they had their eyes on my designs at Copenhagen Fashion Week. This support and recognition for young Danish design talent is so important not just for me but also for other local brands that are trying to push the boundaries of Danish fashion and are working to get Denmark on the international fashion map.
Do you think Denmark is underrepresented in fashion?
I do believe that Denmark has a great potential to grow in the international fashion scene. We do come from a rich heritage and are global recognized for our design quality within furniture design and architecture. I think that it is in this design heritage of innovative craftsmanship that the future of Danish fashion will also find its inspiration, and with new passion and energy will push to define a new movement that expresses quality and personality in a unique and timeless way that will last through trends.
I was always very fascinated with the kids' perfect school uniforms and how they, despite the very formal look, managed to give the uniform a personal touch.
What did you learn from interning for John Galliano?
I think working in Paris for John Galliano gave me an insight to the highest level of design and fashion. There was a love for decadent and rich detailing. I think that I have taken this love with me into my own work and adapted it to a more minimalistic Scandinavian look.
I read that your Fall 17 collection was inspired by school uniforms. In the beginning stages of designing it, how did you plan to stand out?
I think that my initial inspiration for the collection came from when I lived in London and studied at the Royal College of Art. Walking through Hyde Park in the morning to college, I was always very fascinated with the kids' perfect school uniforms and how they, despite the very formal look, managed to give the uniform a personal touch.
Tell us more about your Fall 17 collection.
The Fall 17 collection was our first runway show at Copenhagen Fashion Week. We showed at the Royal Opera House with a beautiful view over the sea and the city. It was so amazing to present the collection this way and see the whole vision of the collection come together.
Do you think the fashion industry is changing in any way? If so, how are you adapting?
The fashion industry is always changing. It is Important to be able to adapt, but it is also important to stick to your processes and the stuff you know well and have that define you as a designer.
Looking at your Fall 17 collection, I get a sense of modern sophistication. What is "sophistication" to you?
Sophistication for me is the perfect balance between simplicity and details. 
Your pieces are very obscure and distinct, yet wearable at the same time. In what ways do you keep the "everyday" in mind when designing your pieces?
In my design process, I always play with the balance between the sculptural unique shapes and the effortless and comfortable feeling of putting on and wearing the design.
What does being nominated for the coveted LVMH Prize mean to you, especially at such an early stage of your career? And what's next?
It has been an amazing experience so far. The most valuable thing has been the feedback I've received from the the International experts that came to the LVMH showroom in Paris in March to view the collections. It was such an amazing opportunity to meet the best fashion critics, top buyers, and of course the creative judges. I especially enjoyed the conversation I had with Nicolas Ghesquière.
As a young designer, it's so incredible to receive all these different perspectives. Seeing people you really respect take the time to look at and understand your work is a unique form of validation and makes the prize very special. To be in the final 8 has just been such an amazing point of recognition for the brand internationally. And everything has been moving really fast since the announcement which is so exciting and inspiring.
The next big thing is of course the final of the LVMH Prize on Friday where I will get to present my designs to the jury which is composed of the nine great designers of LVMH houses. It's a moment I have worked towards and looked forward to for weeks. I would be lying if I said I wasn't very nervous, but I'm also really excited. After the LVMH prize I will focusing on the PS18 collection showroom in Paris and then Copenhagen Fashion Week in August, where we will be presenting the SS18 main collection.
Read our conversation with fellow LVMH Prize Finalists Molly Goddard, Kozaburo Akasaka, AMBUSH, Jahnkoy, Atlein, and Marine Serre.