The Real Achok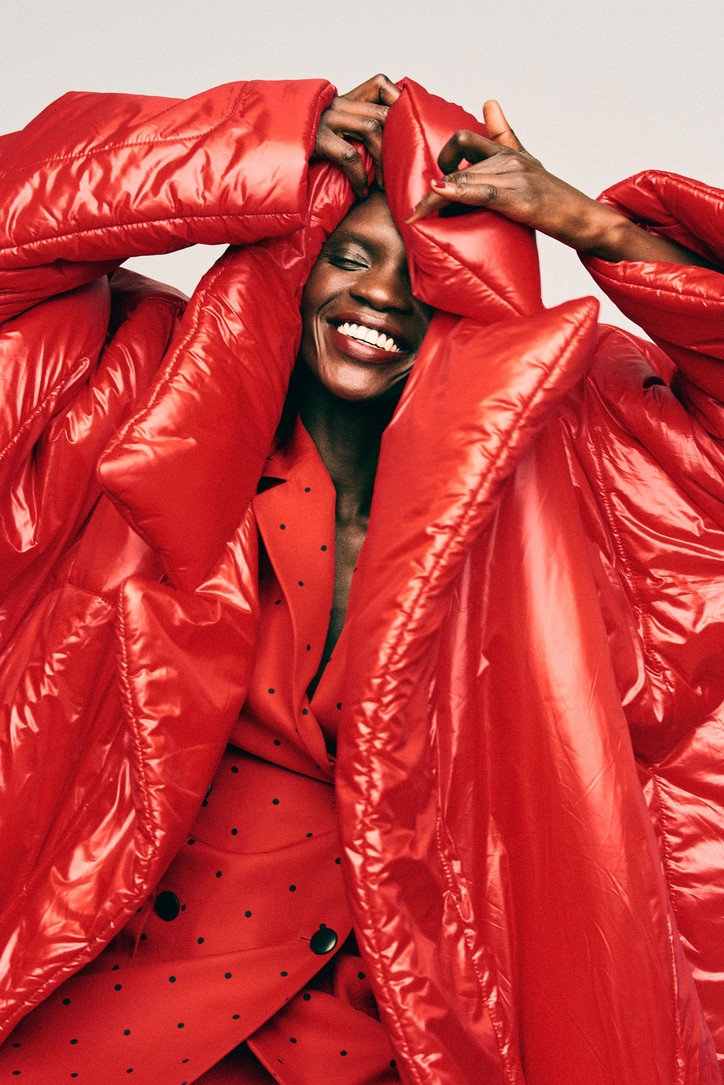 Vintage suit jacket, coat by Norma Kamali
What's the first thing you do when you get time off?
RELAX and recharge to the absolute FULLEST.
Where are you from and what do you miss most about home?
I was born and raised in California. I miss the beautiful scenery, beautiful people, amazing weather, the very chill vibes, amazing food, and being in nature. The quality of life in California is unreal, and people truly know how to LIVE there.
You've just walked the Gucci Cruise 2019, can you tell us what that was like?
This Gucci Cruise show was on a completely different level! It was set in a famous cemetery in Arles, France. The runway was on fire, the energy was extremely strong, intimate, spiritual, and so powerful. There were thunderstorms the entire day, but once it was show time, everything stopped so the magic can happen. It was an experience and a show that I will never forget!
How has your spirituality and understanding of the universe helped you on your journey?
My spirituality is my foundation, and is the core of my journey. Through my understanding of the universe, prayer, meditation, and manifestation, I am able to expand and attract whatever I want in my life: spiritually and physically.
Modeling can be extremely draining, how do you reset?
Yes it certainly can be. I make sure to keep my life balanced so that I am able to prevent myself from getting extremely drained. Being drained is the worst feeling, so I had to learn what tools work for me, and I had to learn very quickly. My diet and exercise routine serves a big purpose in my life. Running, hot yoga, sauna, steam room, meditation, massage, watching sunsets, and being in nature are some of the ways I reset my mind and body.
Jacket by Sonia Rykiel, shirt by Zimmermann, sunglasses by Babydoll Finds; Suit and turtleneck by Icetees
What was your first major campaign and how did it feel to land it?
BALENCIAGA Fall Winter Campaign. It was such a special feeling to land my first campaign, and shooting it was the real blessing. I have a lot of respect and love for Demna and his team, deep admiration for Lotta, and Mark Borthwick is the bomb! This campaign gave me the confidence, understanding, respect, and captured me in a different way that people really took notice of.
You once said that modeling is a "blessing and a curse", can you expand on that?
Modeling is a major blessing and it can be a major curse if you aren't taking good care of, and watching out for yourself. If you are a kind individual, you have to learn how to protect yourself from lower vibrating people and energy. You are surrounded around beauty, and what comes with beauty is ugly. You just have to stay strong, balanced, very clear and keep a very good people you trust very close.
Any words for models waiting for their own "big break"?
Do not get caught up in your own hype, always work hard, stay grateful, and lead by example.