She Comes In Colors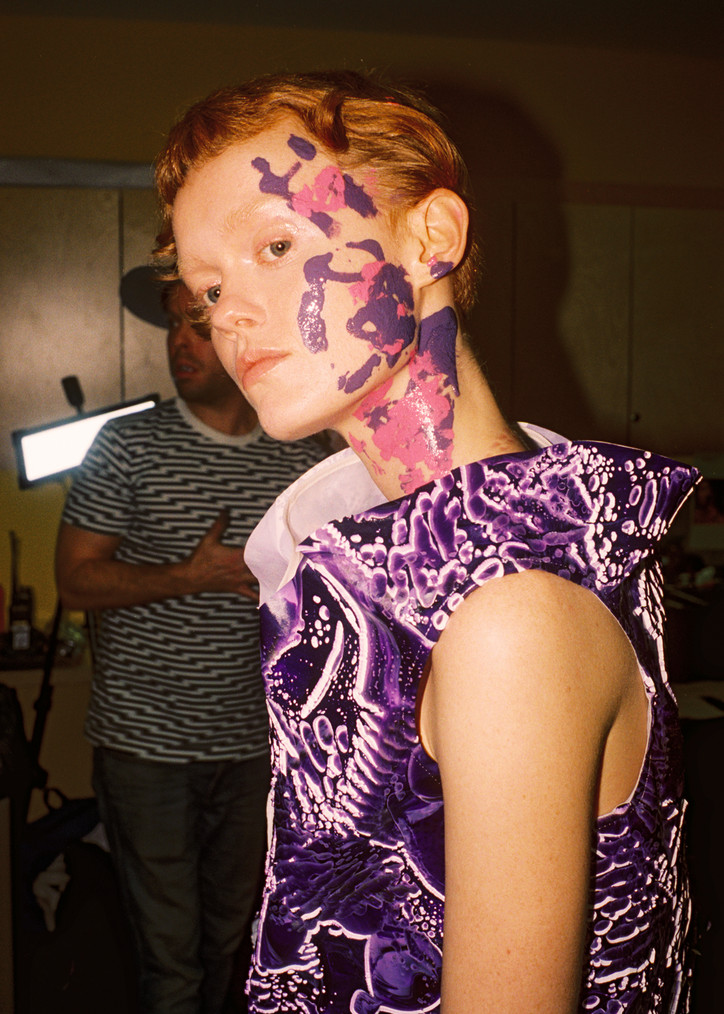 After all, the body is a blank canvas. So, Boyd likes to say "fuck it" and just paint away.
Read our interview with the artist and view some photos from behind-the-scenes at the threeASFOUR F/W '19 presentation, below.
What was your driving inspiration or theme for the threeASFOUR runway looks?
I took inspiration from the body painting work of Yves Klein. The designers wanted something with that same feeling. The trick is to achieve that while still looking different. I just tried to keep it very painterly and playful. The main goal was that it embodies the young energy of all the street-casted models.
In their designs, threeASFOUR incorporates a lot of geometric and transnational aesthetics, along with cutting-edge technology. Did this have any influence on the makeup you created for the runway?
threeASFOUR used a lot of round shapes in their collection—almost egg-like. It all felt very fertile and ultra feminine to me. However, my inspiration for the makeup was more abstract, yet still fun and playful.
How do you interpret a designer's vision for a collection into the final makeup looks?
Usually by the time I'm brought into the process, the designers already know the direction they want to go. They'll show me inspirational reference images and we'll talk about their ideas about the collection, what kind of feeling they're trying to convey, and I'll look at all the clothes. Then, I'll compile all that so I can put my own creative spin on it, while still achieving their vision.
What was the collaborative relationship like with threeASFOUR?
I thoroughly enjoyed the entire experience. The designers liked my work and were excited to collaborate with me. They were very direct and knew exactly what they wanted which is always helpful. For the test, I took my kit to their atelier and they just started dressing up models in the clothes while I played around on them, including painting paper cutouts with body makeup and stamping them on the body to create patterns. It was very creative and free.
Which makeup brands did you partner up with for the show?
I used a lot of Temptu! They have great body makeup.
Were any of the looks from the threeASFOUR runway something you'd do for someone who was just walking the streets, as opposed to the catwalk?
Yes! The base makeup for all the models is extremely wearable. It was meant to really embrace the individuality of each model—a very clean and beautiful look with glowing glass-like skin, glossy eyes and even bleached brows.
As a makeup artist, do you feel you are you given enough creative agency in your designs?
For the most part, I have never felt confined as an artist. Most people I tend to work with enjoy a major look. I'm very lucky that I've never felt stifled in my creativity.  
Looking at your portfolio, much of your work tends to be editorial. Are there any differences in your process for runway? Which do you prefer?
Most of my work is editorial, so I will always feel at home on set. The exciting thing about runway is that you're selling a moving moment—a fleeting fantasy. It's really about helping the designer create their 'woman,' and that's extremely fun to do.
Your looks often feature bright, geometric pops of color. Is this a signature for you?
Most definitely, yes! I enjoy all the colors and textures. Neon, glitter—anything loud and dynamic and fun. That's what I enjoy doing in my work. It's much more creative for me than calm, neutral, natural makeup.  
If there's one makeup trend that you could cancel for good, which would you choose?
The one thing I'm sick of is crazy brows. Instagram has really taken things too far—it's starting to get obscene. These images are to be seen through a very small window. The looks just don't translate to real life and real world settings. It's too extreme and hard looking for your average consumer, which isn't to say I don't love a statement brow—there just needs to be balance.
What's beauty to you? Has working as a makeup artists changed that idea?
Working in the fashion and beauty worlds for as long as I have, I think I've really learned to appreciate women in a way I wouldn't have had I never worked in this industry. It's a particularly exciting time since there is now such a strong movement towards more diversity. There really is an explosion of embracing different gender identities, body types and just a general acceptance of all people, which is so important.


Follow @officebeautynyc for more backstage interviews with our favorite makeup artists, Instagram beauty gurus, club kids and inside info from our office Beauty Committee.