Take a ride with Maria Forqué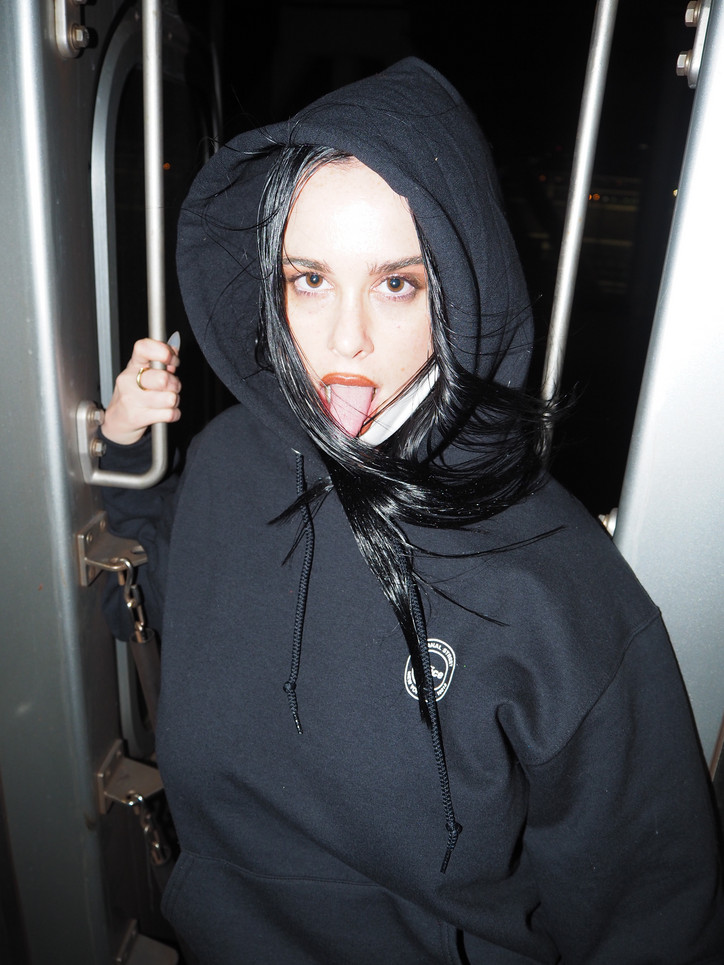 Firstly, please tell me your full name, age, where you were born, and where you currently live.
My name is Maria Clara Iborra Forqué, I'm 24, and I was born in Madrid, Spain. I currently live in NY.
When did your relationship with the internet begin?
Well, at 12-13 with messenger. I used to talk to boys on messenger because I actually didn't in real life. The internet was good for me to feel safe while flirting.
How do you deal with slut shaming?
Well, I struggled a bit in school at age 14-15 when I first got breasts and started to like boys. Girls above and below me were mean and called me a slut and intimidated me. Further on in my life, I really didn't care about slut shaming. I'm proud of what I do.
What was your art debut?
I consider my blood performances as my art debut. It was the first thing I really wanted to do. I poured 2 liters of fake blood out of a gasoline tank over me, naked. I performed it for people for the first time here in NY at Grace Exhibition Space on a lake in the forest where we, the girls, were all performing naked. It was like a dream. 
Where do you want to take your art?
I want to take it to quality museums/platforms, fashion shows, and films.
Do you have a goal or thought out plan?
Yes, I know I want to continue with my projects as an artist and present them in museums, DJ/play my music on good platforms, and continue studying as an actress to be prepared to do good films.
Is this a phase you're going through or is this something you want to live off?
It's a phase--everything in my life is a phase, but it's only a phase in the sense that I want to continue developing forever to different forms. But the aim/destiny will always be the same.
Are you dependent on the look of your body?
Yes and no. I'm really dependent on what I do.
Do you care about your body image?
I've had crises, but as I said in the question before, what really matters is what you do and who you are. I like to keep my body fit and harmonized. The body is the temple of the soul.
Are you a vain person?
I suppose yes in some ways, but it's not what I aim to be.
You recently moved to NYC. Do you see yourself living here for a long time?
I like it here. If we get along together as we are right now, yes.
Being an alpha female, what are your views on men and dominating people in general?
I'm actually dominant and submissive at the same time. They are poles, and I always go from one pole to another. I love dominating men, and men that are dominant. I basically like people that know what they want to do.
"I'm not shy with my body but I am with my soul."
Have you ever done sex work or had any interesting/funny offers?
I was a stripper and had porn and webcam offers.
How many of your Instagram accounts have been blocked or deleted?
None. They often delete my pictures/videos anyway because of the haters denouncing.
How big are your boobs?
90D UK (40D US)
What's your favorite substance to work with? Honey? Wine? Sand? Water? Paint? Food? Snow?
Mmm, I love honey. One of my first performances "Renacimiento" was me laying naked on the floor for 3 hours as a dead body with stripper shoes. Twenty-two honey jars were poured over me, and one by my head with a real heart inside. So honey was my "chrysalis" come to life. Again, honey is one of my favorites. Water is my fetish. I can only masturbate with water.
How do you balance being a shy person and being confident with nudity?
I'm not shy with my body, but I am with my soul. I think it's just that: a balance. I suppose I get some attention for my soul or ego through my body. It's an equilibrated tandem for me.
Does it turn you on being nude in front of a camera?
Kind of. I like to provoke. <3
Make sure you follow Maria on Instagram.